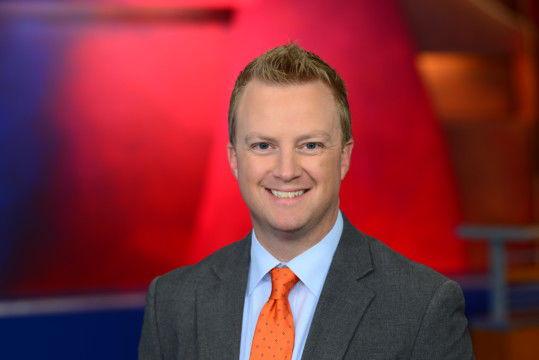 A native of Metropolis, Illinois, Trent Okerson joined the Weather Authority in October 2007. Trent's interest in weather stems back to his childhood, when his Papaw used to tell him that thunder was "the tater wagon tipping over." He jokes that while others would go home after school and watch cartoons, he went home and watched The Weather Channel (and also some cartoons). He says that one of the best birthday presents he ever received was when he got to come over to WPSD and meet Cal Sisto for his 6th birthday.
Prior to coming to work for Local 6, Trent spent 5 ½ years in education as a junior high and high school science teacher, but his love has always been weather. While teaching, he went back and began working on his education in meteorology through Mississippi State University, and interned at WPSD during the summer of 2006. In August of 2008, Trent graduated at the top of his class with his Certificate in Broadcast Meteorology. And in June 2011, Trent was awarded the National Weather Association Seal of Approval. Trent was named Chief Meteorologist at WPSD Local 6 in July 2020. 
On a personal note, Trent married his beautiful and talented wife Tiffany in June 2003. They were blessed with their first baby boy, Hansen, in July 2013.
Aside from keeping up with the weather, Trent is an avid St. Louis Cardinals fan. He has made many trips to both the old and new Busch Stadium, and has been lucky enough to enjoy some big moments there in person, including Big Mac's 70th HR in 1998 & 500th career HR in 1999, Jim Edmonds' walk-off homer in Game 6 of the 2004 NLCS, both the final game at the old ballpark and the first game at the new ballpark, Game 4 of the 2006 World Series…and most recently, Game 7 of the 2011 World Series!
Having grown up watching WPSD, it is an amazing experience to work at his hometown station, but it is also quite a challenge, forecasting our weather that can change so rapidly. Although he would prefer to forecast that everyday would be sunny and 75, Trent appreciates that our area experiences just about every kind of weather that can be imagined. He sees his top priority to work hard to provide viewers with an accurate and easy-to-understand forecast, and to make sure to provide advanced warning of severe weather in order to keep our viewers safe.
You can follow Trent on his Facebook page by clicking here.