FRANKFORT, KY — Gov. Andy Beshear reported 972 new cases of COVID-19 in Kentucky Thursday. 
The governor announced the new cases via social media Thursday afternoon. State public health officials learned of 13 additional coronavirus-related deaths reported by health departments, as well as five additional deaths reported as part of the state's ongoing audit of death certificates listing COVID-19 as the cause of death.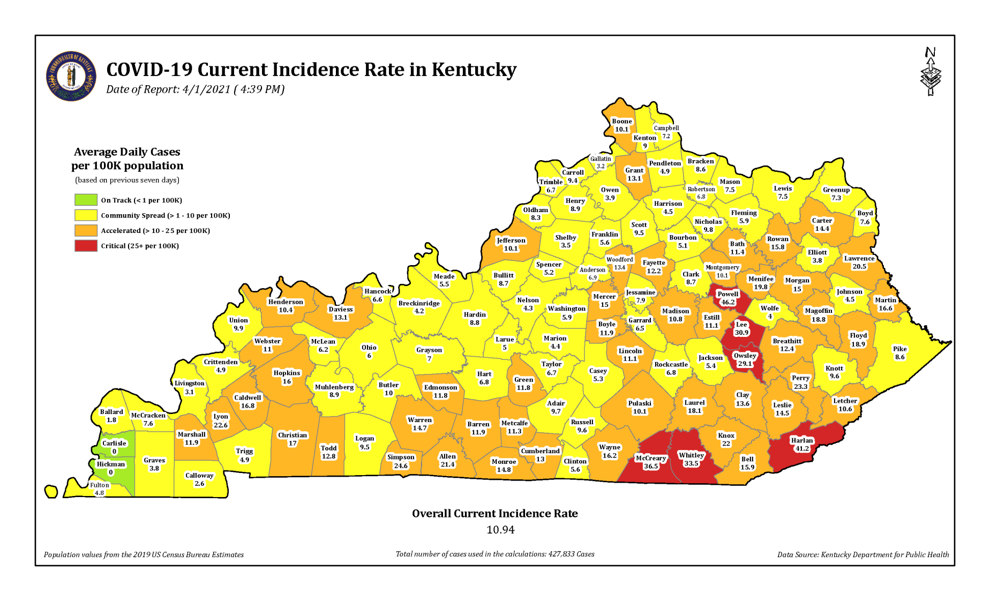 The state's positivity rate for COVID-19 test results is now 2.99%. Currently, six of the state's 120 counties are in the red zone, meaning the virus is spreading at a critical rate in those communities. 
The Kentucky Department for Public Health reports that the state's overall incidence rate is in the orange zone, with 10.94 cases per 100,000 people. 
Across Kentucky, 411 people are currently hospitalized with the illness, including 92 in intensive care units and 45 on ventilators. 
To date, Kentucky has had 427,842 known COVID-19 cases, including 6,108 deaths.