FRANKFORT, KY — Gov. Andy Beshear announced 156 new COVID-19 vaccination sites in Kentucky on Thursday, most of which are pharmacy locations. 
During a briefing on the pandemic Thursday, the governor announced six new regional vaccine sites, 10 new Kroger store locations, 15 new Walmart store locations and 125 Walgreens and independent pharmacy locations that are partnering with the federal government. 
Beshear said the Kroger store locations include one store in Paducah and one store in Murray, and the 15 Walmart store locations include one in Mayfield and one in Paducah. 
The Paducah Kroger location is at 3141 Park Ave., and the Murray Kroger location is at 808 N 12th St. in Murray.
The Paducah Walmart location is at 3220 Irvin Cobb Drive, and the the Mayfield Walmart location is at 1225 Paris Road.
The governor said 13,000 additional first doses per week will be distributed among the 125 federal partner locations, including 78 Walgreens stores and 47 independent pharmacies. 
The state released a full list of those 125 federal partner sites, including locations in Paducah, Murray, Mayfield, Marion, Benton  and Calvert City. Download the document below this story to see the full three-page list. 
For more information on making a vaccine appointment at a Kroger store, visit Kroger.com/rx/guest/get-vaccinated.
For more information on making a vaccine appointment through Walmart, visit walmart.com/cp/1228302. Walmart scheduling is set to begin at 4 p.m. CT on Feb. 15. 
To sign up for a vaccine appointment through Walgreen's, visit walgreens.com/findcare/vaccination/covid-19.
The six new regional vaccine sites the governor announced on Thursday are in Columbia, Frankfort, Grayson, Henderson, Louisa and Morganfield. 
For more information from the state of Kentucky on COVID-19 vaccination sites, visit govstatus.egov.com/ky-covid-vaccine. More information can also be found by calling the state's vaccine hotline at 855-598-2246. Those who are hearing impaired can call 855-326-4654. The state's hotlines are in service from 7 a.m. to 6 p.m. CT, Monday through Friday.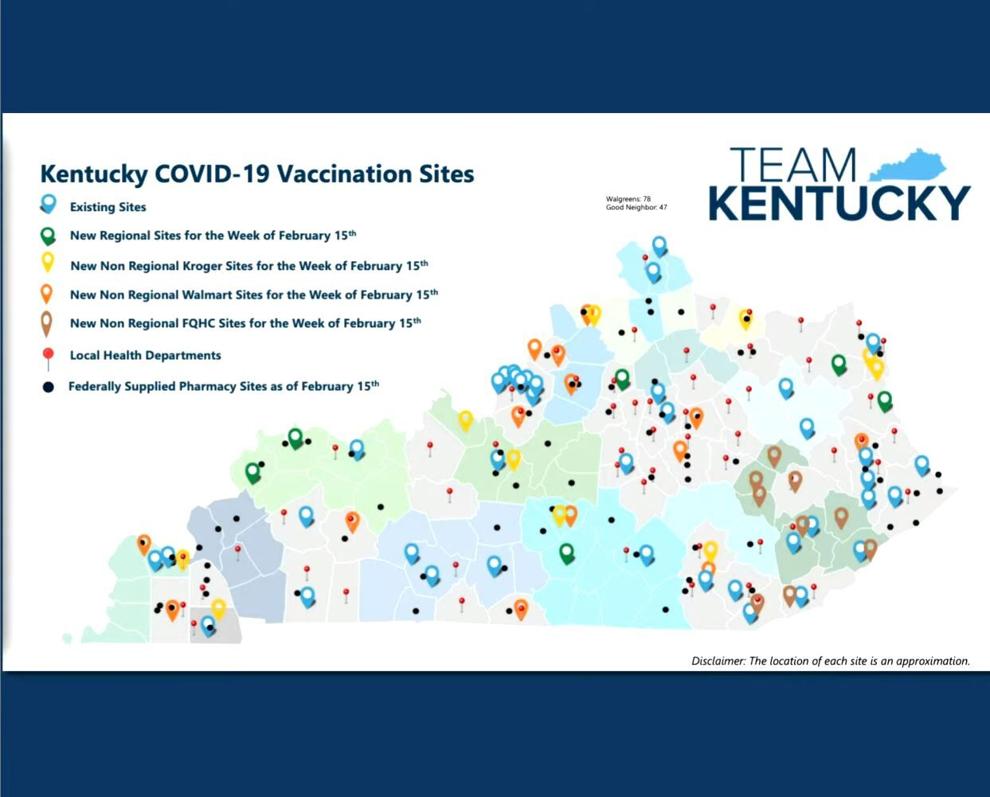 Beshear also announced 1,880 new COVID-19 cases in Kentucky on Thursday, as well as 36 additional coronavirus-related deaths. The governor said the state's positivity rate for COVID-19 test results currently stands at 7.08%.
The Kentucky Department for Public Health reports that 1,142 Kentuckians are currently hospitalized with the illness, including 278 people in intensive care units and 156 on ventilators. 
To date, Kentucky has had 384,903 COVID-19 cases, including 4,211 deaths.