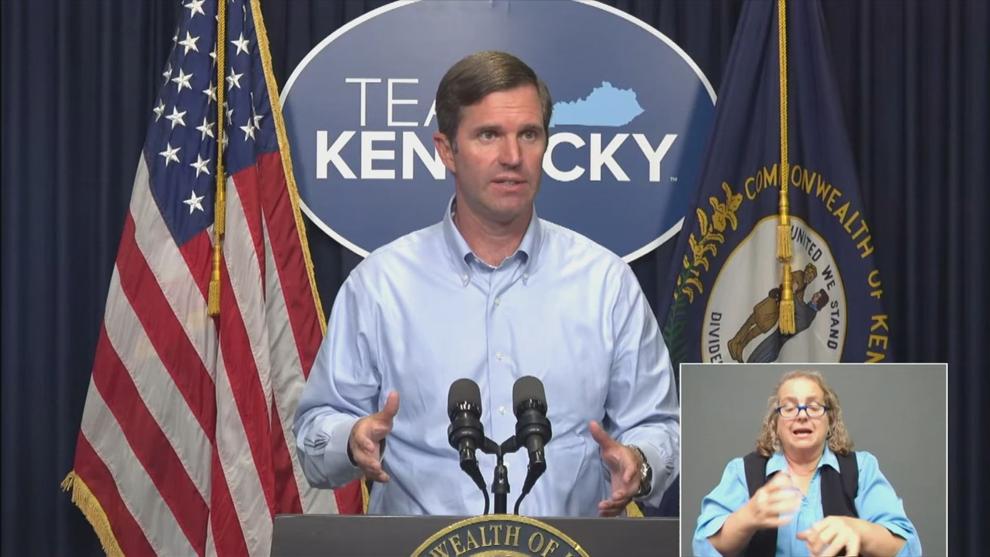 FRANKFORT, KY — Kentucky is seeing a higher rate of COVID-19 reinfections because of the delta variant, Gov. Andy Beshear said Monday. 
"If you have had COVID and that is the reason you're not getting vaccinated, the data is starting to show you need to get vaccinated," Beshear warned during a briefing Monday afternoon. 
The governor said the state's positivity rate for COVID-19 test results has been increasing for 30 days in a row, and cases have continued to increase.
"Now we got down to under 2%. Yet, look at where we are today. We're getting real close to getting up to 8%, which is not what we want to see," Beshear said. The state's positivity rate was 7.89% Monday, according to the Kentucky Department of Public Health. 
Kentucky Public Health Commissioner Dr. Steven Stack said the positivity rate has nearly quintupled since the beginning of July. 
Beshear said hospitalizations have nearly tripled in three weeks' time. Stack said ventilator usage and intensive care admissions have also roughly tripled — a trend that could eventually strain hospitals and other health care providers. 
Case reports have continued to climb as well. Beshear said 1,844 cases were reported three weeks ago. Then, week before last, 3,217 cases were reported. And last week, the state received 5,662 case reports. 
"At this point, we ought to virtually assume that anybody who tests positive for COVID has a delta variant, and therefore has, in the course of this pandemic, the most dangerous variant that we have seen. Again, new cases are being driven by the unvaccinated," Beshear said.  
Stack warned that the delta variant has viral loads 1,000 times higher than previous COVID-19 variants. "That's not trivial. That's huge. We don't know what they'll do to people," Stack warned. "There's already anecdotal stories about younger people being a higher proportion of the hospitalizations." 
Stack said if a community experiences a delta variant outbreak, it will spread much faster than previous outbreaks in 2020, and it will overwhelmingly hit those who are not vaccinated. 
"I would sure hope we would all want to celebrate more birthdays than funerals, but unfortunately a lot of people are choosing more funerals than birthdays," Stack said, referring to those who have refused to get the shot. "It's a tragedy, because it does not need to happen."
"This is one of those things where, when you're looking up at the ceiling in an intensive care unit with every orifice in your body filled with a tube, that is a sad, tragic time to wake up and realize 'Oh my gosh, if I had just gotten that vaccine, I wouldn't be here right now,'" Stack said. "Folks, please get vaccinated, and for all of those of you who have gotten vaccinated and are concerned: this is very different this year. If you are vaccinated, you are safer. 
As of Monday, 2,278,834 Kentuckians have gotten at least one COVID-19 vaccine dose, which is about 52% of the state's population. 
Looking at vaccination rates by age, Beshear said 83% of those 65 and older have gotten vaccinated. 
Of those ages 50 to 64, 66% have gotten vaccinated. 
The percentage falls to 52% among those 40 to 49 years old, and it falls further to 47% among those 30 to 39 years old. 
Of those ages 30 to 39, only 36% have gotten vaccinated. 
To date, Kentucky has had 476,650 known COVID-19 cases, including 7,319 deaths. 
COVID-19 vaccines are widely available. If you're looking for a provider in the Local 6 area, visit our COVID-19 vaccine guide.