FRANKFORT, KY — Kentucky reported 1,648 new COVID-19 cases Friday, as the state's vaccination rate remains at about 52% of the total state population. 
In a tweet, Gov. Andy Beshear said Friday's report is the highest Kentucky has had since Feb. 19, when the state had 1,993 cases. 
"Folks, please get vaccinated. It's our greatest tool to beat this virus and protect our people," the governor said. 
Today we are reporting 1,648 new cases of COVID-19 in the commonwealth, the highest number of newly reported cases since Feb. 19, 2021 when we reported 1,993. Folks, please get vaccinated. It's our greatest tool to beat this virus and protect our people. https://t.co/8qrSMnTeMh pic.twitter.com/eAV8r4IHUx

— Governor Andy Beshear (@GovAndyBeshear) July 30, 2021
On Monday, Beshear warned that the state's new cases and positivity rate have been on the incline because of the COVID-19 delta variant and because so many Kentuckians remain unvaccinated. 
"At this point, we ought to virtually assume that anybody who tests positive for COVID has a delta variant, and therefore has, in the course of this pandemic, the most dangerous variant that we have seen. Again, new cases are being driven by the unvaccinated," Beshear said.  
MORE DETAILS: Kentucky seeing high rate of COVID-19 reinfection because of delta variant, Beshear says
Because of the delta variant, Beshear has recommended universal masking inside schools for adults and children, whether they're vaccinated or not. The Centers for Disease Control and Prevention issued the same recommendation Tuesday.
On Wednesday, Beshear announced masks will be required for all employees and visitors inside state buildings, a move that has been met with some resistance from GOP officials who said they won't enforce the requirement in their offices.
MORE DETAILS: Kentucky governor reinstates mask mandate for state employees
The CDC says vaccinated individuals who live in areas with high or substantial virus transmission should wear masks in indoor, public spaces to maximize protection for themselves and avoid the possibility of spreading the virus to others.
MORE DETAILS: Kentucky recommends masks for upcoming school year, offers K-12 COVID-19 testing program
Kentucky is officially back in the COVID-19 red zone Friday, with an overall incidence rate of 25.9 average daily cases per 100,000 people, based on cases reported over the past seven days. In the Local 6 area, Calloway, Graves and Marshall counties are in the red zone, indicating that the virus is spreading at a critical rate. Caldwell, Crittenden, Christian, McCracken and Lyon are in the orange zone, indicating that the virus is spreading at an accelerated rate. 
Friday, 54 counties are in the red zone, up from 40 counties on Thursday.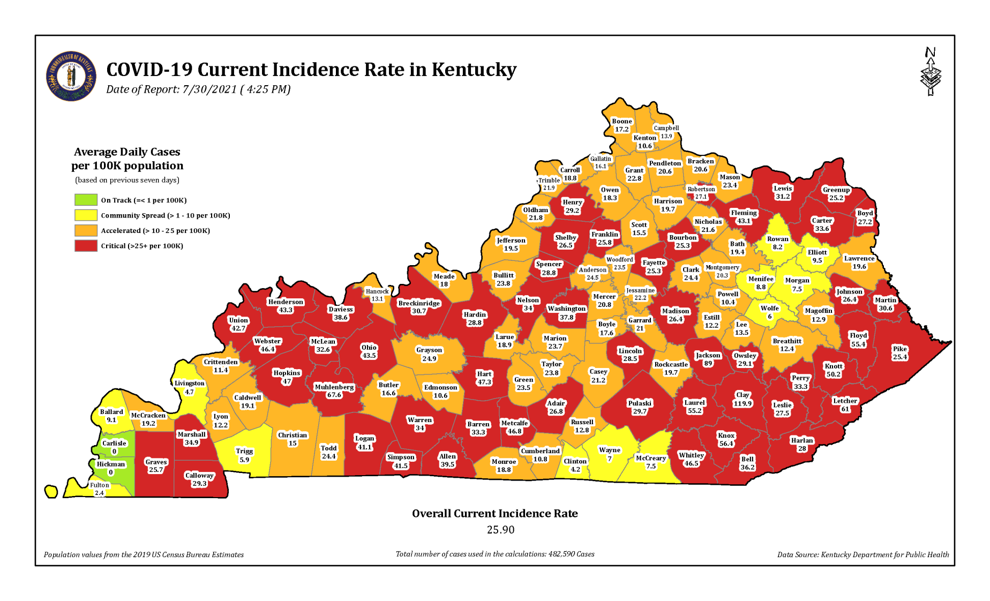 While the COVID-19 vaccines approved in the United States are highly effective, no vaccine is 100% effective, which means breakthrough cases — while uncommon — are possible. The viral load an individual is exposed to also makes a difference, which is another problem the delta variant presents. On Monday, Kentucky Public Health Commissioner Dr. Steven Stack warned that the delta variant has viral loads 1,000 times higher than other COVID-19 variants. "That's not trivial. That's huge. We don't know what they'll do to people," Stack warned. "There's already anecdotal stories about younger people being a higher proportion of the hospitalizations." 
The Kentucky Department for Public Health says 625 people in the state are currently hospitalized with the illness, including 195 in intensive care units and 85 on ventilators. Friday, Baptist Health Paducah announced it is suspending visitation in its emergency department, with limited exceptions, because it has seen "a steady increase" in COVID-19 patients going there for care.
MORE DETAILS: Baptist Health Paducah suspends emergency department visitation
Kentucky has had 482,599 known COVID-19 cases since testing began. The state has recorded 7,334 virus-related deaths, including seven new deaths reported Friday.