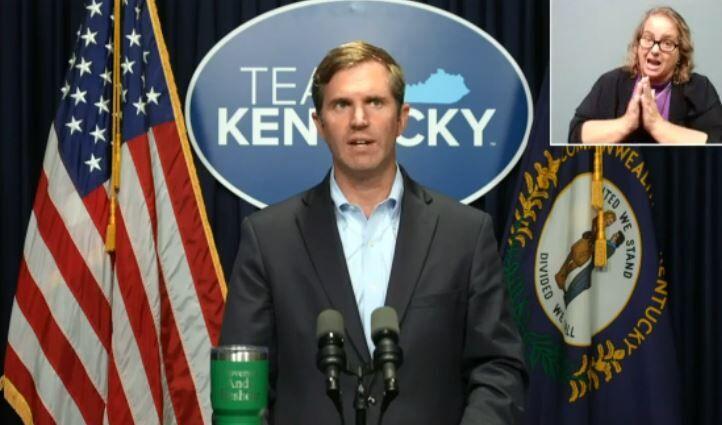 FRANKFORT, KY — Gov. Andy Beshear is warning unvaccinated Kentuckians not to count on the availability of monoclonal antibody infusions because of a national shortage affecting Kentucky's supply of the treatments. 
Speaking during a briefing on the pandemic Monday, Beshear said more than 5,000 treatment courses were administered last week, but the state will only receive 4,960 from the federal government this week — and the amount will only decrease from there.
The 4,960 courses the state will receive this week will be allocated to 79 sites around Kentucky based on back-ordered requests, current reported inventory and reported utilization from the previous week. 
Groups will have until the close of business on Monday each week to make their requests. The state will have to ration out what the federal government provides.
"We will have at least one monoclonal antibody treatment provider in each of our Area Development Districts, but there's not going to be enough anywhere," Beshear said. 
Beshear said the state is already seeing hospitals and other providers running out of supplies before the end of each week. 
The governor said, in addition to lower supply availability, another change coming is that the state will public a list of the providers that are administering the treatments. 
"What it's also going to mean is to be a part of this program, since we've been asked to have sites that people know about, we hope by next week we're going to begin publishing the information of who has them and where," Beshear said. "And yes, this is going to lead to a lot of people calling them, but the people of the commonwealth also deserve to know where this medication is."
Beshear implored unvaccinated Kentuckians to get their COVID-19 shots. 
"If you're putting off a shot, a vaccine to have an infusion, first let me tell you an infusion is a lot more invasive. I know those that don't like the vaccine call it a jab in the arm. Well, I mean, chemotherapy is a form of infusion. It is pumping things through your body. So I would say please, knowing that there's not going to be enough anywhere in the commonwealth, get that vaccine," Beshear said. 
"Get it because it protects you," the governor continued. "But, I'll tell you what, if you have another family member that doesn't want to get vaccinated, if you do, it makes it more likely that that treatment is available for them. And we're seeing whole families get sick and need treatments. And when the original variant or the alpha variant was out, somebody in a household would test positive but the other people wouldn't necessarily be. Now, it's everyone. And we're seeing, you know, mom and dad and maybe an aunt and uncle and others all need the monoclonal infusion." 
Beshear said those who are vaccinated are less likely to need monoclonal infusion because the vaccine reduces the likelihood of serious illness. 
The governor said 87.1% of all COVID-19 cases in Kentucky since March have been unvaccinated individuals, and 92% of hospitalized cases have been unvaccinated people. Additionally, 84.6% of COVID-19 deaths since March 1 were unvaccinated people. 
Beshear said individuals are 4.5 times more likely to get COVID-19 if they are unvaccinated. 
Click here for more information on vaccine providers in the Local 6 area. To make a vaccine appointment from anywhere in the country, visit vaccines.gov. 
Click here to view Kentucky's COVID-19 Vaccination Dashboard. 
Click here for more information about the available COVID-19 vaccines from the Centers for Disease Control and Prevention.