PADUCAH -- Many across the Local 6 area were back at their favorite restaurant spots this morning.
Gold Rush in Paducah has been offering meals curbside for weeks, but they opened their doors for the first time since March on Friday.
Breakfast is back on the grill at Gold Rush, but this time, it's for seated customers.
"I kinda figured our regulars would be back strong."
Ron Schneider considers himself to be a regular customer at Gold Rush. He hasn't sat down for a meal here in nearly two months.
"They open early, start my day out, then I do my normal work," Schneider says.
Schneider was the first through the doors of Gold Rush when they opened at 7 a.m. Friday.
"We like the surrounding of mom-and-pop restaurants," he says. "I come to see the familiar faces."
One of familiar faces that many of you may know is waitress Pam Johnson.
"I miss my regular customers and I am so glad to see them," she says.
It's not just about seeing them, it's about interacting with them.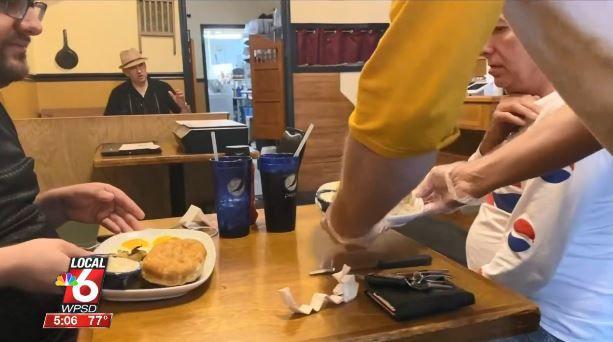 "I could actually sit down and talk to them and ask how their families are doing," Johnson says.
The tables filled up quickly.
"Restaurant business is unpredictable," Johnson says. "You never know if you're going to have somebody or not. It's always good when you do."
And for the regulars, it's always good to go back to a morning routine.
"It makes a big difference," Schneider says.
"So it's good to see them, I got to take this man his check," Johnson says.
Then it's on to the next table.
Gold Rush is still offering curbside pick-up and they're expecting to get outside seating sometime soon.