FRANKFORT, KY — Caldwell County Medical Center is one of six new regional COVID-19 vaccination sites Gov. Andy Beshear announced in Kentucky on Thursday. 
While Beshear often announces regional vaccination sites before those sites begin administering doses, the hospital says it launched its first round of doses Thursday morning. 
In a post to its official Facebook page, the hospital says there are more doses coming, and the hospital's goal is to "help vaccinate our community as quickly and efficiently as possible."
The hospital says people who qualify under Phases 1A and 1B of the state's plan can make appointments by calling 270-365-0428.
Kentucky is set to move into Phase 1C next week. "For Phase 1C- Anyone over the age of 60, anyone older than 16 with CDC highest risk for COVID-19 risk conditions, we ask that you call to get on our waiting list at 270-365-0428," the hospital's post says. 
In a news release about the regional site, the hospital elaborated that: "As each phase of distribution is completed, we will then move into Phase 1C- Anyone over the age of 60, anyone older than 16 with CDC highest risk for COVID19 risk conditions, and ask that you call to get on our waiting list. If you have already called and have been placed on our waiting list, you do not need to call again as we will reach out to you. When the vaccine is available and appropriate based on state guidelines, you will be contacted to schedule an appointment."
As is the case at other regional sites, Caldwell County Medical Center says doses will be administered by appointment only. 
The five other regional sites Beshear announced Thursday include Owensboro Health, Rockcastle County Hospital in Mt. Vernon, Cumberland County Hospital in Burkesville, Baptist Health Richmond and Twin Lakes Regional Hospital in Leitchfield.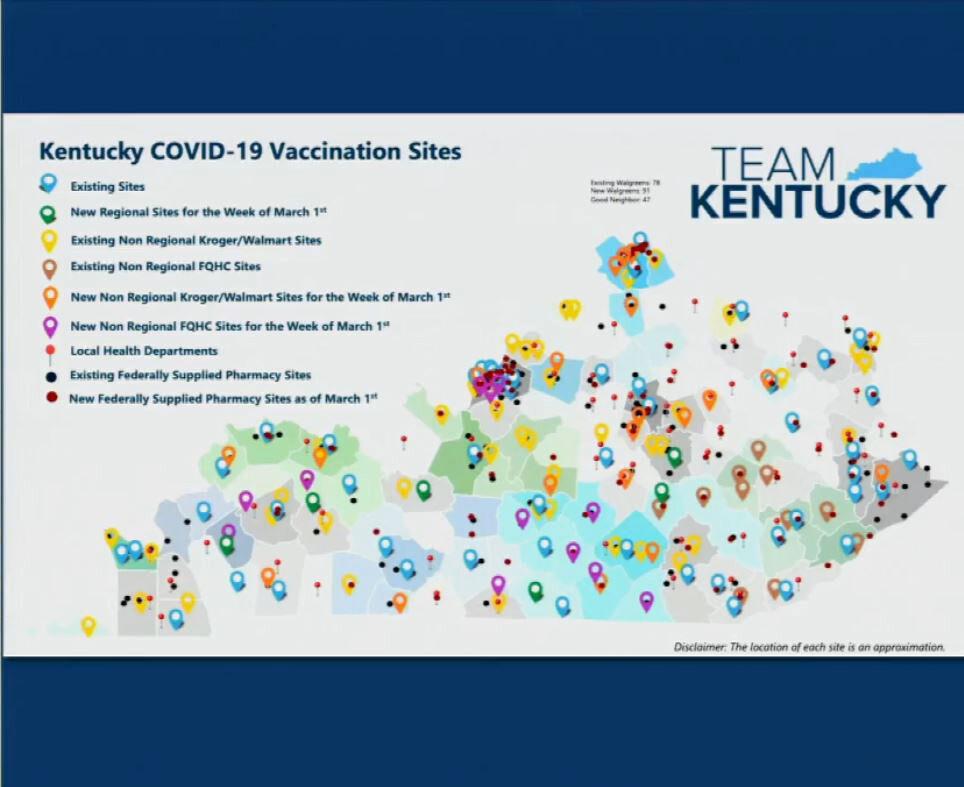 The six regional sites are among 119 new vaccine sites the governor announced Thursday, bringing the total number of provider locations to 410. 
Three of the new sites are federally qualified health centers, 10 are Walmart stores, 10 are Kroger stores and 90 are Walgreens stores. 
The new Kroger locations are in Hopkinsville, Florence, Erlanger, Shelbyville, Louisville, Nicholasville, Winchester and Somerset, Beshear said. The new Walmart locations are in Rowan, Wayne, Simpson, Daviess, Union, Lincoln, Grant, Montgomery, Marion and Pike counties.  
The governor's office says all the new locations will be added to the "Were Can I Get Vaccinated?" map available at vaccine.ky.gov. 
So far, Beshear says 646,836 people have been vaccinated in Kentucky. The state received 152,710 new first doses this week, and Beshear said the state has already vaccinated 38,522 individuals using those shipments. "That's some of the fastest we've done, in a day and a half," Beshear said. 
Also speaking during the governor's briefing Thursday, Lt. Gov. Jacqueline Coleman announced public transit agencies across the state are offering free or reduced-cost transportation to and from COVID-19 vaccine appointments. Coleman said those services are already available in more than 90 of the state's 120 counties. 
"We want all Kentuckians who wish to get vaccinated to be able to do so, and transportation should not be a barrier," Coleman said. 
Coleman said information on participating public transit agencies can be found at KyCovid19.Ky.gov or by calling 855-598-2246. 
COVID-19 update 
Beshear reported 1,447 new COVID-19 cases in Kentucky on Thursday, as well as 43 additional coronavirus-related deaths. 
The governor said most of the deaths reported Thursday happened recently, while some had to go through the state's vetting process to confirm they were truly COVID-19-related. "If there is a bright spot, only five were in long-term care…meaning vaccinations work," Beshear said. The governor said Kentuckians must not become desensitized to all the lives lost amid the pandemic.  To date, Kentucky has had 4,570 known virus-related deaths.
Beshear said the data does now show that last week's COVID-19 case numbers were depressed because winter storms limited access to testing, noting that only 9,600 people were test last week, compared to 1,400 tested on Wednesday of this week alone. 
The governor said he believes that, "but for the weather, we would see a steady, continued downward trend." 
Beshear said the state's positivity rate for COVID-19 test results stands at 5.65%. 
Across the state, 843 Kentuckians are currently hospitalized with the illness, including 220 in intensive care units and 122 on ventilators. 
To date, Kentucky has had 401,750 known cases of the illness. The number of cases ever hospitalized is 18,888, or roughly 4.7%.