FRANKFORT, KY — Kentucky's positivity rate for COVID-19 test results has once again risen above 9%, and the state reported 2,841 new cases Thursday. 
Thursday's positivity rate is 9.2%. Additionally, the state's overall incidence rate is 35.8 average daily cases per 100,000 people based on reports over the previous seven days, according to the Kentucky Department for Public Health. That puts Kentucky well within the red zone, indicating high transmission of the virus.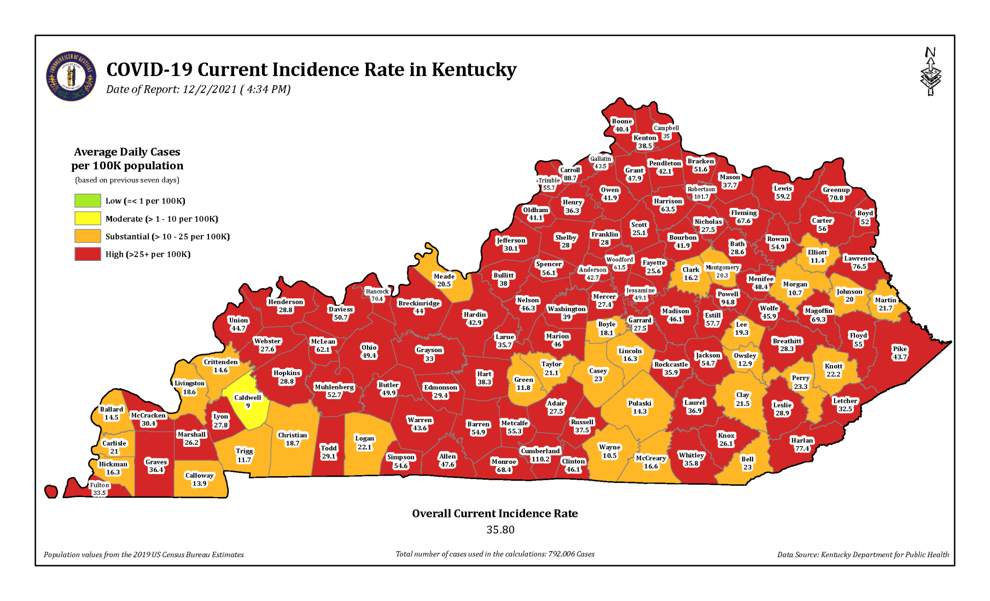 Kentucky also reported 40 new coronavirus-related deaths Thursday, bringing the total number of lives lost to the virus to 11,027. This, about one month after the state marked the tragic milestone of 10,000 lives lost.
Currently, 987 Kentuckians are hospitalized with the illness, including 259 people in intensive care units and 132 on ventilators. 
State leaders on Thursday said while the new omicron variant has been detected in the United States, it has not yet been found in Kentucky. While that variant has been labeled a variant of concern, Gov. Andy Beshear said during his Team Kentucky update Thursday afternoon that Kentucky is still battling the delta variant.
Beshear said, looking at the data, he believes Kentucky is once again seeking an escalation in cases. "We don't know how long it would last. We don't know if it's behavior driven. It could be driven by the holidays or the winter, but we are overall, we believe, seeing more of, and this is the delta variant, more cases of it," Beshear said. 
The governor again urged Kentuckians who have not yet been vaccinated to do so as soon as possible, and encouraged those who have been vaccinated to get their booster shots. He said he believes part of what is causing an escalation in cases is waning immunity among those who were vaccinated early on. The Centers for Disease Control and Prevention recommends everyone who was vaccinated with the Moderna or Pfizer vaccines to get a booster dose at least six months after their second shot. Those who received the one-dose Johnson & Johnson vaccine are recommended to get a second shot at least two months after their first dose. 
"I now know personally a number of folks that have ultimately gotten a mild case of COVID because they put off getting their booster. So, if we want to prevent escalations as we move forward ... we not only have to get more people vaccinated, we not only have to continue testing so we can isolate when we get it, but we absolutely have to get as many people boosted with that booster shot as possible," Beshear said. 
Regarding the omicron variant, Kentucky Public Health Commissioner Dr. Steven Stack he's working with local health departments and laboratories to identify cases as quickly as possible. The variant has already been detected in five states: California, New York, Minnesota and Colorado. 
"The question is: What is the impact and what do we do about it? It is important to be careful and concerned but it is not a time to panic," Stack said. "We have much better tools than when this pandemic started – the future is not outside our control."
Both Beshear and Stack said it's more important than ever to get vaccinated and get the booster shot after the appropriate amount of time has passed, wear a mask when in public, get tested if experiencing symptoms and stay home when sick. 
Beshear announced Thursday that 60% of all Kentuckians have gotten at least one COVID-19 vaccine dose. He said while that's not enough to stop the pandemic, it's still a great achievement for Kentucky residents. "It hasn't even been a year since the first vaccines were shipped out, and we've got 60% of every man, woman and child who lives in this state vaccinated. We need to be proud of that accomplishment and use it as motivation to keep going," Beshear said. 
To date, Kentucky has had 792,015 known COVID-19 cases.