FRANKFORT, KY — Gov. Andy Beshear on Monday announced 198 newly reported coronavirus-related deaths over the past three days in Kentucky.
The governor warned that cases and hospitalizations are also on the rise. Over the past three days, 4,895 new COVID-19 cases were reported.
The cases include 2,350 reported Saturday, 1,194 reported Sunday and 1,347 on Monday.
The deaths include 67 reported Saturday — a number that included a 49-year-old Ballard County resident — 68 reported Sunday and 63 reported Monday.
The state's positivity rate for COVID-19 test results remains above 9%, coming in at 9.13% on Monday.
Additionally, the Kentucky Department for Public Health's COVID-19 incidence rate make shows all but 10 of the state's 120 counties is in the red zone, indicating a high rate of transmission. Overall, the state's incidence rate is 47.96 average daily cases per 100,000 people.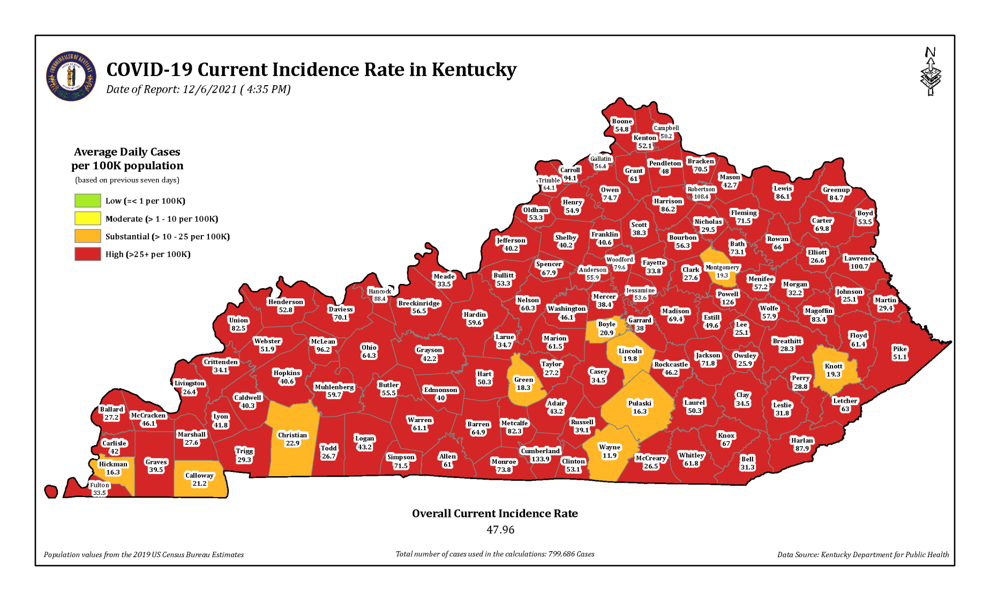 Over the past week from Nov. 22 to Nov. 28, Kentucky reported 15,875 cases.
The governor said he believes the escalation has three causes: the delta variant of COVID-19, which he said is the most contagious, deadliest variant the state has seen to date; waning immunity among people who were fully vaccinated early in the year and haven't gotten their booster shots yet; and more relaxed behavior when it comes to pandemic protocols like masking and social distancing in public places.
Beshear said in addition to escalating case numbers and a rising positivity rate, Kentucky is also seeing an increase in hospitalized COVID-19 patents, including an increase in intensive care unit patients and an increase in people being placed on ventilators because they cannot breathe on their own.
Currently, 1,077 Kentuckians are hospitalized with the illness, including 310 in ICUs and 168 on ventilators.
The governor cautioned Kentuckians to take appropriate cautions this holiday season.
"We need to be careful. This is a time that we all want to get together. My family is going to get together, but we need to do it safely," Beshear said.
He outlined the following advice to have a safe, healthy holiday:
Get vaccinated.
Get your booster shot.
Do not attend a gathering or event if you feel sick (including if you may have an illness other than COVID-19, such as the flu).
Wear masks when attending indoor gatherings or in public places, especially if you are unvaccinated and/or if you are due for your booster shot and haven't gotten it yet.
When organizing events, parties and other gatherings, keep attendance numbers low.
The governor also provided a reminder regarding the new federal guidelines for international air travel. Under those rules, all travelers ages 2 and up who are returning to the United States from another country:
Must show proof of a negative COVID-19 viral test that was performed within one day of departure.
Should get tested three to five days after returning to the U.S.
Should self-isolate and get tested if they develop any symptoms.
All unvaccinated travelers should also quarantine for seven days.
Beshear said while the increased cases, the positivity rate and hospitalizations are concerning, there is a bright spot: more people are getting vaccinated.
Over the weekend, 15,117 Kentuckians received their first vaccine dose, 18,189 Kentuckians got their second dose and 45,137 Kentuckians got their booster shot.
As of Monday, 61% of people in the state have gotten at least one vaccine dose (that's 2,703,247 Kentuckians), 53% have gotten fully vaccinated and 14% have had three doses. Beshear said 640,061 booster doses have been administered in Kentucky so far.
Breaking down the numbers by age:
75 and older: 91%
65-74: 94
50-64: 78%
40-49: 68%
25-39: 59%
18-24: 51%
16-17: 48%
12-15: 44%
5-11: 12%
Since the pandemic began, Kentucky has had 799,695 known COVID-19 cases, including 11,289 deaths.