FRANKFORT, KY — Kentucky Gov. Andy Beshear says it appears that COVID-19 is declining in Kentucky, but the state is still seeing too many new cases, and the positivity rate, while lower, is still far too high. As part of the fight against the pandemic, Beshear said federal teams are coming to Kentucky to help provide monoclonal antibody treatments. 
"It appears that new cases are not only plateauing, but we may be seeing a decrease: a decrease in cases, a decrease in the positivity rate, decrease in folks in the hospital with coronavirus," Beshear said during a briefing Monday afternoon.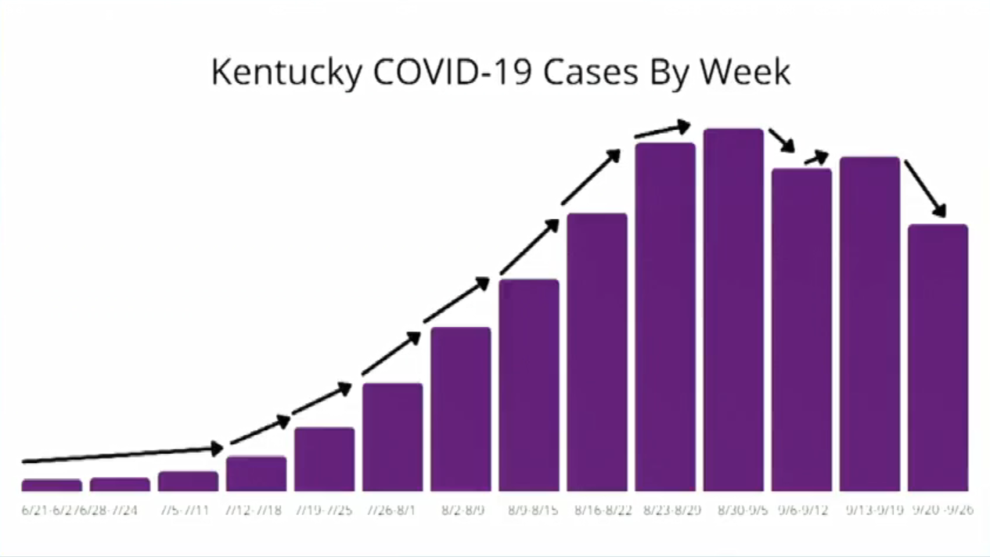 From Saturday to Monday, the state reported 85 deaths. Beshear said the lives lost include people in their 30s and 40s, continuing a pattern of younger Kentuckians dying because of the delta variant. 
Saturday, Kentucky had 3,171 new COVID-19 cases and 37 newly reported deaths. Sunday's report included 1,563 new cases and 31 deaths.
Monday's report from the Kentucky Department for Public Health included 1,729 new cases and 19 deaths. The positivity rate for COVID-19 test results is 10.55% as of Monday, which is lower than recent reports. But, Beshear emphasized that it's still far too high.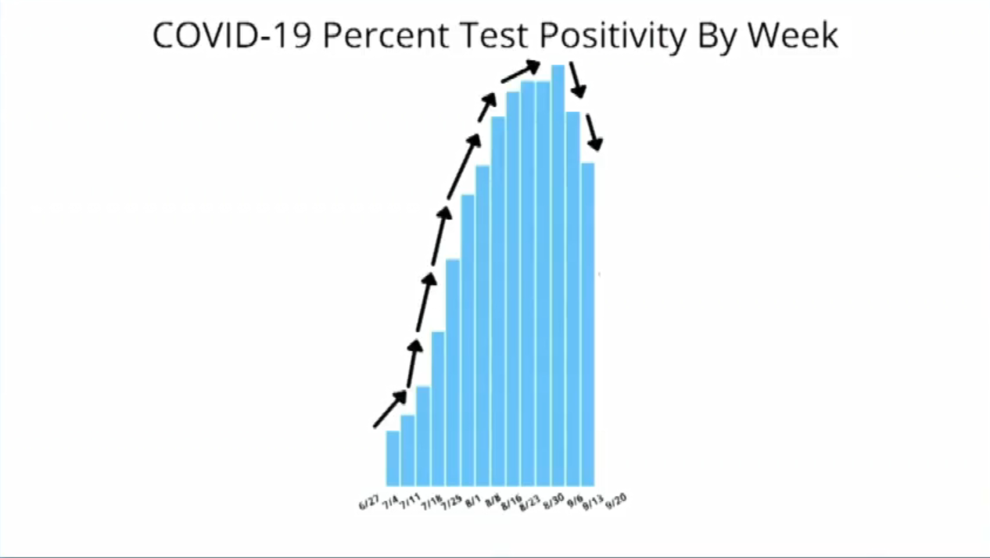 Data from KDPH also indicates that hospitalizations have declined somewhat, but Beshear said communities across the state have to continue working to get more people vaccinated to bring the COVID-19 inpatient census down even further. Beshear said regional hospitals are still having to use emergency rooms for intensive care. The governor said 104 ICU beds are available in Kentucky as of Monday, and 68 of the 96 hospitals in the state reporting critical staffing shortages.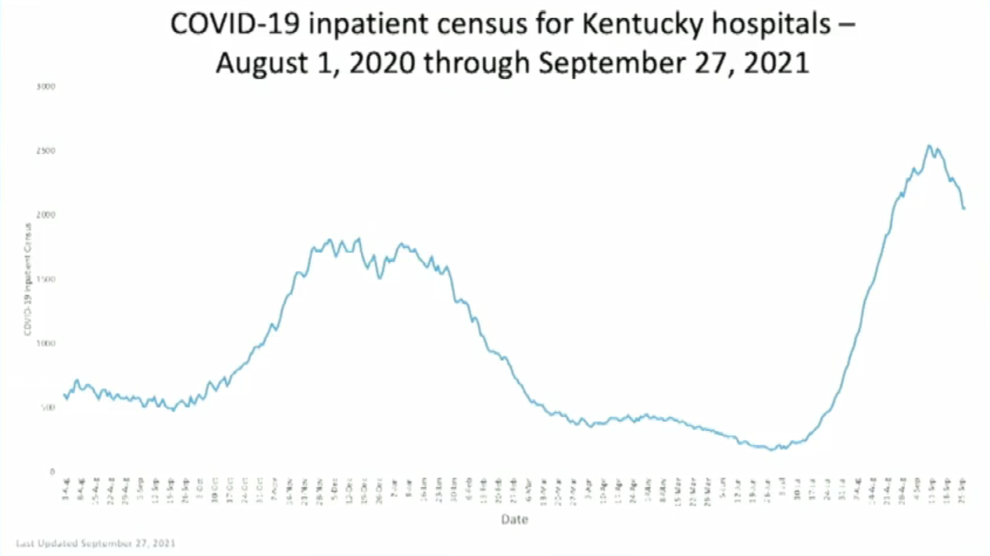 According to KDPH, 2,045 Kentuckians are currently hospitalized with COVID-19, including 617 in ICUs and 399 on ventilators. 
Beshear said at least 16 children are currently hospitalized with the illness, including six in ICUs and five on ventilators.
The governor warned that more deaths are expected because of the large number of cases and hospitalizations seen during the recent spike. 
"This thing is deadlier than we have ever seen, and remember: deaths trail cases, so we are going to see at least a couple of very tough weeks," Beshear said. 
Monoclonal antibody subcutaneous injection teams coming to Kentucky
Starting Monday, Kentucky is getting more assistance from the federal government in the fight to save lives. Beshear said a team of three nurses arrived at Baptist Health Corbin Monday to provide monoclonal antibody subcutaneous injections. 
Monoclonal antibody infusions are administered intravenously (by IV). But subcutaneous injections are injected under the skin with a small needle. The treatments contain synthetic, lab-created antibodies that give an immune boost for fewer than 90 days. Three anti-SARS-CoV-2 monoclonal antibody products have received emergency use authorization from the Food and Drug Administration to treat mile to moderate COVID-19 patients who are not hospitalized, but who are at high risk of progressing to severe illness if untreated. Click here for more information from the FDA. 
The state is expecting more teams to arrive on Sept. 29. Those teams will go to ARH Highlands in Floyd County and Primary Care Centers of Eastern Kentucky. 
Then on Oct. 1, teams are set to arrive at Taylor Regional Hospital in Campbellsville and ARH Middlesboro. 
Beshear said each facility will get a team of two to four medical care professionals — nurses, paramedics or a combination of the two — to assist with injections.  
The governor also said the state will have a website available starting Thursday that will list all the locations where monoclonal antibody treatments are available across the state. Each area development district will have providers. 
Beshear said, since the federal government took over the process, the state has gotten more allocations of the treatments than previously expected. But, that is not expected to continue over time. He said there will still not be enough treatments for everyone.
Booster shots update
During Monday's briefing, the governor provided an update on COVID-19 booster shots, with the aim of clearing up any confusion Kentuckians may have about who is recommended to get a booster dose and when.
People who are immunocompromised who received two doses of the Pfizer or Moderna vaccine are recommended to get a third dose at least 28 days after their second dose, Beshear said. Folks who fall into this category have weakened immune systems because they are undergoing cancer treatments, are taking high doses of immunosuppressants, have immunodeficiencies like DiGeorge syndrome or other conditions. Click here for more information from the Centers for Disease Control and Prevention about COVID-19 vaccine boosters for moderately to severely immunocompromised people. Click here for more information on the Food and Drug Administration's amendment to the emergency use authorizations of the Pfizer and Moderna vaccines to allow a third dose for certain immunocompromised people. 
Moderna booster shots are only recommended for immunocompromised people.
Boosters of the Pfizer vaccine have been approved for a wider group of people. 
Beshear said those who are 65 or older, those who live in long-term care facilities, and those who are 50 to 64 and have medical conditions that increase their risk of severe illness from COVID-19 — such as diabetes, heart disease and diseases of the kidneys or lungs — should get a Pfizer booster.  Click here for more information about conditions that may put people at higher risk of severe illness. 
Additionally, some groups are allowed to get a Pfizer booster if they received their second dose at least six months ago. That includes people age 18 to 49 who have medical conditions that increase their risk of serious illness from COVID-19. It also includes people age 18 to 64 who are likely to be exposed to the novel coronavirus because of their jobs, such as health care workers, first responders, educators, food and agriculture workers, manufacturing workers and those who work in corrections, the U.S. Postal Service, public transit and in grocery stores. Folks who live in congregant settings are also allowed to get a third Pfizer dose. Click here for more information from the CDC on Pfizer boosters. 
A booster dose has not yet been approved for the one-dose Johnson & Johnson vaccine. 
Vaccination rate update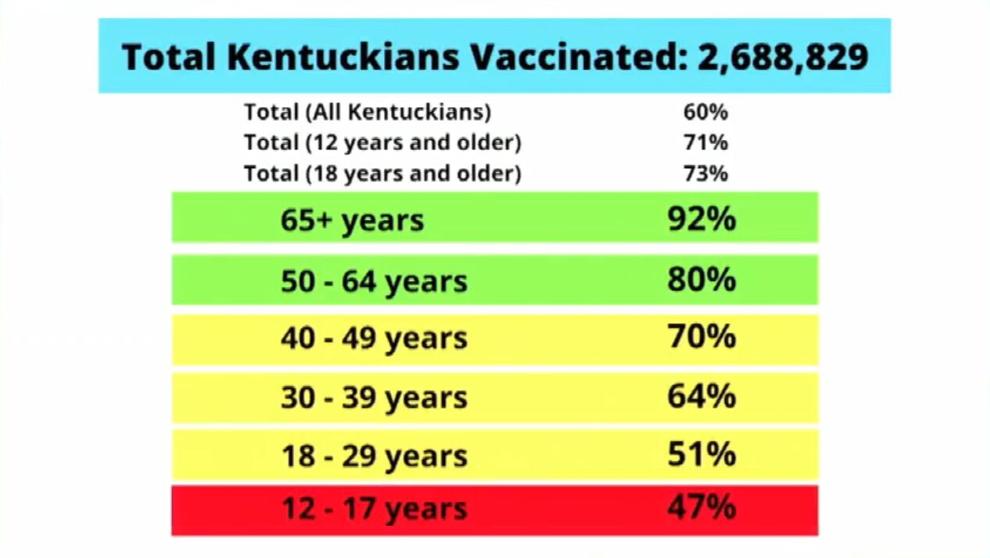 Looking at people who have gotten at least one COVID-19 vaccine dose, Beshear said 2,688,829 Kentuckians have gotten a COVID-19 shot. That's 71% of Kentuckians age 12 and up. 
The age groups with the lowest vaccination rates remain those age 18 to 29 at 51% and those 12 to 17 at 47%. 
Additionally, the vaccination rate is not evenly spread out across the state. As of Monday, only 11 counties have vaccination rates above 60%. 
To help bring case numbers and hospitalizations down quickly, Beshear encouraged unvaccinated Kentuckians to get their COVID-19 shots, and urged everyone to wear masks while in indoor public spaces. 
To date, Kentucky has had 680,454 known COVID-19 cases, including 8,579 deaths.