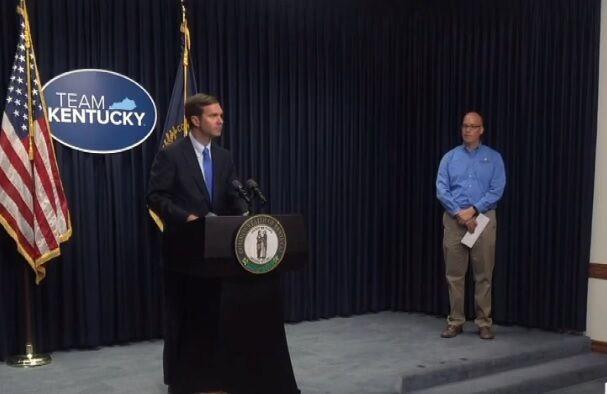 FRANKFORT, KY — Gov. Andy Beshear and Kentucky Public Health Commissioner Dr. Steven Stack again urged Kentuckians to get vaccinated against COVID-19, in the face of significant COVID-19 case growth as the delta variant spreads across the state. 
The governor also issued a set of mask recommendations aiming to help prevent the spread of the delta variant and other strains of the novel coronavirus. 
Beshear and Stack provided a briefing Monday on the delta variant, which Beshear said is a serious and deadly threat to Kentuckians who haven't been vaccinated. 
"It's the dominant variant in Kentucky, and you ought to assume that if you get COVID, it's gonna' be the delta variant at this point," Beshear said. 
The governor noted that the positivity rate for COVID-19 test results in Kentucky had finally "plummeted to levels we had prayed for," dipping below 1% at times. But, Beshear said the state's positivity rate is on the rise again, coming in at 5.48% Monday. 
Stack said the delta variant is more transmissible and is "spreading like wildfire," especially among unvaccinated people.  
Beshear said Kentucky has seen significant case growth week to week over the past four weeks. Stack noted that cases have more than doubled over the past few weeks.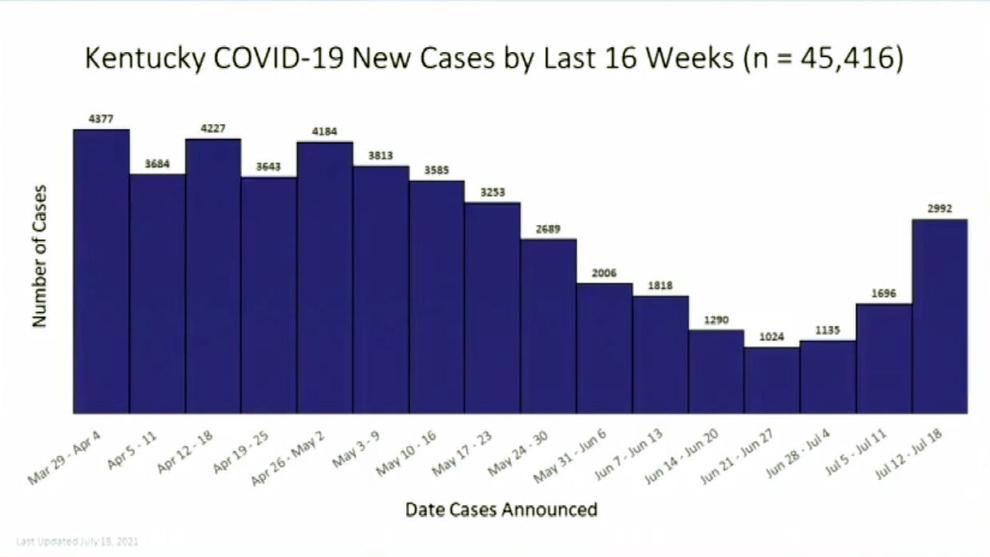 Stack also noted that red and orange zone counties have increased, comparing the state's incidence rate maps from July 1 and July 16. On July 1, no Kentucky counties were in the red zone for COVID-19 and only eight were in the orange zone. On July 16, five counties were in the red zone and 37 were in the orange zone. In the red zone, the novel coronavirus is considered to be spreading at a critical rate. In the orange zone, the rate of spread is accelerated.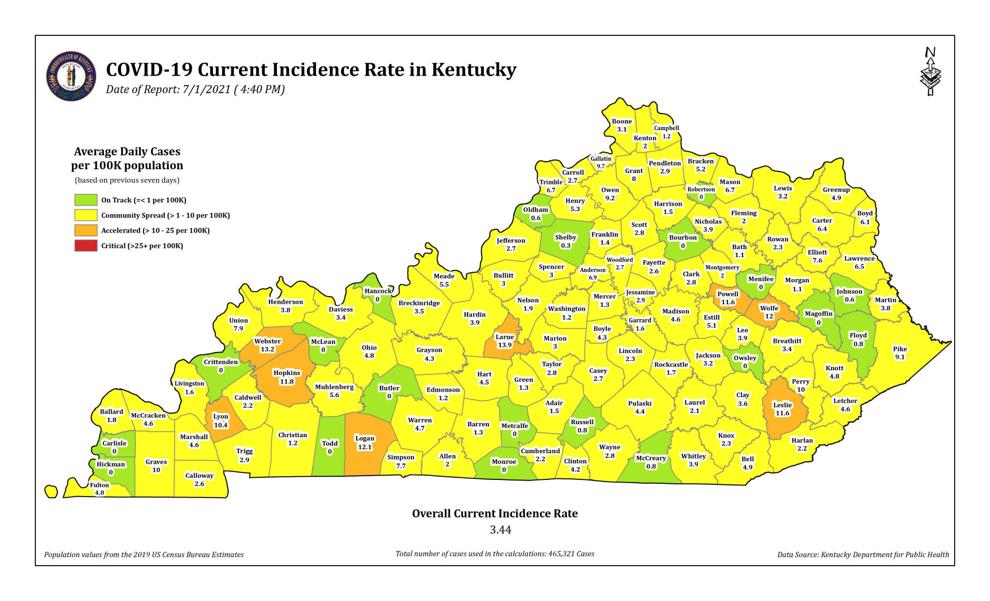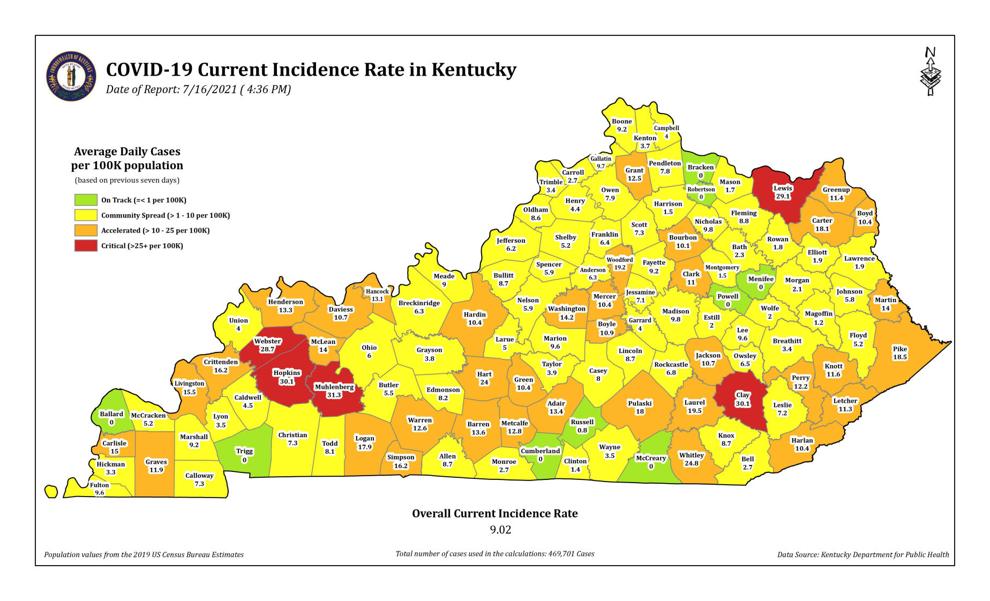 "If we all got vaccinated, we wouldn't see this climb like this," Stack said. 
More than 2.2 million Kentuckians have been vaccinated against COVID-19 so far. Beshear said more than 83% of Kentuckians ages 65 and older have been vaccinated, as have 72.9% of those ages 50 to 64. 
However, vaccination rates remain low among younger Kentuckians. 
Beshear said 51% of those 40 to 49 have been vaccinated. "A lot of people in this age group are ending up in the hospital, and some of them never make it out," Beshear said. 
Among those 30 to 39, only 46% have been vaccinated. Among those 18 to 29, the vaccination rate is just 36%. 
"Folks, these are adults," Beshear said. "We need them to make the adult decision, the responsible decision to get vaccinated." 
"When we look at our weaknesses right now when faced with the delta variant, it is needing to get Kentuckians 12 to 49 — but especially 12 to 39 — vaccinated," the governor said. 
Because of the increased spread of the virus and the risk posed by the delta variant, Beshear outlined a set of mask recommendations — not mandates — Kentuckians can follow to protect themselves. 
Those recommendations include:
All unvaccinated Kentuckians should wear masks indoors when not in their homes. 
Kentuckians who have pre-existing medical conditions that put them at a higher risk from the virus should wear masks indoors when not in their homes, whether they've been vaccinated or not. 
Vaccinated Kentuckians who work in settings with "significant public exposure" such as retail stores should consider wearing masks at work. 
All unvaccinated Kentuckians, when eligible, should get vaccinated immediately.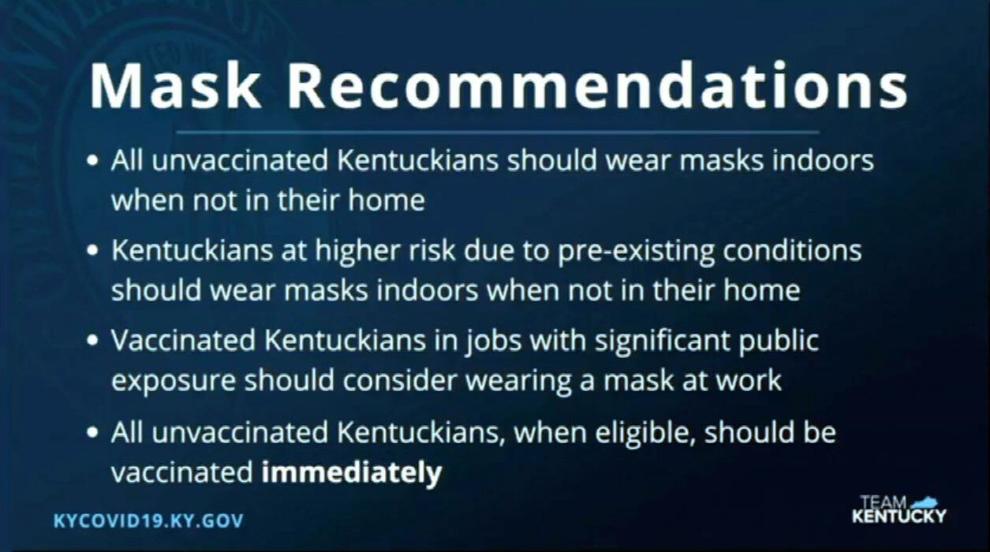 Beshear and Stack stressed that vaccination is the solution to the problem of the delta variant and COVID-19 in general. 
"Every death that comes from this point forward, unless we get new strains even beyond the delta, is probably a preventable death from COVID if they were just vaccinated," Stack said.