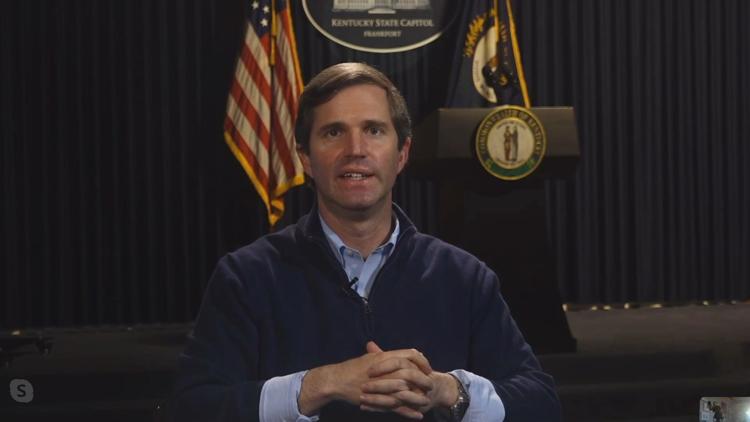 FRANKFORT, KY -- Gov. Andy Beshear has announced June 29 is target date for allowing groups of 50 or less to gather.
Beshear also talked about projected dates for reopening child care during Thursday's daily COVID-19 update. He said June 8 is the target date for small in-home providers who care for 10 children or less. Larger providers can start providing services June 15 under specific guidelines provided by state health officials.
A reporter asked Beshear if smaller groups will be able to not practice social distancing or be required to wear masks when larger groups can start gathering. Beshear said social distancing will continue to be important, no matter what the size of the group is. 
He says all of the guidelines for reopening through the end of May have been released. Some reopening for after June 1 have also been released. To see all of the guidelines for reopening, click here.
The state also released their April 2020 unemployment report. About 15.4% of people in the state are unemployed, which is up 10.2% from March 2020 and up 11.1% from the unemployment rate recorded in April 2019.
There are now over 70 locations to get tested for COVID-19 in Kentucky, Beshear said. He said it's important that people go get tested and get tested regularly to help make reopening the state safe and successful. Senator McConnell's office said this funding is in addition to the $108 million already coming to Kentucky for COVID-19 testing.
Today, Senate Majority Leader Mitch McConnell announced rural health clinics in Kentucky will received $13,206,199 in federal funding to expand COVID-19 in their communities. 
Beshear announced 135 new cases of COVID-19 in Kentucky, bringing the cumulative total number of cases to 8,286. He also announced 10 new coronavirus-related deaths in the last 24 hours. There's now a total of 386 deaths from COVID-19 in Kentucky.
166,240 total tests have been performed. Over 7500 of those tests were conducted in the last 24 hours. A total of 3,008 people have recovered.