FRANKFORT, KY — All school districts in Kentucky are recommended to offer some form of in-person instruction after their employees have received the second dose of the COVID-19 vaccine, Gov. Andy Beshear announced Tuesday. 
During a briefing Tuesday afternoon, Beshear announced an executive order recommending all districts, including public and private schools, offer or expand their in-person learning opportunities for students starting March 1 or seven days after district employees have received their booster shot of the COVID-19 vaccine.
The governor said so far 165 of the state's 171 school districts have resumed some form of in-person instruction. Of that number, at least 38 have students in classrooms four to five days a week. Beshear said 103 districts are using hybrid plans, and 17 districts have resumed in-person learning four to five days a week for elementary students, with middle and high school students on hybrid schedules. 
Beshear said the order is a recommendation, not an outright requirement, because decisions regarding the safety of in-person learning need to be made at the local level. 
To resume in-person learning, Beshear said districts must require mask wearing at all times to prevent the spread of COVID-19, with virtually no exceptions. 
Other pandemic-related considerations regarding in-person instruction Beshear said districts must examine include:
Reducing class sizes, as well as reducing density of students and staff in hallways, school buses and other areas "of heightened risk." 
Evaluating school buildings' ventilation systems, and considering appropriate safety procedures regarding those systems. 
Continuing to provide meaningful virtual options for all students. 
Regularly reviewing the state's incidence rate map as they plan school activities. 
That map color codes counties in red (critical), orange (accelerated), yellow (community spread) and green (on track). Districts have been using a color-coded chart corresponding to that map as a guide to determine whether to remain on virtual instruction. Beshear said the chart will be discontinued for schools as of March 1.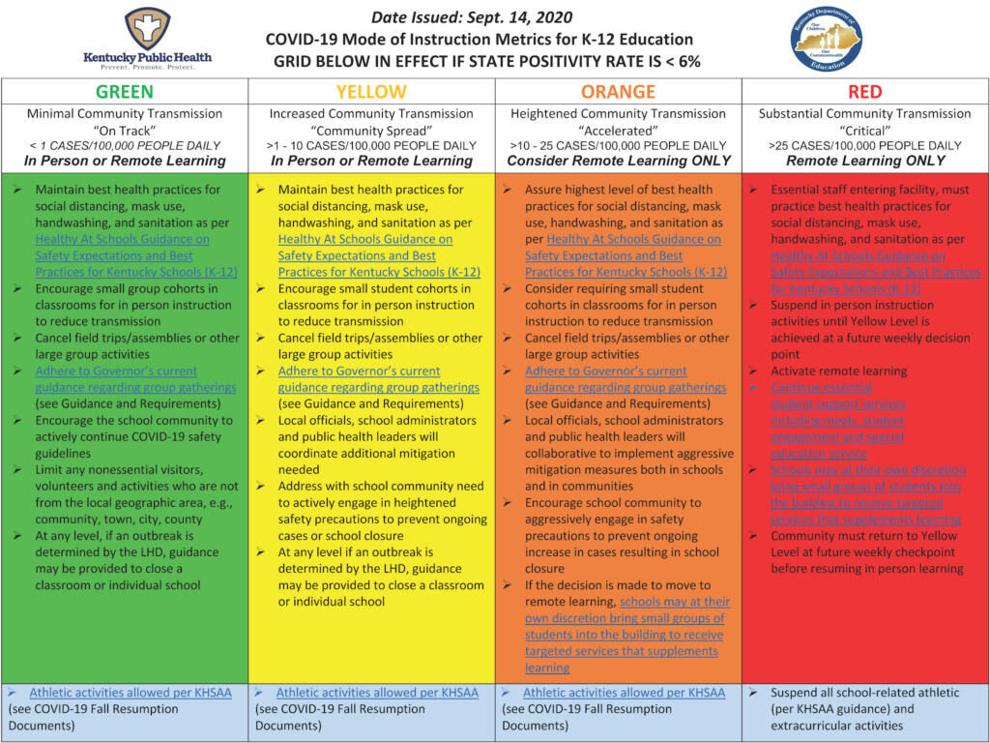 However, the incidence rate map will continue to be updated, and Beshear said districts should still refer to it and take community spread of the virus into account when making scheduling decisions. 
According to the incidence rate map the Kentucky Department for Public Health released Tuesday, 37 of the state's 120 counties are in the red zone with incidence rates of 25 or more average daily cases per 100,000 people. The state's overall incidence rate for Tuesday is 23.24.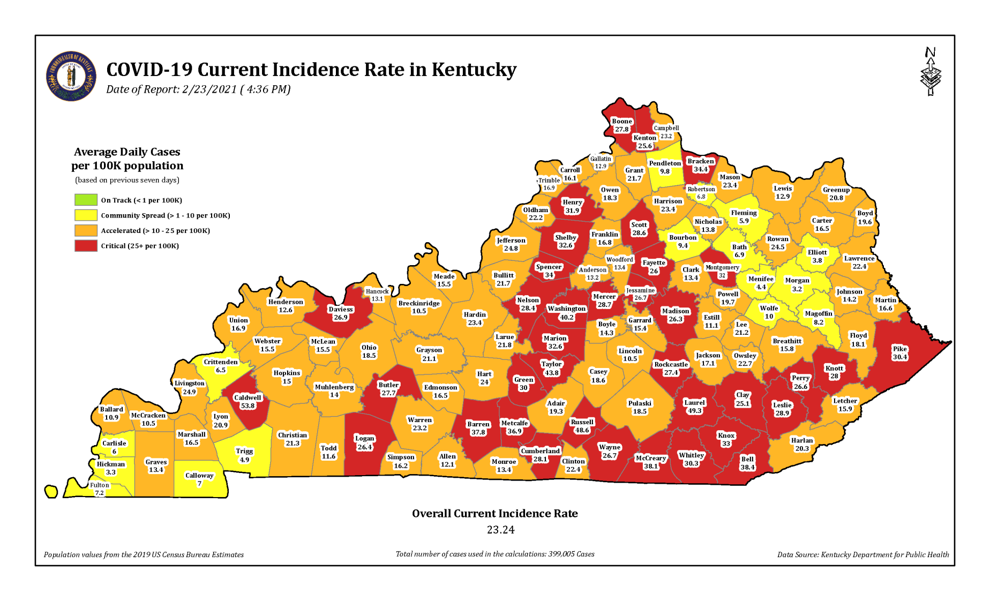 Providing Tuesday's COVID-19 update, Beshear reported 1,497 new cases, a test positivity rate of 6.3% — the lowest positivity rate in the state since Nov. 4 — and 16 additional virus-related deaths. 
KDPH reports 894 Kentuckians hospitalized with the illness Tuesday, including 242 in intensive care units and 121 on ventilators. To date, Kentucky has had 399,013 COVID-19 cases, including 4,476 deaths. 
Beshear expressed optimism Tueday, saying "I still think were generally moving in the right direction," in terms of new cases and COVID-19 test positivity. 
The governor also noted that Kentucky will get a "whopping" 152,710 COVID-19 vaccine doses this week. That includes about 66,000 doses that were supposed to arrive in the state last week, but were delayed because of winter storms. 
"That is more than we are going to get until, at the very least, Johnson & Johnson is authorized," Beshear said. Food and Drug Administration Advisers are set to meet Friday to discuss whether to recommend emergency use authorization of Johnson & Johnson's one-dose COVID-19 vaccine. The company says its vaccine is 85% effective overall at preventing hospitalization from the illness, and that it was 100% effective at preventing death in all regions where it was tested.
"Remember, the vaccine you should take it the one you can get. They are all highly effective," Beshear said. "They will all work very well to prevent serious disease and death. They all help us to get to herd immunity. They are all good."
For more information on COVID-19 vaccination locations across Kentucky, including ways to sign up to schedule an appointment, visit https://govstatus.egov.com/kentucky-vaccine-map.