FRANKFORT, KY —  The Kentucky Department for Public Health reported 4,468 new COVID-19 cases Wednesday, as well as 30 additional virus-related deaths. 
The new cases include 1,220 teens and kids age 18 and younger, and Gov. Andy Beshear said the deaths include a 15 year old from Shelby County, a 30 year old and a 47 year old from Jefferson County. 
The state's COVID-19 positivity rate jumped to a record 14.16% Wednesday, up from 13.74% on Tuesday. "What that means is we are still seeing an increase in this spread that can be so harmful," Gov. Andy Beshear said in a video message Wednesday afternoon. 
Kentucky again reported record numbers of COVID-19 patients in hospitals and inside intensive care units, with 2,424 people hospitalized Wednesday, including 674 in ICUs. Additionally, 431 of those hospitalized patients are on ventilators, which are also known as life support machines. 
ICUs are at about 90% occupancy. Hospital beds overall are at about 70% occupancy. 
"No matter what age you are, this thing is deadly, and it's out there," Beshear said. "You need to get vaccinated. You need to wear your mask. Folks, if you have been vaccinated, continue to wear your mask. It's our job to protect one another, those around us, to be our brother and sister's keeper and to love our neighbor as ourselves."
All but three of the state's 120 counties are in the COVID-19 red zone Wednesday. Those three — Carlisle, Clinton and Morgan counties — are in the orange zone. That means COVID-19 incidence rates are high or substantial in all communities across the state. The Centers for Disease Control and Prevention recommends people in community with rates at those levels to wear masks in indoor public places, regardless of vaccination status.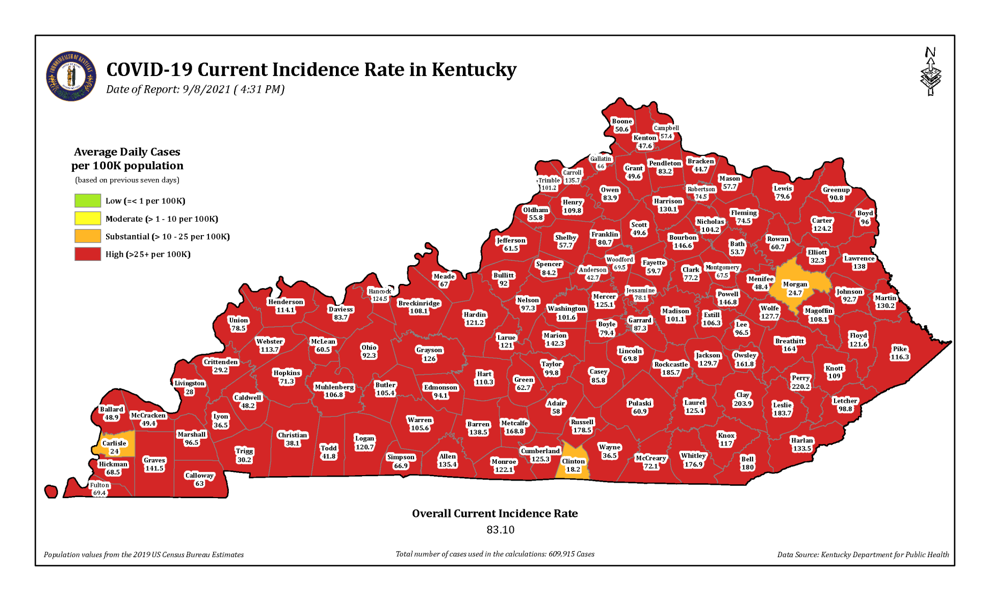 To date, Kentucky has had 609,924 COVID-19 cases, including 7,935 deaths. 
Click here for more information on vaccine providers in the Local 6 area. To make a vaccine appointment from anywhere in the country, visit vaccines.gov. 
Click here to view Kentucky's COVID-19 Vaccination Dashboard. 
Click here for more information about the available COVID-19 vaccines from the Centers for Disease Control and Prevention.