FRANKFORT, KY– Friday afternoon Gov. Andy Beshear signed an executive order lifting COVID-19 restrictions across the state.
The order lifted capacity limits and mask mandates, and ended healthy at work requirements.
The state will continue to comply with CDC recommendations, meaning masks will still be required in healthcare settings, long-term care facilities and on public transportation.
As of Friday the Kentucky Department of Public Health reported 58% of Kentucky adults age 18 and above have had at least one shot of the vaccine. The department is also reporting since January cases have declined 93%, and weekly deaths have declined 95%.
There are 237 new cases of COVID-19 in the state this Friday, and the test positivity rate is at 2.05%, according to the Kentucky Department of Public Health.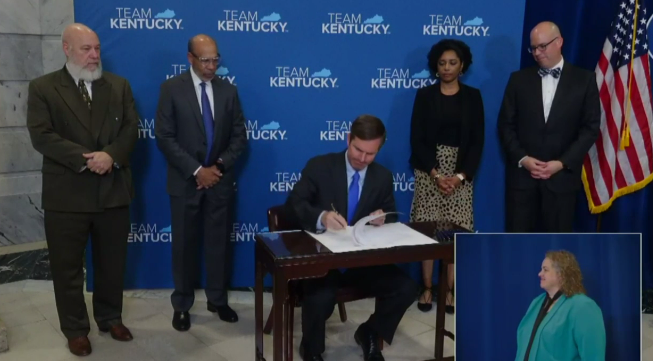 "Today, we are lifting the final restrictions put in place to keep our people safe during this once-in-a-lifetime global pandemic," said Gov. Beshear. "COVID-19 remains deadly. Our war against it is not yet won. But after more than 15 months of struggle and sacrifice, we can also say this: While COVID-19 remains a threat, we are no longer in crisis."
The order signed today will not yet end the commonwealths state of emergency. This allows the state to continue grants, programs, and executive orders that have assisted people during the pandemic. This decision also allows the state to continue receiving federal funding for vaccine distribution.
Beshear also announced plans are underway to build a COVID-19 memorial at the state capital in Frankfort.
"We are in the process of developing a permanent monument that will replace that sea of flags on the Capitol lawn representing every Kentuckian lost to COVID-19, which I hope will inspire generations of future leaders to think about these Kentuckians, these families and the challenges of these times," Beshear said.
Friday's briefing marked the last COVID-19 press briefing Beshear will give. However, Beshear will continue giving weekly press briefings about all matters related to the commonwealth.