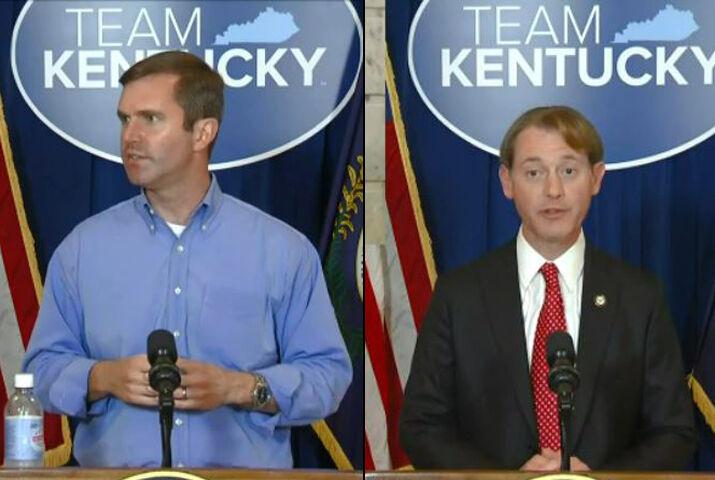 FRANKFORT, KY — Gov. Andy Beshear and Secretary of State Michael Adams announced expanded mail-in absentee voting and early voting in Kentucky for November's general election. 
During a briefing Friday, the Democratic governor said the bipartisan agreement with the Republican secretary of state provides "the most options we have seen to vote in a general election," in Kentucky, and shows that "democrats and republicans can still agree on something." 
Mail-in ballots 
For the general election, Kentuckians who are concerned about the possibility of catching or spreading COVID-19 can request a mail-in ballot. Adams said during a typical election, Kentucky voters can vote absentee if they have a disability, illness or age-related concern that would prevent them from voting in person on Election Day. Adams said the state is expanding that provision for voters who believe COVID-19 poses a risk to their health, as well as voters who are in contact with people who face a greater risk to their health if they contract the virus. 
Adams said voters will not have to disclose their age or medical condition to apply to vote by mail. "It's the voter's subjective decision," he explained. He said state officials are not encouraging everyone to vote absentee, as they did in June, to avoid overwhelming the postal system and county clerks' offices. But, Adams said, the state is not discouraging anyone who believes they should vote by mail from doing so. 
Beshear said the online portal to apply to vote by mail will be open to voters by Friday of next week. That portal will be open to voters through Oct. 9, and voters will continue to be able to request mail-in ballots through traditional means beyond Oct. 9. 
Mail-in ballots must be postmarked by Election Day, Nov. 3, and they must be received by Nov. 6. Drop boxes will also be available, for voters who are concerned about postal delays. County clerks will determine the drop box locations for their counties. 
Early voting 
Early, in-person voting will begin Oct. 13. Beshear says early voting will be available every work day between Oct. 13 and Election Day, and every Saturday for at least four hours. County clerks will be responsible for providing a location for safe, in-person voting. Early in-person voting is open to all registered voters. 
Adams said expanded early voting should help the state meet in the middle between a normal election year and the June primary. "This is really good for voter convenience," Adams said. And more importantly, he said, it will help keep people spaced apart for social distancing. 
Election Day
County officials will decide on election sites, and every county will be required to have at least one "voting super center," where everyone can vote regardless of precinct. Each county's Election Day plan will have to be approved by the State Board of Elections, the Secretary of State and the governor. Adams said one of the biggest complaints his office heard about the June primary surrounded the reduction in polling locations. He said he believes subjecting counties' Election Day plans to approval from his office and the governor will help address that issue. 
Voter ID law 
Under a new state law that went into effect in July, Kentucky voters are required to present photo identification to vote. However, for November's election, Beshear said Kentuckians who were unable to get a driver's license or photo ID because their clerk's office was closed or because they were concerned about exposing themselves to COVID-19 will be able to vote without a photo ID. Beshear said those voters will be able to use a non-photo ID, and they will have to sign a document explaining that they don't have a photo ID because of those pandemic-related issues. 
Adams said he is proud of the new voter ID law, which he campaigned on when running for office. But, Adams said, that law was drafted before the pandemic. The photo ID law also requires Kentuckians voting by mail to include a photocopy of their ID with their absentee ballot. Adams said that requirement will also be lifted for the general election because the pandemic. "We're not going to expect people who are at risk to go out and vote to take the same risk to go out and get an ID or go out and get a photocopy of an ID," Adams explained.   
COVID-19 update 
The governor also provided an update on COVID-19 during Friday's briefing. Beshear reported 679 new cases of COVID-19, including 77 kids under the age of 18.
Beshear said the state continues to see high numbers of cases, noting that it looks like Kentucky will have more new cases this week than the number of cases reported last week. 
After removing duplicate reports, Beshear said Kentucky's case total to date stands at 38,298. 
The state's COVID-19 test positivity rate is 5.68% Friday. 
The governor also reported eight new virus-related deaths, bringing the total number of lives lost to 804. 
Across the state, 656 Kentuckians are currently hospitalized with the virus, including 147 in intensive care units and 97 on ventilators. 
The Kentucky Department of Public Health has recorded a total of 9,021 recovered cases so far.