FRANKFORT, KY — Kentucky has had 41 known cases of the B.1.1.7 COVID-19 variant, Gov. Andy Beshear said Monday.
That's according to the CDC, which is reporting no cases of the B.1.351 variant from South Africa in Kentucky, and no cases of the P.1 variant from Brazil. 
Beshear said the 41 United Kingdom variant cases in Kentucky include one person from Calloway County, one person from Christian County and one person from Marshall County. 
They also include one from Allen County, five from Boone County, one from Bullitt County, four from Campbell County, two from Fayette County, two from Garrard County, eight from Jefferson County, 11 from Larue County, one from Madison County, one from Russell County and one from Warren County.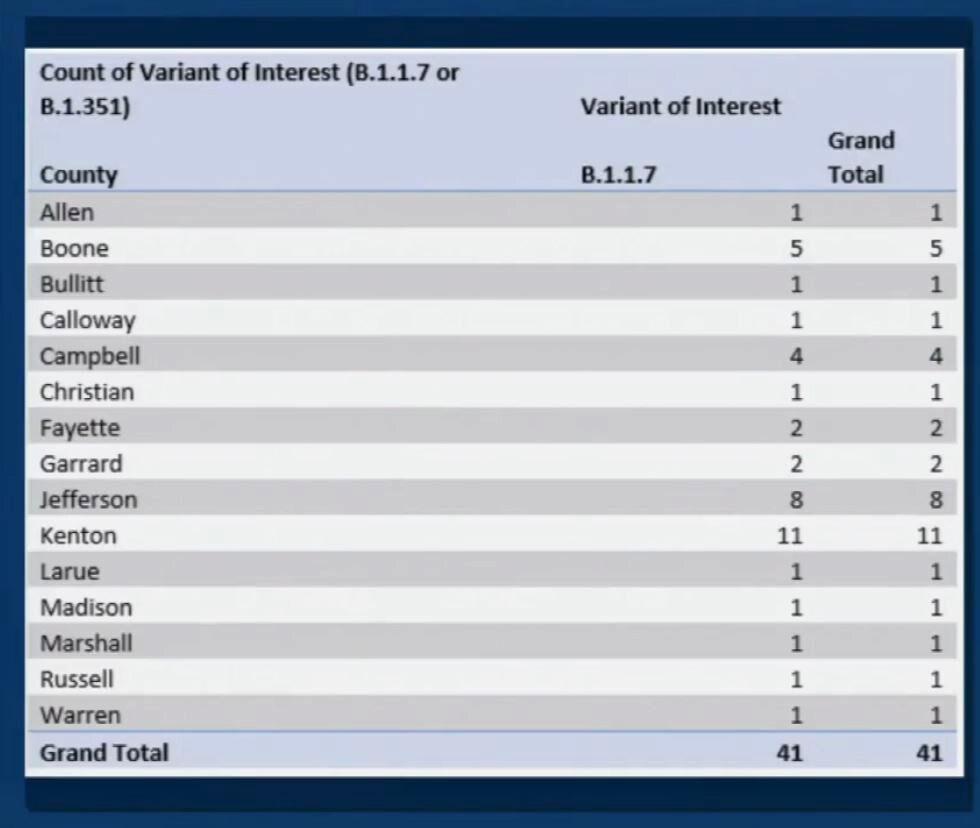 During a briefing Monday afternoon, Beshear and Kentucky Public Health Commissioner Dr. Steven Stack each encouraged Kentuckians to get vaccinated against COVID-19 and to continue practicing preventative measures such as wearing masks and social distancing to prevent further spread of the virus. Stack said the more the novel coronavirus spreads, to more chances it has to mutate and create and spread new variants. Beshear said it's important to get the virus' spread under control before the United Kingdom variant becomes the dominant variant. 
Kentucky officially opened vaccination eligibility to people ages 40 and older on Monday, although some providers have already moved into that age range and others are already vaccinated people ages 16 and up or 18 and up depending on which version of the vaccine they are administering. The Pfizer vaccine is Food and Drug Administration approved for people age 16 and up, and the Moderna and Johnson & Johnson vaccines are approved for people age 18 and up. 
As of Monday, Kentucky has vaccinated 1,319,323, Beshear said, and the state has used 93% of its allocated doses, with more allocations on the way. Stack said Kentucky is performing the best in comparison with its seven boarder states, leading in the percentage of the population that has had at least 1 vaccine dose. 
Beshear said Kentucky is also in its eleventh straight week of declining cases, with about 400 fewer new cases last week than the week before. Currently, only eight counties in Kentucky are in the COVID-19 red zone, including Lyon, Simpson, McCreary, Whitley, Powell, Lee, Owsley and Harlan counties. In the Local 6 area, Ballard, Carlisle, Hickman and Fulton counties are in the green zone, with zero cases per 100,000 people. McCracken, Graves, Calloway, Livingston, Crittenden and Trigg counties are in the yellow zone, with fewer than 10 cases per 100,000 people. Marshall and Caldwell counties are in the orange zone, with fewer than 25 cases per 100,000 people.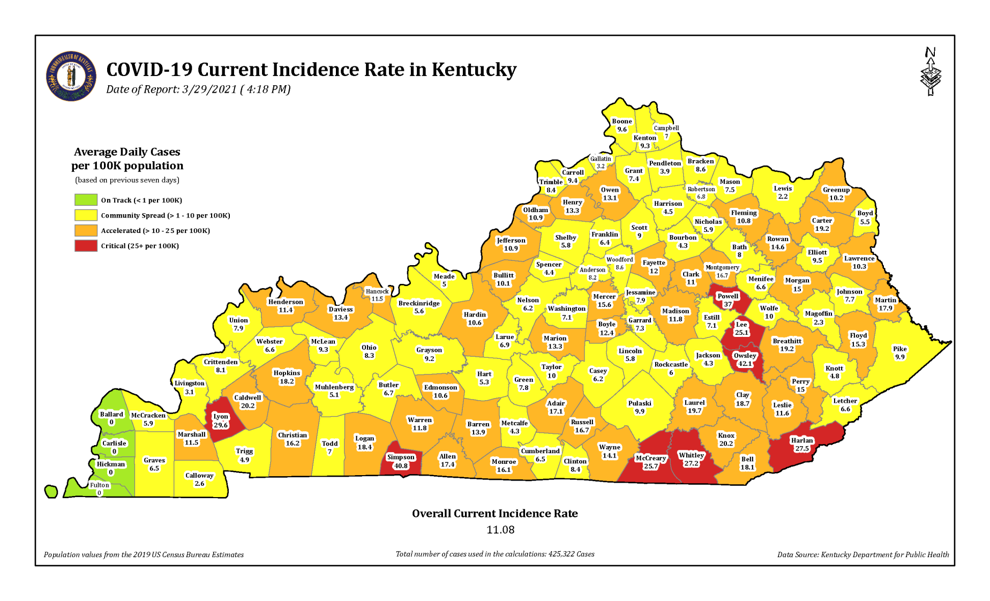 The governor reported 310 new cases Monday, as well as 11 deaths newly reported by health departments. The state's positivity rate for COVID-19 case results now stands at 2.89%.
Beshear warned against growing complacent about the virus, because other states are seeing increases. 
"That's what happens if we give up too early, if we don't play out the game, if we quit on the fourth quarter, if we stop wearing our masks, if we roll back the commons sense regulations that we are gradually easing and just try to spike the football right now," Beshear said. "We cannot do that, and we are already seeing other places that are paying the price for it, and/or are seeing their cases increase based on the activities of their people."
"This thing is still dangerous," the governor said. "It's still killing people, and it's going to continue to kill people until we stop it. We have to get enough people vaccinated before the variants come in if we want to avoid another rise in cases here in Kentucky. And we can do that. We just need to keep it up."
Beshear said the state continues to advise against unnecessary travel. But, the governor asked Kentuckians who do decide to travel for spring break to continue to protect themselves by wearing masks and social distancing. He also said to consider quarantining upon return to the state. 
To date, Kentucky has had 425,333 known COVID-19 cases, including 6,042 known deaths. 
Click here for more information on COVID-19 vaccine locations in the Local 6 area.