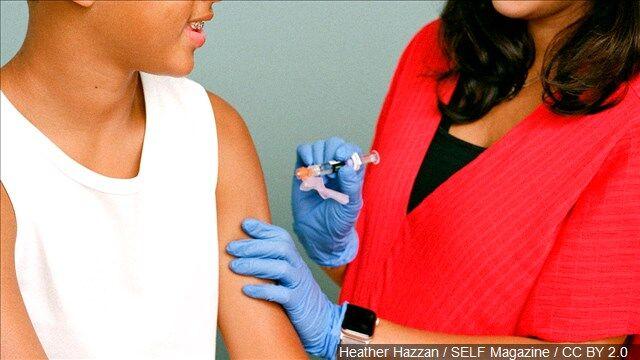 After an advisory panel for the Centers for Disease Control and Prevention on Wednesday endorsed use of Pfizer's COVID-19 vaccine in kids as young as 12, Kentucky, Illinois and Tennessee leaders want you to know their respective states are ready to administer doses to that age group, with parental permission. 
Kentucky Gov. Andy Beshear's office says vaccination sites in Kentucky can administer the Pfizer vaccine to kids ages 12 to 15 starting Thursday, May 13. 
"Starting tomorrow, more Kentuckians will have the opportunity to receive a COVID-19 vaccine and further protect themselves and those around them from this dangerous virus," Beshear said in a statement. "We've seen new COVID-19 cases decline as more and more vaccines have been administered. Now, many Kentucky children and young teens have a chance to roll up their sleeves and become heroes for their communities by receiving their shot of hope."
Citing a report from the Kaiser Family Foundation, Beshear's office says about 231,000 Kentuckians are in the 12-15 age group, making up about 5% of the state's total population.
The Illinois Department of Public Health on Wednesday said locations across the state are ready to administer the vaccine to that age group as well, with doses available at mass vaccination and mobile clinics, local health departments, pharmacies, Federally Qualified Health Centers, and from other providers who offer the Pfizer-BioNTech vaccine. The state agency says it is working to enroll pediatricians into the state's immunization registry, so kids 12 and up can be vaccinated at their doctor's office.  
"The goal is to vaccinate as many Illinoisans as possible to decrease new cases of disease and prevent mutation to more dangerous variants," IDPH Director Dr. Ngozi Ezike said in a statement. "The expanded authorization for use of the Pfizer-BioNTech vaccine in youth ages 12 through 15 years will not only help protect our younger population, it will help us get back to in-person learning across the state."
The Tennessee Department for Public Health also announced Wednesday that it will begin administering the Pfizer vaccine to kids 12-15 following the panel's decision. 
"We have been anticipating this decision for several weeks, and I am thrilled we can begin offering the Pfizer vaccine to children in this age group," said Tennessee Health Commissioner Lisa Piercey, MD, MBA, FAAP. "As a mother and a pediatrician, I believe this vaccine to be safe and effective for children and I hope other parents across the state are relieved to learn this option is available. Our local health departments have been working ahead in preparation for this decision, and vaccine supply is available."
Health departments in Tennessee will begin vaccinating kids in that age range starting Friday, May 14. 
Earlier this week, the Food and Drug Administration cleared the expanded use of Pfizer's shots as well, saying evidence shows the shots worked as well in 12 to 15 year olds as those 16 and older.