FRANKFORT, KY — Kentucky is recommending school districts require masks for unvaccinated students and adults and consider universal masking for all students and staff ahead of the upcoming academic year. 
Gov. Andy Beshear announced the recommendations Monday. Because the delta variant of COVID-19 is spreading quickly among all age groups, the governor says universal masking should be considered by school districts if they want to optimize the number of days they'll be able to have safe, in-person learning.
Beshear said the top priority is to have safe, in-person instruction for as many days as possible in the 2021-2022 school year. He said the delta variant poses a challenge to that goal, as it increases the risk of widespread and frequent quarantines in schools where cases emerge. The governor said health leaders expect that, without efforts to prevent the virus' spread, quarantines of students and staff will happen. 
The K-12 Return to School Guidance Beshear announced Monday is:
School districts should require all unvaccinated students and unvaccinated adults to wear masks in classrooms and other indoor settings. 
Districts should require all students under age 12 to wear masks in classrooms and other indoor settings. 
Districts that want to optimize safety and minimize the risk of disruption of academic and athletic activities should require all students and adults to wear masks indoors, regardless of whether they've been vaccinated.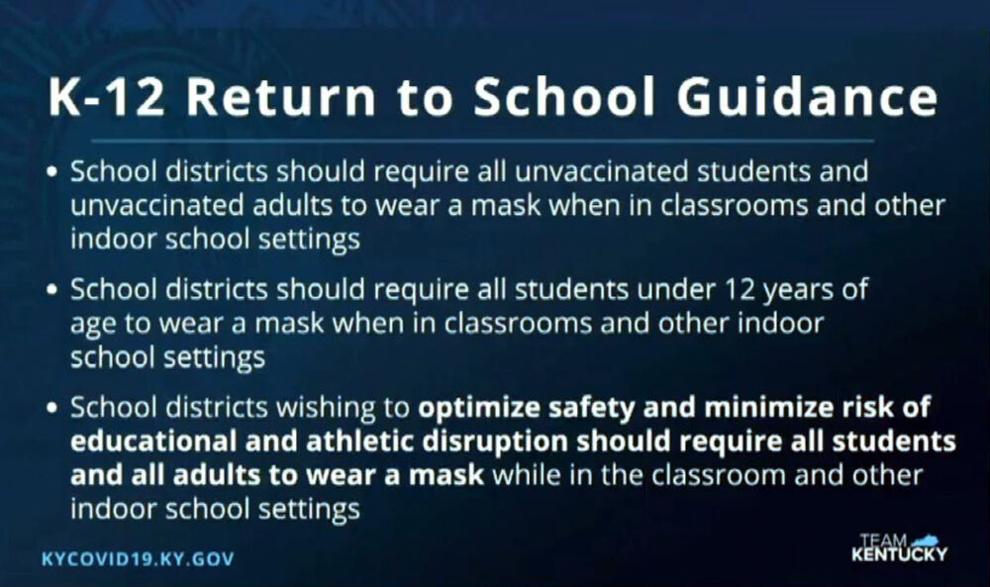 While these are recommendations, Beshear said an eventual mandate is "not off the table" if it becomes necessary. However, Beshear said he is confident schools will not need to be forced to to protect their students. 
The guidance comes as the state has seen multiple weeks with increased cases and higher COVID-19 test positivity rates, in part because of the delta variant and in part because of lower vaccination rates. 
"This is an escalation that is happening primarily in unvaccinated Kentuckians, and the solution remains the same: get vaccinated," Beshear said. 
K-12 COVID-19 Testing Program
Kentucky Public Health Commissioner Dr. Steven Stack on Monday announced the state's new K-12 School COVID-19 Testing Program. The voluntary program is offered by the Kentucky Department of Public Health in partnership with the U.S. Centers for Disease Control and Prevention. 
"We've been given $134 million by the federal government to create a testing program for K-12 schools, public and private, throughout the entire commonwealth," Stack explained. "I urge everyone who operates a school out there to explore the options and make testing available to keep yourselves safe."
Schools that take advantage of the program will have access to COVID-19 testing at no cost. Testing through the program is limited to staff and students of K-12 public, private and charter schools in the state. It includes testing for faculty and other staff members — such as bus drivers, maintenance staff, office staff and others as determined by school administrators — contracted or otherwise. 
The program will operate through the entire 2021-2022 school year. 
School district superintendents and other school administrators who are interested in the program can click here for more information.