FRANKFORT, KY — Kentucky has reported 10,007 new COVID-19 cases since Saturday, as well as 68 new virus-related deaths. 
The new cases include 4,470 reported Saturday, 3,111 reported Sunday and 2,426 reported Monday. 
The deaths include 18 reported Saturday, 21 reported Sunday and 29 reported Monday.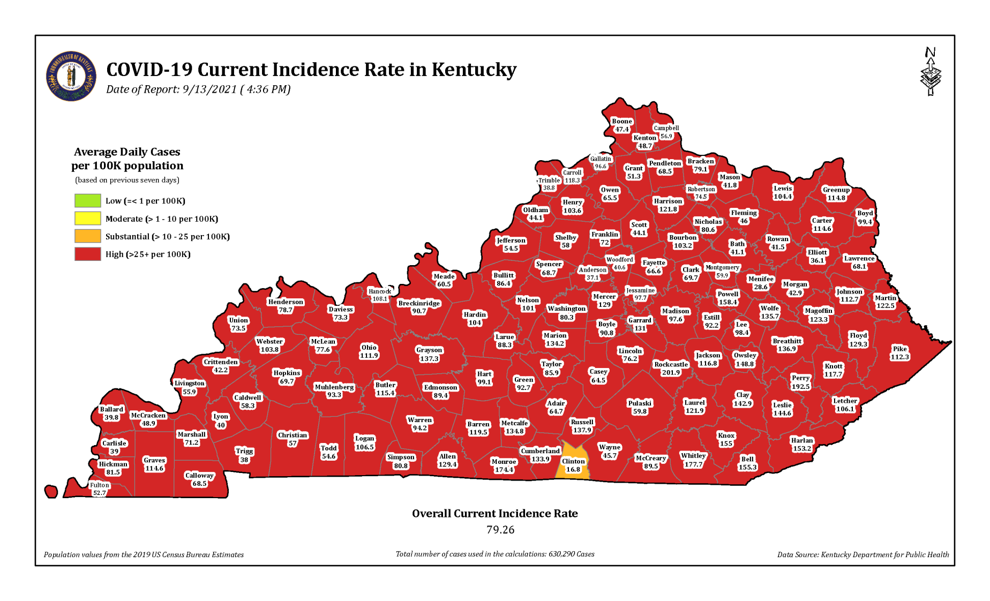 During a news briefing Monday afternoon, Gov. Andy Beshear said the virus is spreading at high rates among younger Kentuckians. 
"In every single one of these days, the largest group by incidence rate — what group has the most people testing positive — 10 to 19 year olds. That has been the same in every report I have gotten for weeks. School age kids by incidence rate testing positive more than anyone else. The next group: 20 to 49 year olds every single day, and I think that's especially the 20 to 29 year olds," Beshear said. 
Monday's COVID-19 report includes 665 new cases age 18 and younger. 
Currently, Beshear said 69% of Kentucky hospitals are reporting critical staffing shortages as they continue to deal with large numbers of hospitalized COVID-19 patients. 
As of Monday, 2,446 Kentuckians are hospitalized with COVID-19, including 646 in intensive care units and 441 on ventilators, which are life support machines used to aid patients who can't breathe on their own. 
Beshear said Kentucky National Guard teams, FEMA strike teams and nursing students are working to help hospitals with the COVID-19 surge. 
The governor said the state has also been working to increase the availability of monoclonal antibody treatments for COVID-19 patients. 
Kentucky Public Health Commissioner Dr. Steven Stack said the administration of those treatments has increased 18 fold in just eight weeks, going from about 204 doses given at the beginning of July up to 3,642 doses given in the most recently reported week, as of last Wednesday. 
Stack said 139 locations are administering monoclonal antibody treatments across Kentucky, and the state is working to publish a list of sites where the treatments are available. 
The public health commissioner said the treatments consist of synthetic, lab-created antibodies that give an immune boost for fewer than 90 days. He said a patient's immune system doesn't learn from this passive immune boost. However, COVID-19 vaccines do prime a person's immune system to create its own antibodies, which can protect the individual for at least eight weeks or more. Monoclonal antibodies have emergency use authorization from the Food and Drug Administration to treat certain COVID-19 patients. The treatment can help prevent COVID-19 patients from developing severe symptoms.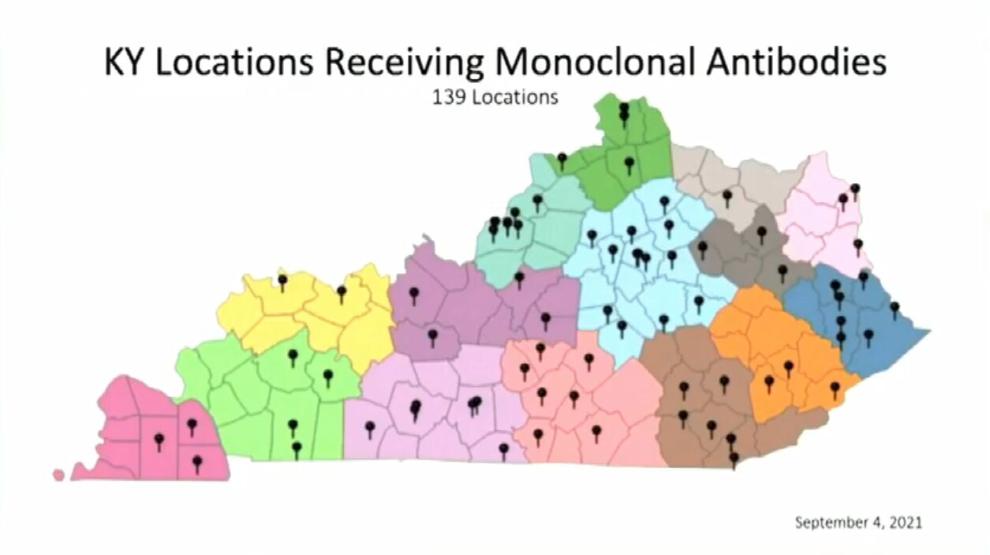 Regarding vaccination, Beshear announced that the state has upgraded its vaccine census data. He said the state now has data for vaccinations among those age 12 to 17, data on those whose age was previously unknown and data on the number of vaccinated Kentuckians regardless of whether they were vaccinated in Kentucky or in other states.  
With those upgrades in effect, Beshear said 2,618,081 Kentuckians have gotten at least one vaccine dose so far, making up about 59% of the state's total population. 
Among those who are eligible to be vaccinated, 69% of Kentuckians age 12 and up have gotten at least one COVID-19 shot. 
Broken down by age, 91% of those 65 and older have gotten at least one dose, followed by 78% of those 50 to 64, 68% of those 40 to 49, 62% of those 30 to 39, 49% of those 18 to 29 and 45% of those 12 to 17.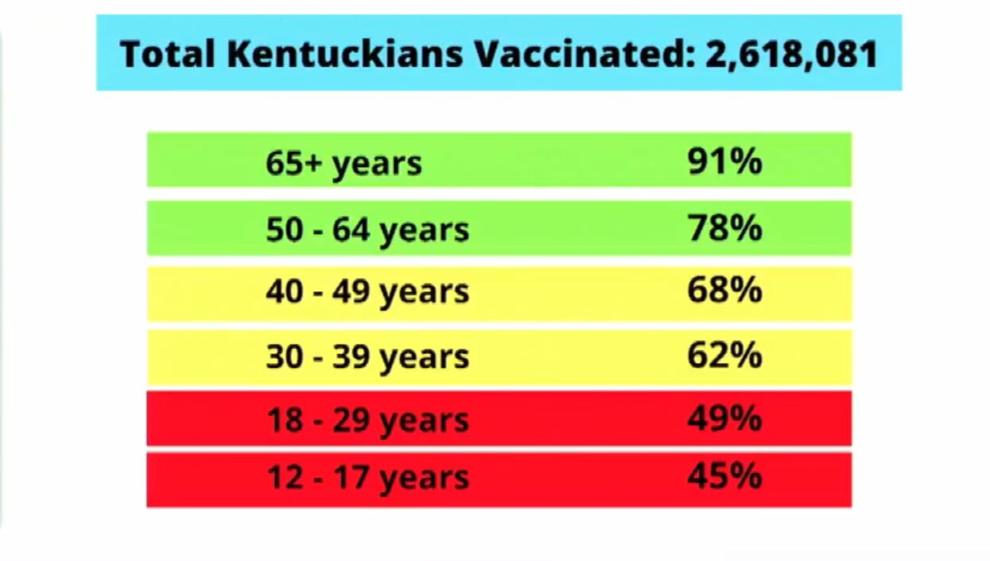 To date, Kentucky has had known 630,299 COVID-19 cases, including 8,071 virus-related deaths. 
Currently, all but one of Kentucky's 120 counties are in the COVID-19 red zone, meaning those communities are experiencing high COVID-19 incidence rates. The state's test positivity rate is 13.7% as of Monday. 
Click here for more information on vaccine providers in the Local 6 area. To make a vaccine appointment from anywhere in the country, visit vaccines.gov. 
Click here to view Kentucky's COVID-19 Vaccination Dashboard. 
Click here for more information about the available COVID-19 vaccines from the Centers for Disease Control and Prevention.