FRANKFORT, KY — Gov. Andy Beshear reported 313 new cases of COVID-19 and eight additional virus-related deaths in Kentucky Monday.
Five of the deaths announced Monday were reported to the state by health departments, and three were uncovered through the state's ongoing audit of death certificates listing COVID-19 as the cause of death.
The governor said looking at the state's incidence rate by age, the rate for people 50 and older is 8.03 cases per 100,000 people. He said the incidence rate for people age 49 and younger is 13.41, meaning it's one-and-a-half times higher among those under 50 than those over 50.
Beshear said Kentucky's positivity rate for COVID-19 test results now stands at 3.45%.
Currently, 414 Kentuckians are hospitalized with the potentially deadly illness, including 102 in intensive care units and 47 on ventilators.
Beshear said, after adding Kentucky residents who got vaccinated in other states and subtracting out-of-state residents who got vaccinated in Kentucky, 1,848,275 Kentucky residents have received at least the first dose of a COVID-19 vaccine so far.
That puts the state 651,725 vaccinations away from Beshear's Team Kentucky Vaccination Challenge of 2.5 million Kentuckians with at least their first vaccine dose. Beshear has said he will end the curfew for bars and restaurants and lift capacity limits and social distancing requirements for nearly all businesses and venues serving 1,000 people or fewer once that goal is met.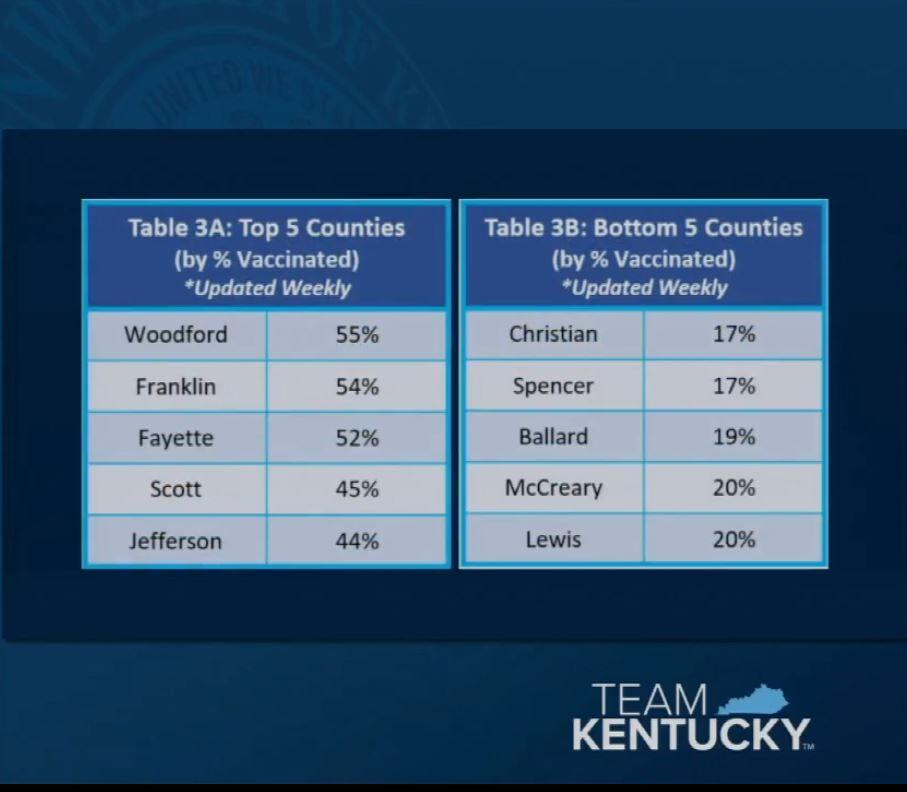 The governor on Monday noted that Christian County has one of the lowest vaccination rates in the state. He said while the county has vaccinated a large number of people, many of those people live in other counties. According to a table Beshear shared during a briefing Monday, only 17% of Christian County residents have gotten vaccinated. The top five counties for vaccination in Kentucky are Woodford, Franklin, Fayette, Scott and Jefferson. The bottom five are Christian, Spencer, Ballard, McCreary and Lewis. 
Looking for a COVID-19 vaccine near you? Click here for more information on COVID-19 vaccine providers in the Local 6 area.