FRANKFORT, KY — Kentucky had 344 new COVID-19 cases Tuesday, as well as 13 addition coronavirus-related deaths, the state's public health department says. 
Seven of the deaths reported in the Kentucky Department for Public Health's COVID-19 report for April 6 were reported by health departments. The remaining six were reported through the state's audit of death certificates listing COVID-19 as the cause of death. 
As of Tuesday, the state's positivity rate for COVID-19 test results is 2.89% — down slight's from Monday's rate of 2.9%. 
Currently, 376 Kentuckians are hospitalized with the illness, including 116 in intensive care units and 57 on ventilators. 
The department reports five of the state's 120 counties are in the COVID-19 red zone, meaning those communities are seeing incidence rates of 25 or more cases per 100,000 people. Overall, the state's incidence rate is 9.01 cases per 100,000, putting Kentucky as a whole in the yellow zone — indicating community spread of the virus.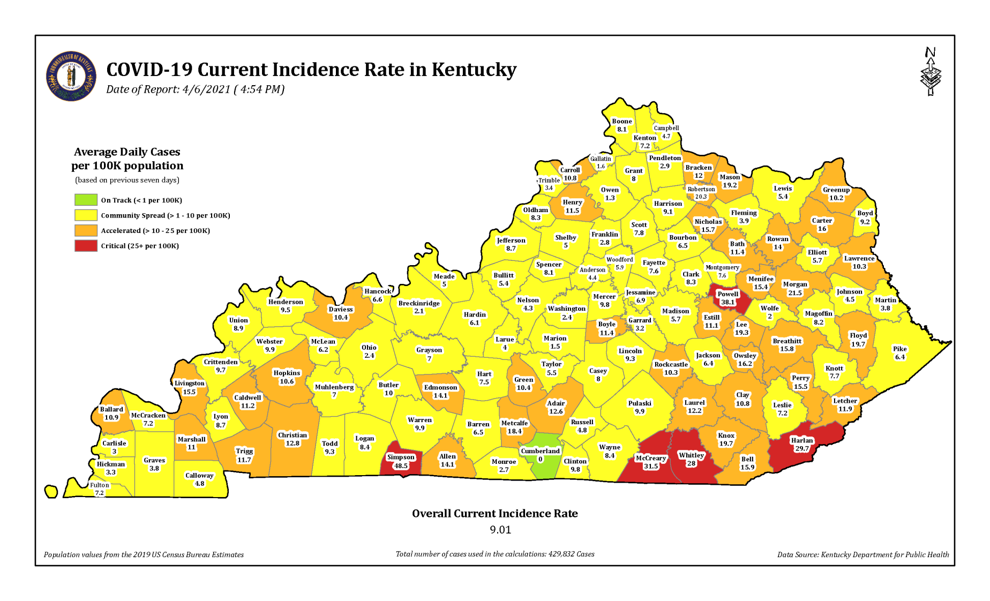 To date, Kentucky has had 429,841 known COVID-19 cases, including 6,184 deaths. 
Kentucky expanded COVID-19 vaccination eligibility to everyone age 16 and older on Monday. 
Looking for a vaccine appointment in the Local 6 area? Visit our COVID-19 vaccination guide.