FRANKFORT, KY — Kentucky had 361 new COVID-19 cases Wednesday, as well as a dozen additional coronavirus-related deaths. 
That's according to the latest report from the Kentucky Department for Public Health, which also reported a COVID-19 test positivity rate of 2.06%. That's down slightly from Tuesday's rate of 2.28%. 
The state's overall incidence rate is 4.55 average daily cases per 100,000 people, putting Kentucky in the yellow zone for COVID-19. That zone indicates community spread of the novel coronavirus. Only one county is in the red  zone, which indicates a critical rate of spread. That's Webster County, with an incidence rate of 32 average daily cases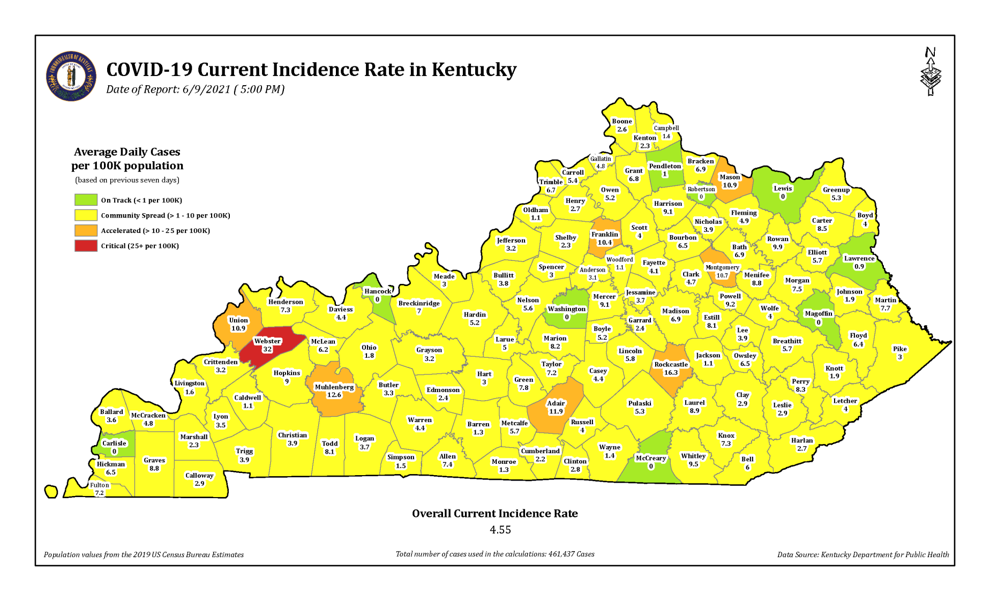 KDPH says 279 Kentuckians are currently hospitalized with the potentially deadly illness, including 88 in intensive care units and 48 on ventilators. 
To date, Kentucky has had 461,446 known COVID-19 cases, including 7,121 deaths. 
So far, 2,094,236 Kentuckians have gotten at least one COVID-19 vaccine dose. 
To encourage more people to get their COVID-19 shots, Kentucky is holding a "Shot at a Million" vaccine incentive drawing. Those who enter after getting vaccinated have a chance to win $1 million or one of 15 scholarships. 
MORE DETAILS: Kentucky launches 'Shot at a Million' vaccine incentive drawing