FRANKFORT, KY — Kentucky had 531 new COVID-19 cases Friday, as well as nine additional coronavirus-related deaths. 
In its Friday COVID-19 report, the Kentucky Department for Public Health said 88 of the state's new cases are teens and kids 18 and younger. 
The state's COVID-19 test positivity rate is currently 2.47%. 
Looking at the COVID-19 incidence rate, the state is in the "yellow zone" with 4.49 average daily cases per 100,000 people. That means community spread is occurring. Currently, all of the state's 120 counties are out of the "red zone," that would indicate a critical rate of spread.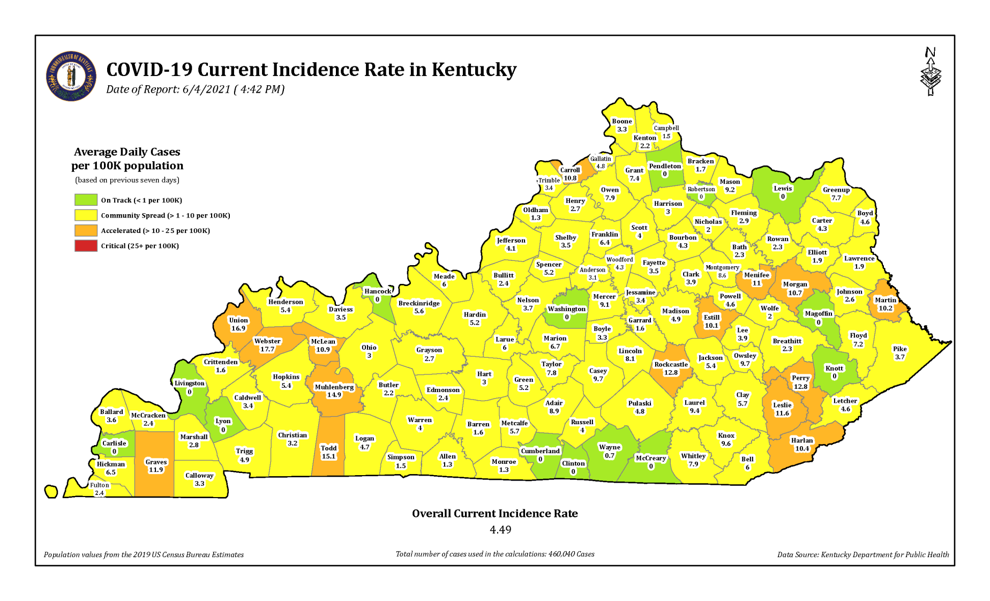 According to KDPH, 294 Kentuckians are currently hospitalized with the illness, including 87 in intensive care units and 45 on ventilators. 
Gov. Andy Beshear says 2,068,762 Kentuckians have gotten at least their first COVID-19 vacine dose. Beshear on Friday announced that eligible Kentucky residents who've gotten their first vaccine dose can enter for a chance to win $1 million or one of 15 scholarships. 
MORE DETAILS: Kentucky launches 'Shot at a Million' vaccine incentive drawing
For more information on COVID-19 vaccine providers in the Local 6 area, visit our COVID-19 vaccine guide. You can also search for vaccines near you at vaccines.gov.