FRANKFORT, KY — The Kentucky Department for Public Health reported 2,101 new COVID-19 case Friday and 72 additional virus-related deaths, as the state's positivity rate continues to creep upward incrementally. 
Friday, the positivity rate for COVID-19 test results came in at 6.24%, up slightly from Thursday's rate of 6.18%. 
Monday, the positivity rate was 5.73%. 
Gov. Andy Beshear said via social media Friday that the day's COVID-19 report also included 84 deaths added for the final 2020 report, and another 56 lives lost from January 2021. 
Accounting for those figures, KDPH reports that Kentucky has had 769,732 known COVID-19 cases and 10,606 virus-related deaths so far. 
Currently, 778 Kentuckians are hospitalized with the illness, including 203 in intensive care units and 104 on ventilators. 
The state's overall incidence rate is currently in the red zone at 30.02 average daily cases per 100,000 population, based on reports from the previous seven days.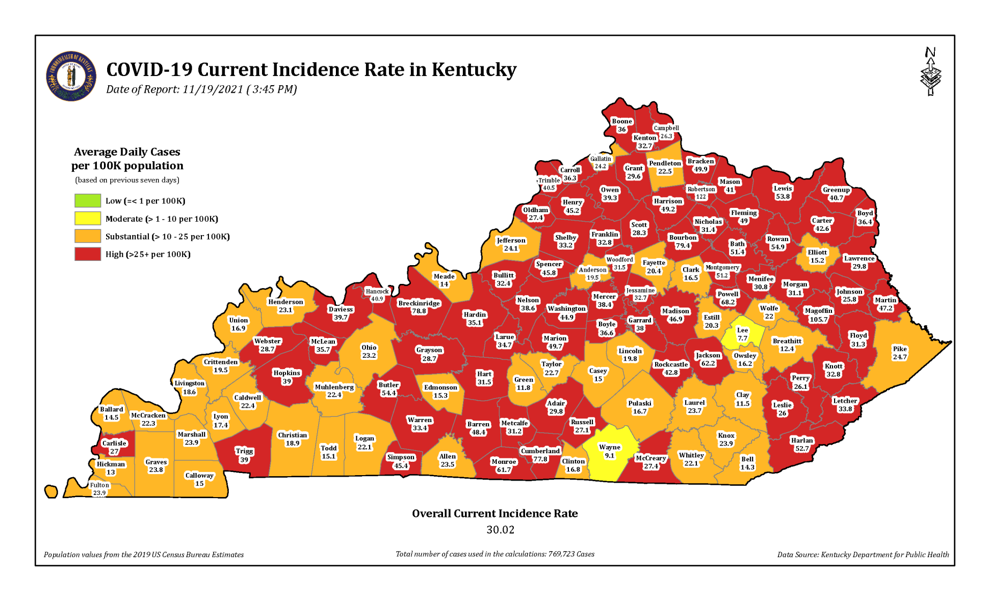 Most counties in the state are reporting either high or substantial incidence rates, which means the Centers for Disease Control and Prevention recommends wearing masks in indoor public places in those communities, regardless of vaccination status. 
Health experts continue to recommend vaccination, masking and social distancing to prevent the spread of COVID-19, as well as avoiding crowds and poorly ventilated spaces, practicing frequent hand washing and cleaning high-tough surfaces daily. Click here for more information. 
The CDC also on Friday expanded its COVID-19 booster shot recommendation to include everyone 18 or older. Both COVID-19 and flu vaccine providers near you can be found at vaccines.gov.