FRANKFORT, KY — Kentucky had 723 new COVID-19 cases Friday, as well as four additional virus-related deaths. 
All four deaths were newly reported to the state by local health departments. No new deaths were reported through the state's audit of death certificates listing COVID-19 as the cause of death. 
Currently, 439 Kentuckians are hospitalized with the potentially deadly illness, including 101 in intensive care units and 44 on ventilators. 
The state's positivity rate for COVID-19 test results now stands at 3.22%. 
Six of the state's 120 counties are in the red zone for COVID-19, meaning the incidence rate in those counties is at a critical level. A map from the Kentucky Department for Public Health shows the state's overall incidence rate is in the orange zone Friday, indicating accelerated spread of the virus. Ballard County is the only west Kentucky county in the green zone, with an incidence rate of zero cases per 100,000 people.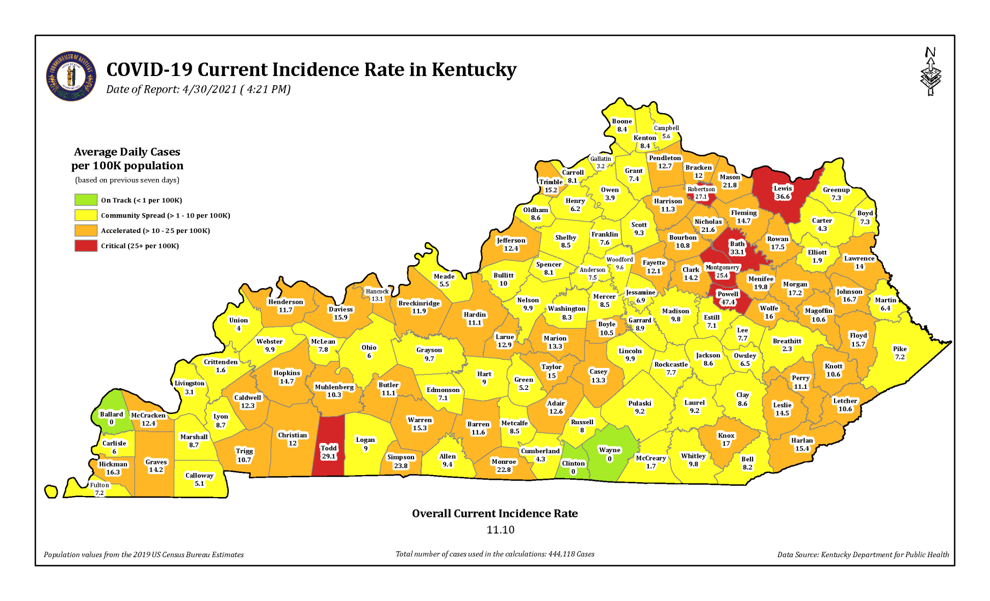 To date, Kentucky has had 444,127 known COVID-19 cases, including 6,501 deaths. 
In a tweet regarding Friday's COVID-19 report, Gov. Andy Beshear said 1,760,933 Kentuckians have received at least their first dose of a COVID-19 vaccine so far. 
The governor has said he will end the curfew for bars and restaurants and lift capacity limits and social distancing requirements for nearly all businesses and venues serving 1,000 people or fewer once 2.5 million people have gotten at least one vaccine dose.
Friday's update means the state is 739,067 shots away from that goal. 
Looking for a COVID-19 vaccine near you? Click here for more information on COVID-19 vaccine providers in the Local 6 area.