FRANKFORT, KY — Kentucky continues to see fewer new COVID-19 cases, and the state's positivity rate continues to decline, Gov. Andy Beshear said during a news briefing Monday. 
The governor said the "hard work" Kentuckians are putting in by wearing masks, social distancing and avoiding gatherings is the reason for those downward trends. 
Beshear reported 1,003 new cases on Monday, the lowest one-day report since. Dec. 26. The state's positivity rate for COVID-19 test results dipped to 7.78% on Monday, the lowest it's been since Nov. 10. 
The governor said 95 of Kentucky's 120 counties are currently in the red zone for COVID-19 risk. He said while that number was not something to celebrate, it does represent the fewest counties in the red zone the state has reported in some time.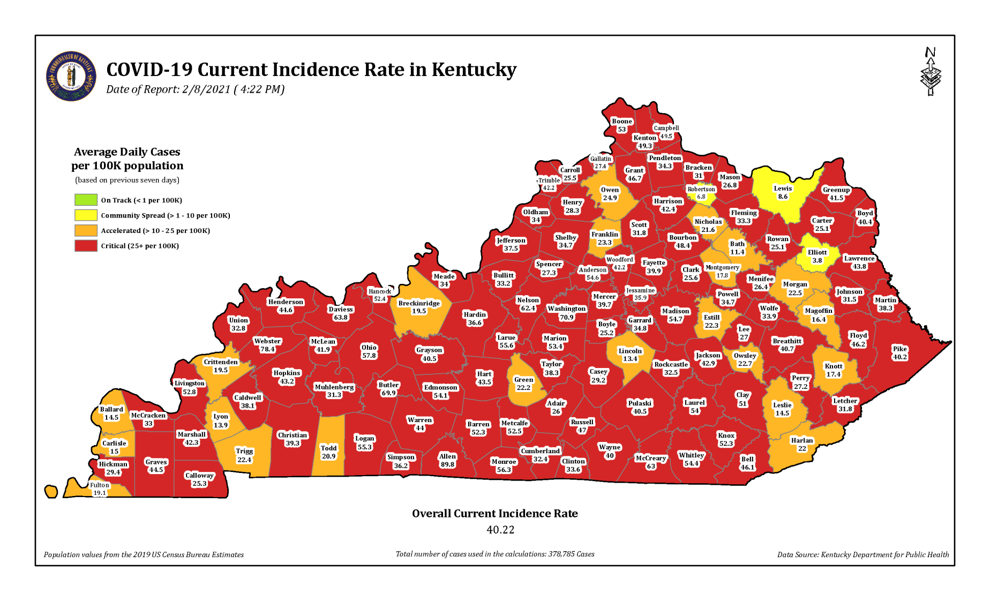 "Let's not celebrate that we have 95 red counties, but let's just keep it up," Beshear said, meaning that Kentuckians should continue to wear masks around people they don't live with and maintain 6 feet of social distance from others. 
However, Beshear again reported virus-related deaths in the double digits Monday, with 40 additional lives lost because of the illness the virus causes. Beshear said the 40 deaths reported Monday included people who passed away in January and February, as well as one person who died in December. Beshear said the state's process of verifying that the COVID-19 deaths it reports are indeed related to the illness — as opposed to deaths with other causes where the person coincidentally had COVID-19 — sometimes means there is a greater delay in adding those individuals to the state's data. 
As of Monday, the Kentucky Department for Public Health reports 1,163 Kentuckians are hospitalized with the illness, including 274 people in intensive care units and 142 on ventilators. 
To date, Kentucky has had 378,793 known COVID-19 cases, including 4,091 deaths.