FRANKFORT, KY — Kentucky reported just 36 new COVID-19 cases Monday, according to the state's public health department. In a tweet, Gov. Andy Beshear said there was an issue with the lab reporting system, and that number is lower than expected. 
Due to an issue with the lab reporting system, reported cases are lower than expected. All cases will be reported once issue is resolved. (2/2)

— Governor Andy Beshear (@GovAndyBeshear) June 7, 2021
Delays with the federal and state reporting system also caused problems for Sunday's COVID-19 report, according to Beshear.
Due to delays with the federal and state reporting system, there will be no vaccination or COVID-19 report today, Sun., June 6.

— Governor Andy Beshear (@GovAndyBeshear) June 6, 2021
The Kentucky Department for Public Health reported 36 new cases Monday and 83 new cases Sunday, after reporting 369 new cases Saturday. 
Beshear said all cases missing from those reports will be announced once the issue is fixed. 
KDPH also reported five additional virus-related deaths Monday. Seven deaths were reported in the state Sunday, and five were reported Saturday.
Kentucky has had 460,520 known COVID-19 cases since testing began, including 7,103 deaths. 
As of Monday, the state's positivity rate for COVID-19 test results is 2.28%.
Looking at incidence rates, most of the state's 120 counties were in the yellow zone Monday, meaning the community spread is occurring, but incidence rates are not at accelerated (orange zone) or critical (red zone) levels. No counties were in the red zone, and only Union, Webster, Muhlenberg, Rockcastle and Martin counties were in the red zone. 
Overall, the state's incidence rate for Monday is 3.57 average daily cases per 100,000 people, according to the latest KDPH map.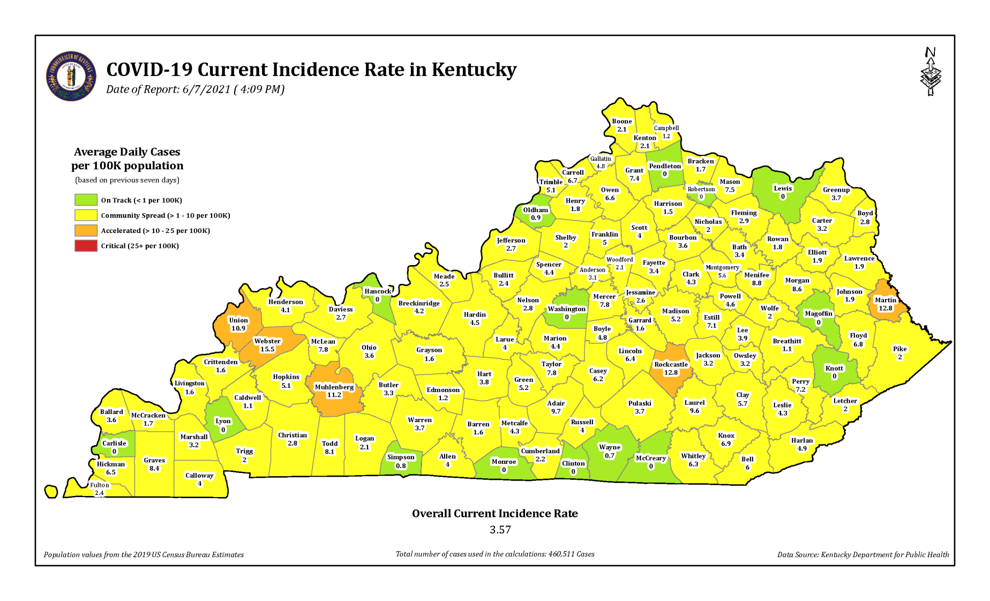 On Friday, Kentucky will lift all COVID-19-related capacity limits on businesses. That includes senior centers, which will be able to open at full capacity. The mask mandate will also be lifted except in places where people are the most vulnerable to the illness. The governor has said the effectiveness and availability of COVID-19 vaccines and the age expansion for the Pfizer vaccine to include kids as young as 12 have enabled the state to safely lift those restrictions.
So far, 2,087,829 Kentuckians have gotten at least one COVID-19 vaccine dose, Beshear said Monday. 
For more information on COVID-19 vaccine providers in the Local 6 area, visit our COVID-19 vaccine guide. You can also search for vaccines near you at vaccines.gov.