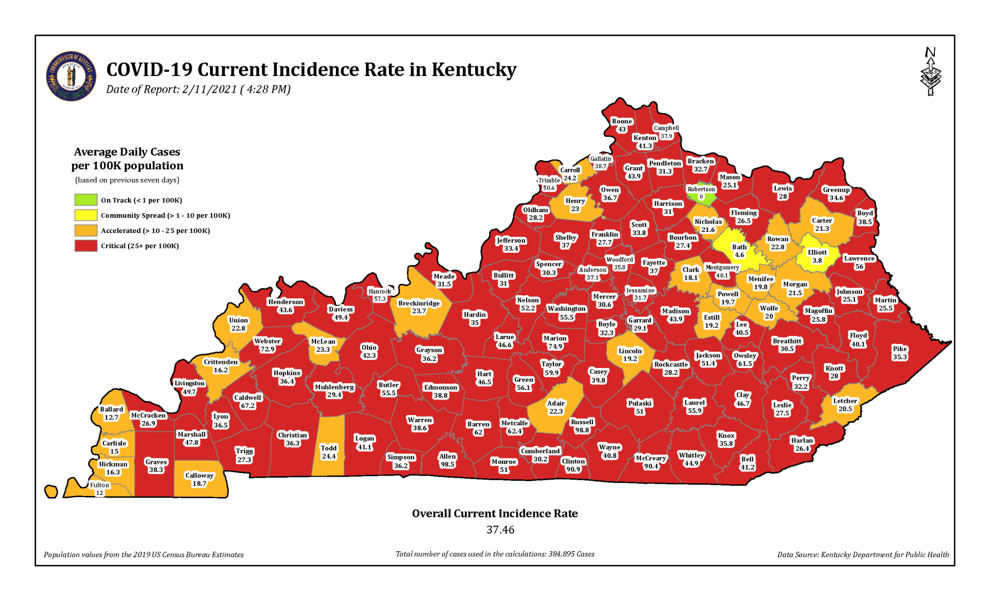 FRANKFORT, KY — Kentucky's COVID-19 positivity rate declined to 6.95% Friday, Gov. Any Beshear announced. 
That's the lowest the state's positivity rate has been since Nov. 6, the governor said in a news release sent Friday afternoon. 
Beshear also reported 1,440 new COVID-19 cases Friday, and 42 additional virus-related deaths. Currently, 1,063 Kentuckians are hospitalized with the illness, including 277 in intensive care units and 154 on ventilators. 
"It looks like we're going to have fewer cases than last week, which would give us five straight weeks of declining cases. The positivity rate also continues to decline," Beshear said in a statement. "This says you're doing the right things, and we're headed in the right direction. But even if you've been vaccinated, we have to continue to wear masks and social distance until we can defeat this thing once and for all."
Beshear on Thursday announced 156 new COVID-19 vaccination sites in Kentucky, including several in the Local 6 area. The new sites in the local 6 area announced Thursday include: 
Kroger store sites

Paducah Kroger - 3141 Park Ave.
Murray Kroger - 808 N 12th St.

Walmart

Paducah - 3220 Irvin Cobb Drive
Mayfield - 1225 Paris Road

Walgreens and independent pharmacies

Benton Pharmacy - 2606 Main St., Benton, KY 42025
Draffenville Pharmacy - 153 US 68 East, Benton, KY 42025
Calvert City Pharmacy - 906 E. 5th Ave., Calvert City, KY
Glenn's Apothecary - 520 West Gum St., Marion, KY, 42064
Duncan Prescription Center - 315 West Broadway St. Mayfield, KY 42006
Gibson's Pharmacy - 1206 Paris Road, Mayfield, KY 42066
Gibson's Pharmacy - 1206 Paris Road, Mayfield, KY 42066
Walgreens - 635 South 6th St., Mayfield, KY
Walter's Family Pharmacy - 604 South 12th St. Murray, KY, 42071
Walgreens - 1205 Main St., Murray, KY
Davis Drugs - 250 Lone Oak Road, Paducah 42001
Reidland Pharmacy - 5433 Reidland Road, Paducah, KY 42003
Strawberry Hills Pharmacy - 2670 New Holt Road Suite D., Paducah, KY 42001
Walgreens at 521 Lone Oak Road, Paducah, KY
Walgreens at 3360 Irvin Cobb Drive, Paducah, KY
Click here for more information on vaccination sites the governor announced Thursday. 
To date, Kentucky has had 386,326 COVID-19 cases, including 4,253 deaths.