FRANKFORT, KY — Kentucky had 1,054 new COVID-19 cases on Tuesday, and the state's positivity rate for COVID-19 test results rose to 5.71%, the state health department reports. 
Of the new cases reported Tuesday, 217 are teens and kids age 18 and younger. 
Three new virus-related deaths were reported as well. 
To date, Kentucky has had 471,669 known COVID-19 cases, including 1,054 deaths. 
The state's overall COVID-19 incidence rate is 11.5 as of Tuesday afternoon, the Kentucky Department for Public Health reports. That puts the state in the orange zone, meaning the novel coronavirus is spreading at an accelerated rate. 
In the Local 6 area, Calloway, Carlisle, Crittenden, Livingston, Marshall, McCracken and Graves counties are in the orange zone. Caldwell, Christian, Fulton, Hickman and Lyon counties are in the yellow zone, meaning those counties are seeing community spread of the virus. Only Ballard and Trigg counties are in the green zone, meaning they are considered to be "on track" in the fight against the virus. 
Meanwhile, nearby Webster, Hopkins and Muhlenberg counties are in the red zone, meaning the virus is spreading at a critical rate in those communities.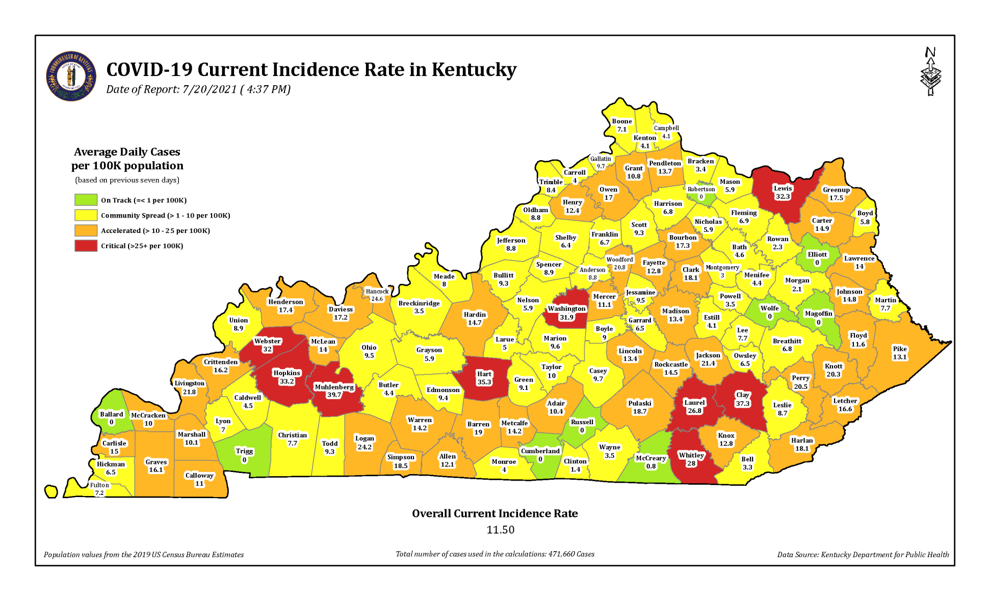 So far, about 2.25 Kentuckians have gotten at least one COVID-19 vaccine dose. Gov. Andy Beshear and Kentucky Public Health Commissioner Dr. Steven Stack on Monday urged Kentuckians to get vaccinated, because the state is seeing a significant increase in cases as the delta variant of the virus spreads. 
"It's the dominant variant in Kentucky, and you ought to assume that if you get COVID, it's gonna' be the delta variant at this point," Beshear said.
Beshear and Stack each stressed the effectiveness of the three approved COVID-19 vaccines. 
"Every death that comes from this point forward, unless we get new strains even beyond the delta, is probably a preventable death from COVID if they were just vaccinated," Stack said.
MORE DETAILS: Delta variant 'spreading like wildfire' in Kentucky, state leaders warn
In Washington on Tuesday, Senate Minority Leader Mitch McConnell also encouraged Americans to get vaccinated. The Kentucky Republican warned that the nation could face a repeat of 2020's hardships. 
"These shots need to get in everybody's arms as rapidly as possible or we're going to be back in a situation in the fall that we don't yearn for — that we went through last year," he said.  "This is not complicated."
WATCH: McConnell urges Americans to get vaccinated as cases spike
Looking for a COVID-19 vaccine in the Local 6 area? Check out our COVID-19 Vaccine Guide.