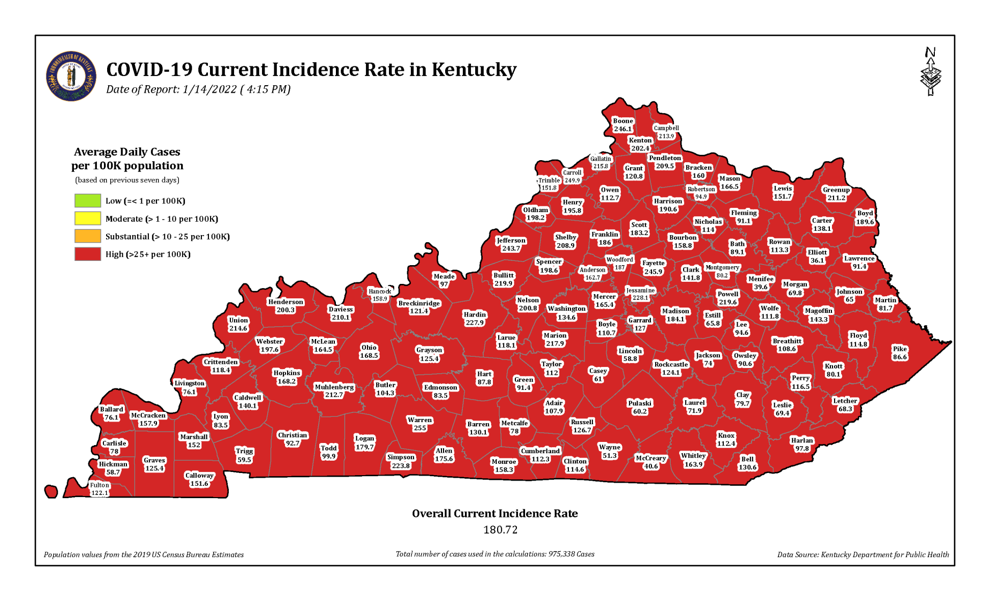 FRANKFORT, KY — The Kentucky Department for Public Health reported 13,492 new COVID-19 cases Friday — the largest one-day report by far. 
The state also reported its highest ever positivity rate for COVID-19 test results at 28.61%, as well as 35 additional virus-related deaths. 
The entire state is in the COVID-19 red zone, with an incidence rate of 180.72 average daily cases per 100,000 people as of Friday. 
"Please get vaccinated, get your booster. Don't put the booster off. Wear a mask," Gov. Andy Beshear said in a video posted to social media Friday afternoon. "This thing is spreading like wildfire. Protect yourself and those around you."
Currently, 2,126 Kentuckians are hospitalized with the illness, including 466 in intensive care units and 226 on ventilators. 
Since testing began, Kentucky has had 975,346 known COVID-19 cases, including 12,518 deaths.