FRANKFORT, KY — Kentucky reported 3,034 new COVID-19 cases over the past three days, as well as 66 deaths.
The cases include 1,561 reported Saturday, 747 reported Sunday and 726 reported Monday.
The deaths include 45 reported Saturday, 11 reported Sunday and 10 reported Monday.
The report comes one day after Gov. Andy Beshear and other state leaders gathered Sunday for a memorial honoring the more than 10,000 Kentuckians who have died because of COVID-19.
To date, Kentucky has had 762,940 known COVID-19 cases, including 10,280 deaths.
The state's positivity rate for COVID-19 test results has once again increased, coming in at 5.73% on Monday. That's up from 5.65% on Sunday. 
Giving an update on the pandemic in Kentucky on Monday, Beshear said while the positivity rate is higher than desired, it appears that it has plateaued. 
"The top line here is it does look like we've plateaued. That's not a reason to think that there is another surge," Beshear said. "It looks like we have plateaued on the positivity rate at about 5.5%. We are still at a very serious level."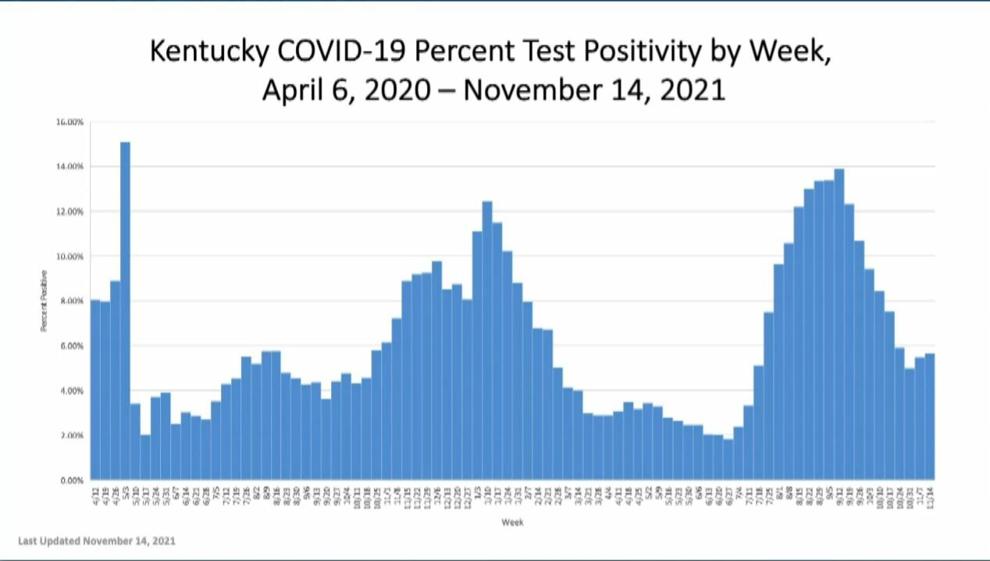 Looking at cases week by week, Beshear said 9,506 cases were reported in the week from Nov. 8 to Nov. 14, up from 7,919 cases the week before and 8,603 the week before that.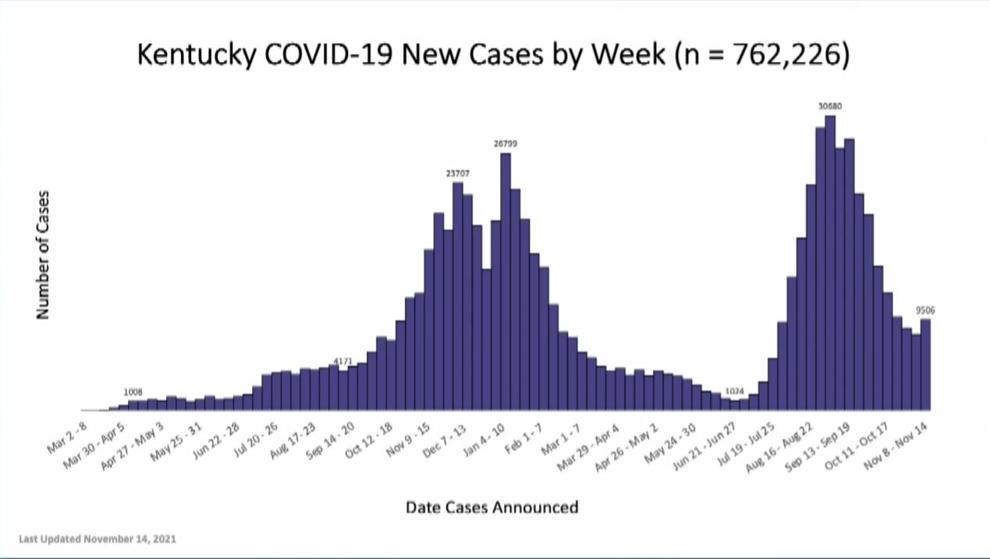 As of Monday, the Kentucky Department for Public Health says 719 Kentuckians are currently hospitalized with the illness, including 191 in intensive care units and 105 on ventilators. 
Update on vaccinations 
The governor said 24,138 Kentuckians were newly vaccinated over the weekend. 
According to the state's vaccine dashboard, 2,611,059 Kentuckians have gotten at least one vaccine dose so far. 
Beshear continues to encourage Kentuckians to not only get their first round of COVID-19 shots, but to also get their booster dose once eligible. 
On Monday, the governor said 425,401 Kentuckians have gotten their COVID-19 booster. 
Beshear also encouraged parents to of kids ages 5 to 11 to get their children vaccinated, now that Pfizer's vaccine for that age group is available. 
The governor said children currently make up 25% to 30% of all new COVID-19 cases in Kentucky. He said Pfizer's vaccine is safe for children. He said during clinical trials for the pediatric vaccine, none of participants had serious side effects, and the vaccine was found to be 90.7% effective in preventing symptomatic COVID-19 in kids ages 5 to 11. 
The governor's office notes that a number of Kentucky organizations have come together to recommend the pediatric vaccine, including the Kentucky Department for Public Health, the Kentucky Primary Care Association, the Kentucky Medical Association, Kentucky Voices for Health, the Kentucky Chapter of the American Academy of Pediatrics, the Kentucky Hospital Association, Foundation for a Healthy Kentucky and the Kentucky Nurses Association.
In the first full week that the child-size vaccine was available, Beshear said 15,163 Kentucky children have gotten their first dose. The governor said state officials believe that number may double next week, noting that it usually takes about three days to get some of the vaccination numbers.