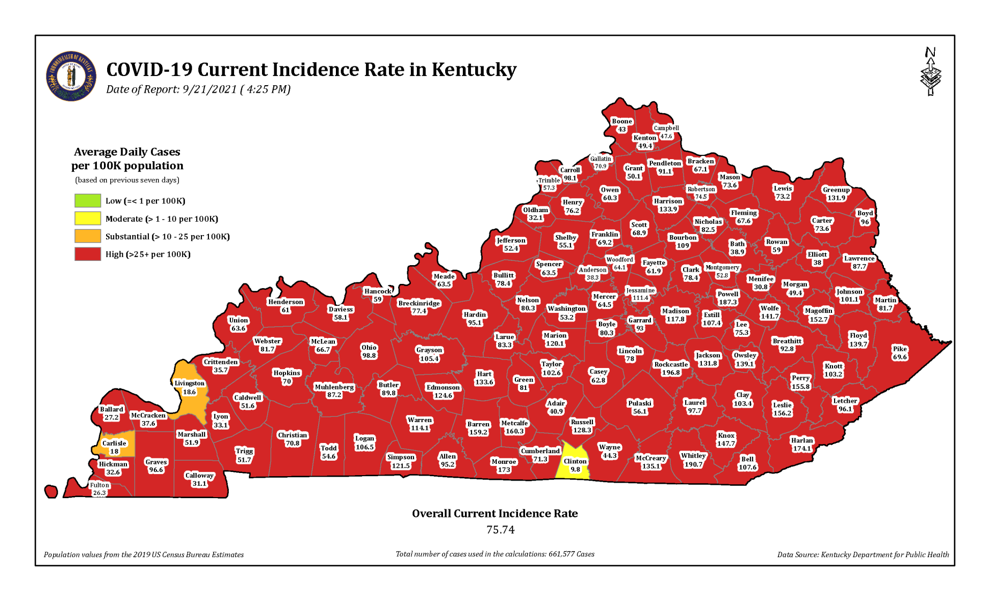 FRANKFORT, KY — The Kentucky Department for Public Health reported 3,391 new COVID-19 cases Tuesday, as well as 31 additional virus-related deaths. 
The new cases include 873 children and teens age 18 and younger.
As of Tuesday, the positivity rate for COVID-19 test results is 11.95%. Currently, only three counties — Carlisle, Livingston and Clinton — are out of the COVID-19 red zone. The state overall is well into the red zone, with an overall incidence rate of 75.74 average daily cases per 100,000 population based on data from the past seven days. 
Currently, 2,287 Kentuckians are hospitalized with the potentially deadly illness, including 664 in intensive care units and 445 on ventilators. 
To date, Kentucky has had 661,586 known COVID-19 cases, including 8,370 deaths. 
In a tweet Tuesday, Gov. Andy Beshear encouraged unvaccinated Kentuckians to get their COVID-19 shots to protect themselves from COVID-19. 
On Tuesday, Gov. Beshear announced 3,391 newly reported cases of COVID-19 and 31 deaths. The Governor encouraged eligible Kentuckians to join the 2,652,630 people vaccinated in the commonwealth to protect themselves and others. https://t.co/pj2ZDKsi1I pic.twitter.com/Xb5TtqetbL

— Governor Andy Beshear (@GovAndyBeshear) September 21, 2021
Click here for more information on vaccine providers in the Local 6 area. To make a vaccine appointment from anywhere in the country, visit vaccines.gov. 
Click here to view Kentucky's COVID-19 Vaccination Dashboard. 
Click here for more information about the available COVID-19 vaccines from the Centers for Disease Control and Prevention.