FRANKFORT, KY — Kentucky reported 5,398 new COVID-19 cases Wednesday — marking the fourth highest one-day case report in the state since the pandemic began. 
The Kentucky Department for Public Health also reported 49 new virus-related deaths. Gov. Andy Beshear said the lives lost include multiple people in their 30s and 40s. 
In a video message shared to social media, Beshear listed a dozen individuals included in Wednesday's report. Among them were multiple people from the Local 6 area, including a 37-year-old man from Caldwell County, a 50-year-old woman from Graves County, a 43-year-old woman from McCracken County and a 44-year-old man from Marshall County. Other Beshear listed include a 41-year-old man from Hopkins County, a 45-year-old woman from Barren County, a 40-year-old man from Henry County, a 33-year-old woman from Jefferson County, a 53-year-old woman from Montgomery County, a 38-year-old woman from Nelson County, a 50-year-old man from Oldham County and a 32-year-old man from Warren County. 
The new cases reported Wednesday include 1,530 kids and teens age 18 and younger. 
The state's positivity rate for COVID-19 test results now stands at 13.02%, and 119 of the state's 120 counties are in the COVID-19 red zone, meaning that those communities are dealing with high numbers of cases.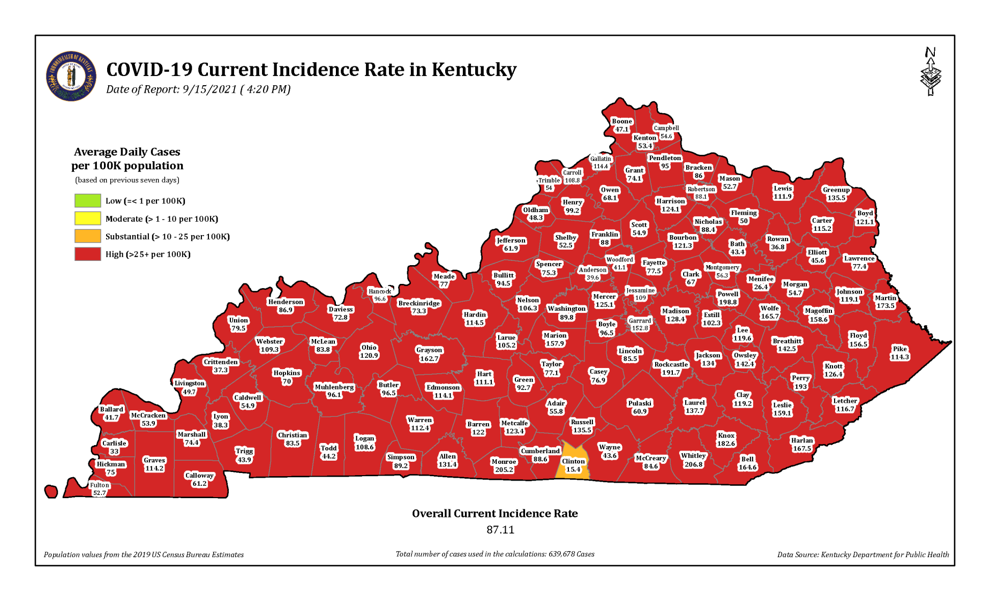 Kentucky hospitals continue to be strained due to the COVID-19 surge. KDPH reported Wednesday that 90.7% of intensive care unit beds in Kentucky are occupied. 
Currently, 2,493 Kentuckians are hospitalized with the potentially deadly illness, including 648 in ICUs and 436 on ventilators. 
To date, Kentucky has had 639,687 known COVID-19 cases, including 8,144 deaths. 
Beshear continues to urge Kentuckians to get vaccinated and wear masks in indoor public places to prevent the virus' spread and prevent further hospitalizations and deaths. 
So far, 59% of the state's total population has gotten at least one COVID-19 shot. 
Click here for more information on vaccine providers in the Local 6 area. To make a vaccine appointment from anywhere in the country, visit vaccines.gov. 
Click here to view Kentucky's COVID-19 Vaccination Dashboard. 
Click here for more information about the available COVID-19 vaccines from the Centers for Disease Control and Prevention.