FRANKFORT, KY — The Kentucky Department for Public Health reported 4,941 new COVID-19 cases across the state Wednesday. Gov. Andy Beshear says that's the third highest one-day report so far. 
KDPH reports that 1,560 of those cases are kids and teens age 18 and younger. 
Twelve additional coronavirus-related deaths were reported Wednesday as well. 
To date, Kentucky has had 581,982 known COVID-19 cases, including 7,776 deaths. 
The state's positivity rate for COVID-19 test results is now 13.35%. The incidence rate remains high at 89.02 average daily cases per 100,000 people over the past seven days. 
Only two counties across the state are out of the COVID-19 red zone on Wednesday: Carlisle and Woodford. However, both counties are close to the red zone threshold. That means COVID-19 is spreading at a high or substantial rate in the entire state. 
Currently, 2,267 Kentuckians are hospitalized with the potentially deadly illness, including 644 in intensive care units and 410 on ventilators.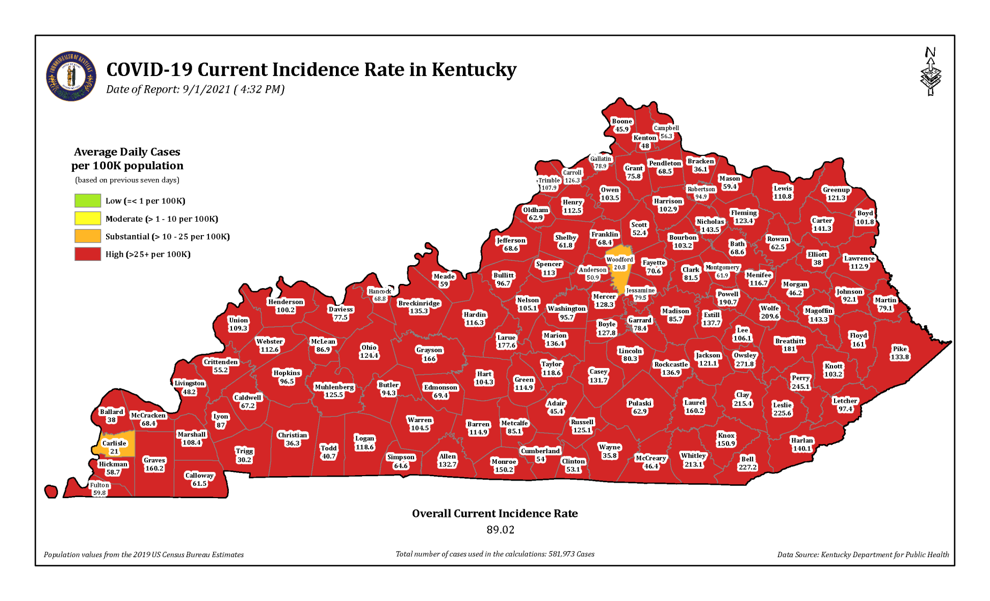 In Kentucky and across the nation, most people currently hospitalized with COVID-19 are unvaccinated. 
Click here for more information on vaccine providers in the Local 6 area. To make a vaccine appointment from anywhere in the country, visit vaccines.gov. 
Click here to view Kentucky's COVID-19 Vaccination Dashboard. 
Click here for more information about the available COVID-19 vaccines from the Centers for Disease Control and Prevention.