FRANKFORT, KY — Gov. Andy Beshear announced Kentucky schools are to close to in-person instruction starting Nov. 23, as the state continues to face a COVID-19 surge. The governor also unveiled new COVID-19 restrictions for bars and restaurants, as well as restrictions on private gatherings, gyms, office-based businesses and venues that host events such as weddings.
Unveiling the changes during a briefing Wednesday afternoon, Beshear said the new restriction for schools applies to both public and private institutions. Middle and high schools are to continue remote instruction until Jan. 4, and elementary schools can reopen on Dec. 7 if their county is not in the COVID-19 red zone and if the school follows all Healthy at School guidance.
Beshear also pointed to decisions made Wednesday by the Kentucky High School Athletics Association. The KHSAA has decided to postpone winter sports until Jan. 4. The KHSAA board voted to move to that start date for basketball, swimming and diving, wrestling, competitive cheer and dance. 
Board votes to adjust the first playing date for basketball in 2020-2021 to January 4, with desired state tournament dates for weeks of March 15 and March 22 and direct staff to enter into venue negotiations for final confirmation at a December meeting.

— KHSAA Main (@KHSAA) November 18, 2020
Board approves motion for swimming & diving, wrestling, competitive cheer and dance to mirror basketball with a Jan. 4 start date.

— KHSAA Main (@KHSAA) November 18, 2020
The board also approved changes to current travel restrictions, recommending that schools refrain from traveling to counties in the COVID-19 red zone, as well as avoiding out-of-state travel to states that fall under Kentucky's travel advisory. Kentucky advises against traveling to states with COVID-19 positivity rates at or above 15%
Board approves revision to the current travel restrictions to remove the non-contiguous county restriction. (1/3)

— KHSAA Main (@KHSAA) November 18, 2020
Will recommend to schools no out-of-state travel to county where incidence rate of that county would place them in "red" status in Ky., not to include all competing teams from other counties. (2/3)

— KHSAA Main (@KHSAA) November 18, 2020
Will also recommend adherence to Governor's travel ban for any team or individuals traveling to participate in states on current advisory listing, including 14-day quarantine upon return. The travel recommendations apply equally to all sports and sport-activities. (3/3)

— KHSAA Main (@KHSAA) November 18, 2020
The governor called the state's new restrictions on schools and some businesses "surgical and targeted" steps designed to curb the spread of the virus. 
Beshear announced 2,753 new cases across the commonwealth Wednesday, as well as 15 deaths. Beshear said the deaths reported Wednesday include a 15-year-old girl from Ballard County, who the governor said had some significant preexisting conditions. She was "a beloved member of her community where COVID was a factor in what took her from that community," Beshear said. The governor said his office has reached out to the girl's family, and "we hope to remember her when they deem that it's appropriate"
The state's positivity rate now stands at 9.13%. As of Wednesday, 1,553 people are hospitalized with the illness in Kentucky, including 359 in intensive care units and 176 on ventilators.
To date, Kentucky has had 144,753 COVID-19 cases, including 1,712 deaths. Beshear said recent "ex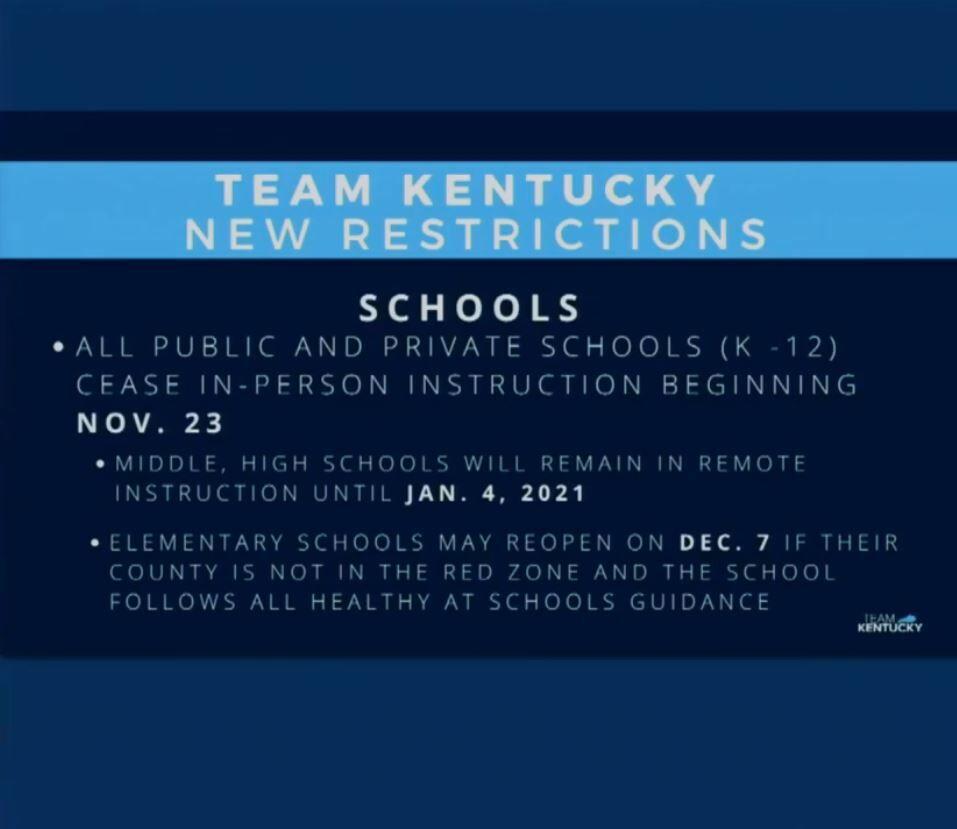 Regarding the new restrictions in place for businesses, Beshear said Kentucky said he will not implement a shutdown of Kentucky's economy. Instead, he said the state is taking targeted steps designed to slow the virus.
Beshear announced attendance limits for theaters, event spaces and venues, such as those that host weddings and funerals. Those businesses are to limit participants to 25 per room from Nov. 20 through Dec. 13. The governor said this restriction does not apply to church services.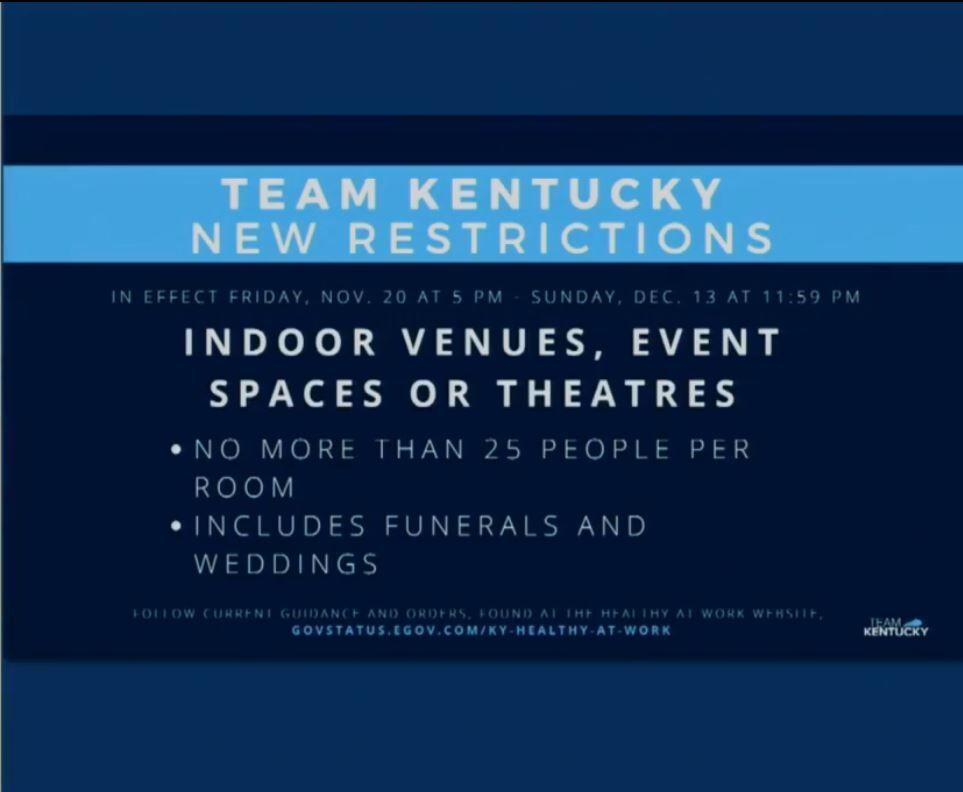 The governor also said restaurants and bars are to close their indoor dinning rooms from Nov. 20 to Dec. 13. "This is a tough but an important step," Beshear said. "But I realize it's also a painful one."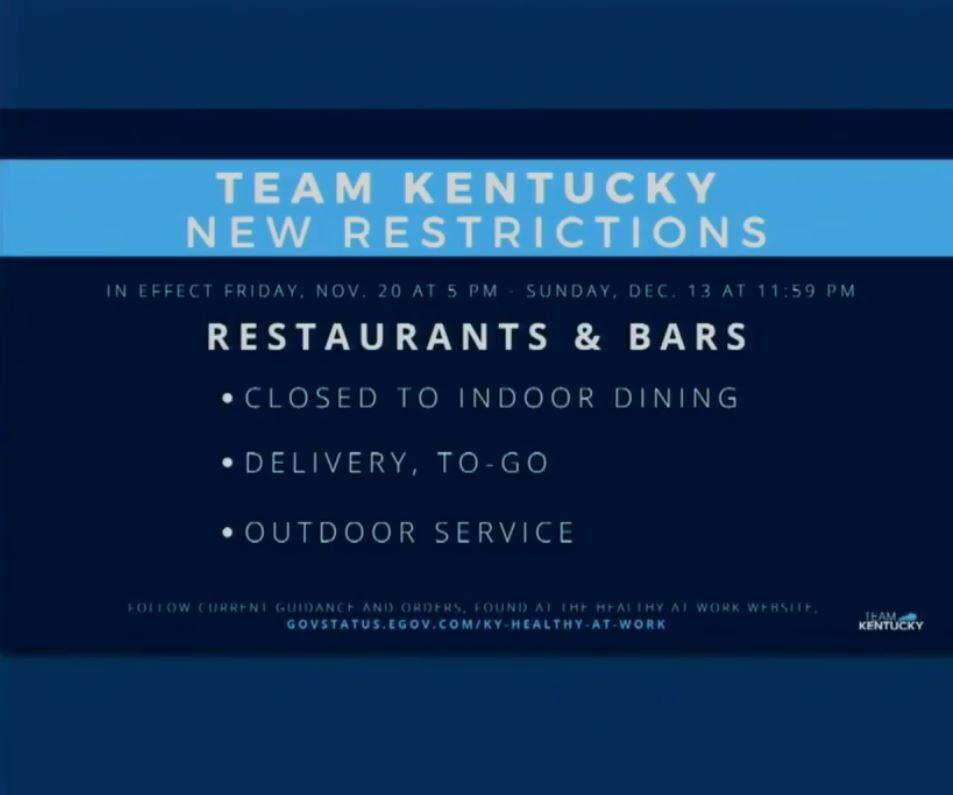 Beshear announced a $40 million relief fund to help restaurants and bars affected by that restriction. Qualifying businesses will get $10,000. The maximum amount to be awarded is $20,000 for businesses with multiple locations. The governor's chief of staff said businesses that get 50% of profits from drive-thrus aren't eligible, and neither are restaurants and bars owned by publicly traded companies. Eligible businesses must certify that they will be in compliance with the state's regulations to receive the funding, and they must remain in compliance.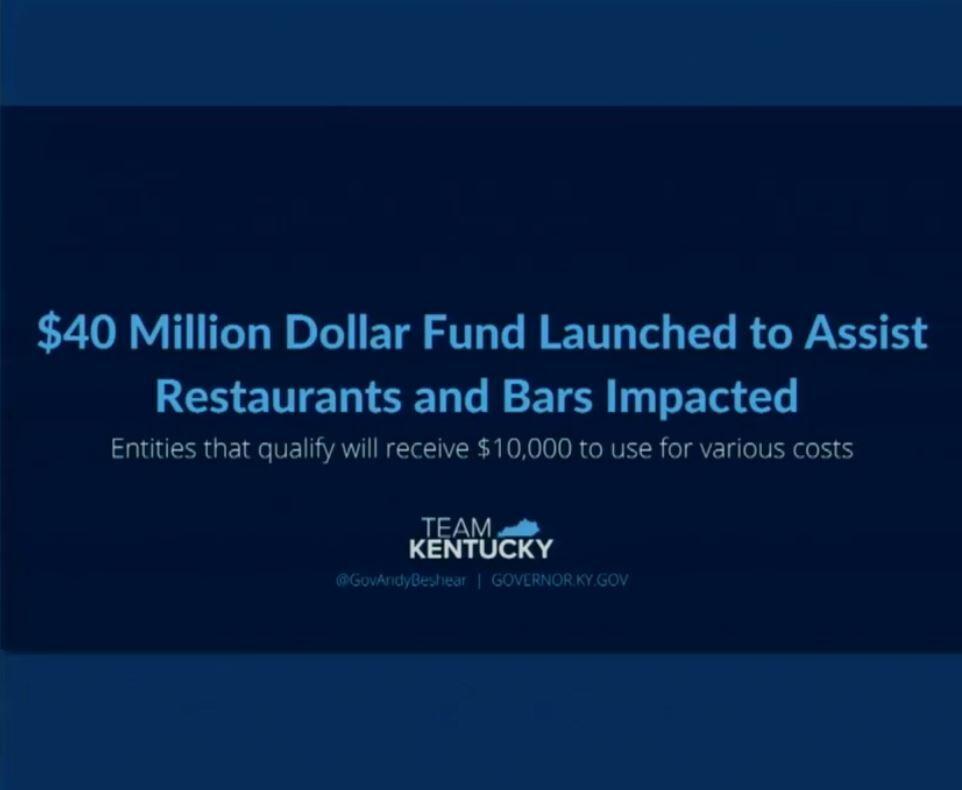 Also from Nov. 20 to Dec. 13, governor announced new restrictions for gyms, fitness centers and pools. In those businesses, patrons must maintain 6 feet of social distance, and they must restrict their facilities to 33% occupancy. Group classes will be prohibited, and masks will be required. 
Additionally, Beshear announced a new limitation for private gatherings, such as parties in homes. The governor said Kentuckians are to limit their household gatherings to people who live in their household, plus people from one other household — and gatherings are not to exceed eight people. Beshear said those gatherings should be limited to immediate family members, not extended family members.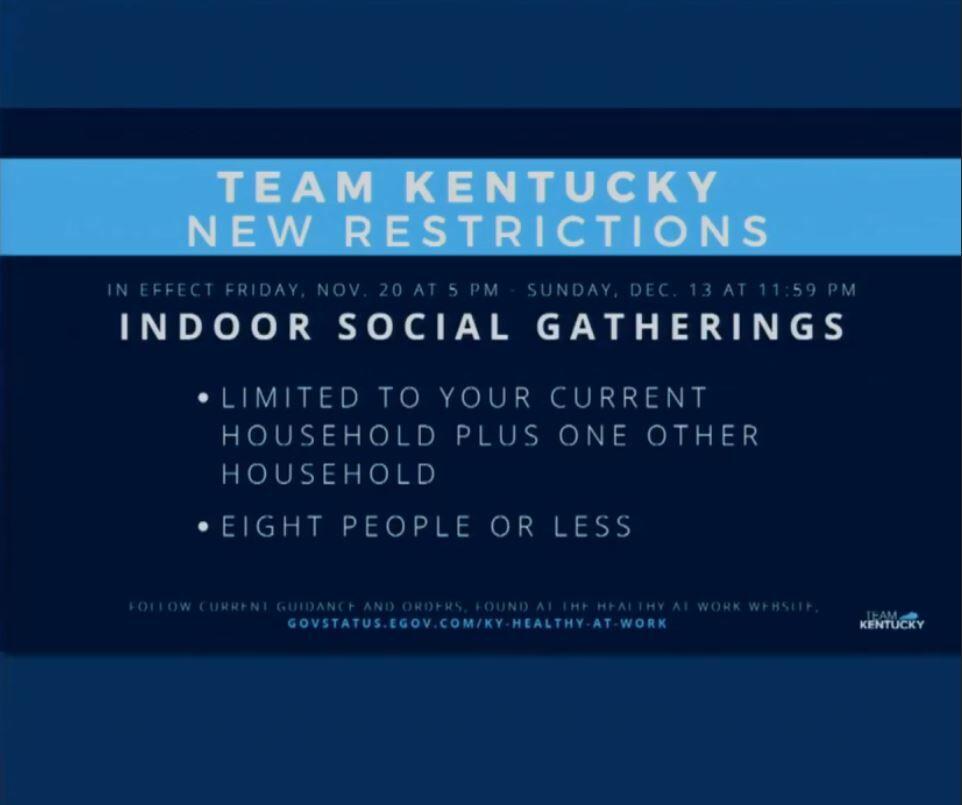 The governor issued an executive order regarding the new restrictions. That order also lists restrictions for professional services and other office-based businesses. The order states that those businesses must require all employees who are able to work from home to do so, and to close their businesses to the public when possible. Offices that remain open will be required to ensure that no more than 33% of employees are at work in person on any given day. 
Kentucky Senate President Robert Stivers released a statement Wednesday condemning the governor's executive order, claiming Beshear did not collaborate with lawmakers when he briefed them regarding the restrictions.  
"This is the first time in eight months that the Governor has briefed us, and make no mistake, it was a briefing not a collaboration. The decisions today, made solely by the Governor, were to limit and restrict many businesses that may not survive based on what was proposed. We have not been shown any data that would draw a rational basis to limit Thanksgiving in your home to eight people when you can go to a private venue with twenty-five people. Nor were we presented any data that justifies a blanket policy to close public and private schools, especially when we are seeing the loss of a year of educational opportunities and destructive effects to the mental health of our youth. Kentucky is in a crisis, this is real, and the Governor needs to start consulting with us for the sake of the Commonwealth."
During his news briefing announcing the restrictions to the public, Beshear said it was fair to say his briefing to lawmakers was just that and not a consultation with them. 
"We we did give a briefing and not a consultations, that's fair, to legislative leaders before the announcement today. That goal was to make sure they didn't hear it from the press; they heard it from us. Dr. Stack (Kentucky Public Health Commissioner Dr. Steven Stack) also walk through where the viruses is and where it's going."
However, Beshear said he did consult with the Kentucky Department for Public Health and local health department directors, as well as looking at recommendations from the White House before making decisions regarding the new restrictions. 
"We are not going to surrender the coronavirus. We are not going to simply throw our hands up and take what fatalities it will bring. We're going to fight for our brothers and sisters. We're gonna' fight for our parents and our grandparents. We're gonna' fight to preserve the lives of our neighbors," Beshear said. "This is our fight. It is won by everybody making good decisions and doing their part. Steps we've taken today are gonna' be hard. Certainly hope the fund that we've created is going to to help in the difficulty that some will feel. These are targeted decisions based on where the scientific evidence in the public health experts say the spread is occurring the most."
Download the document below to read the three-page executive order on business restrictions. 
Download the document below to read the executive order on schools.