FRANKFORT, KY — Kentucky continues to see declines in new COVID-19 cases and the test positivity rate, and fewer patients are hospitalized after a recent sharp spike spurred on by the delta variant. But, Gov. Andy Beshear says the loss of life that the state and the nation continue to see remains difficult. 
Speaking during a news briefing on the pandemic Monday afternoon, Beshear noted that the more than 700,000 COVID-19 deaths reported across the United States since the pandemic began is a greater number than the population of any city in Kentucky. 
In Kentucky, 102 new virus-related deaths have been recorded over the past three days, including 54 on Saturday, 22 on Sunday and 26 on Monday. Additionally, 4,951 new cases were reported over the same period, including 2,511 on Saturday, 1,201 on Sunday and 1,239 on Monday. 
"It's hard losing that many people," Beshear said of the COVID-19 deaths. "But there are a number of rays of hope." 
As of Monday, the state's positivity rate for COVID-19 test results is 9.31%, and appears to be falling every day. Beshear also said fewer new cases were reported last week than the week before.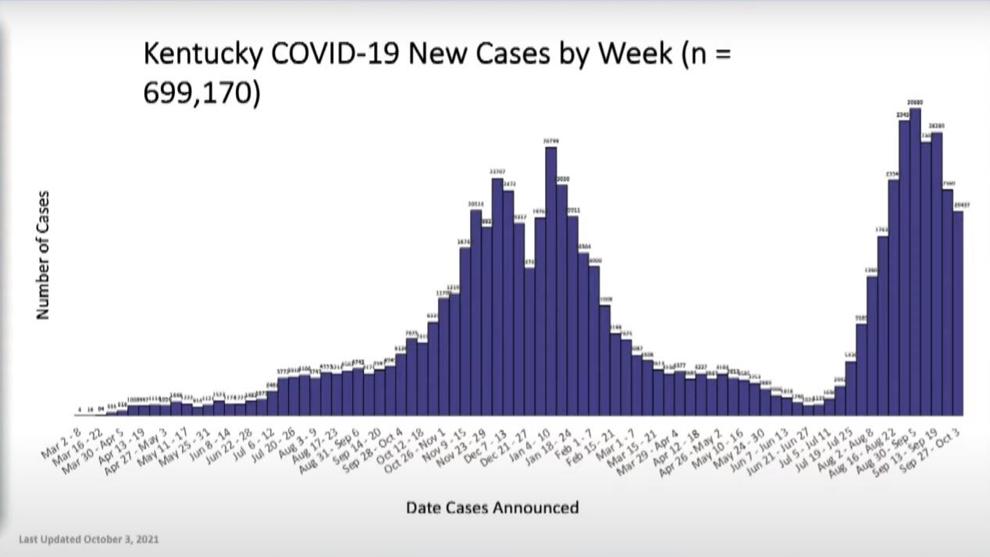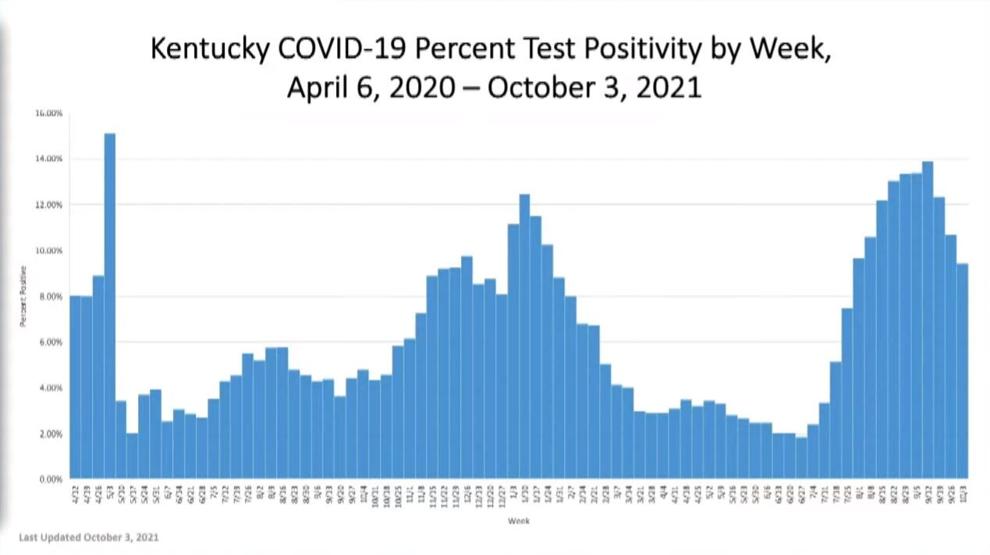 The governor also said hospitalizations are showing a clear downward trend, with fewer COVID-19 patients in ICUs and on ventilators as well.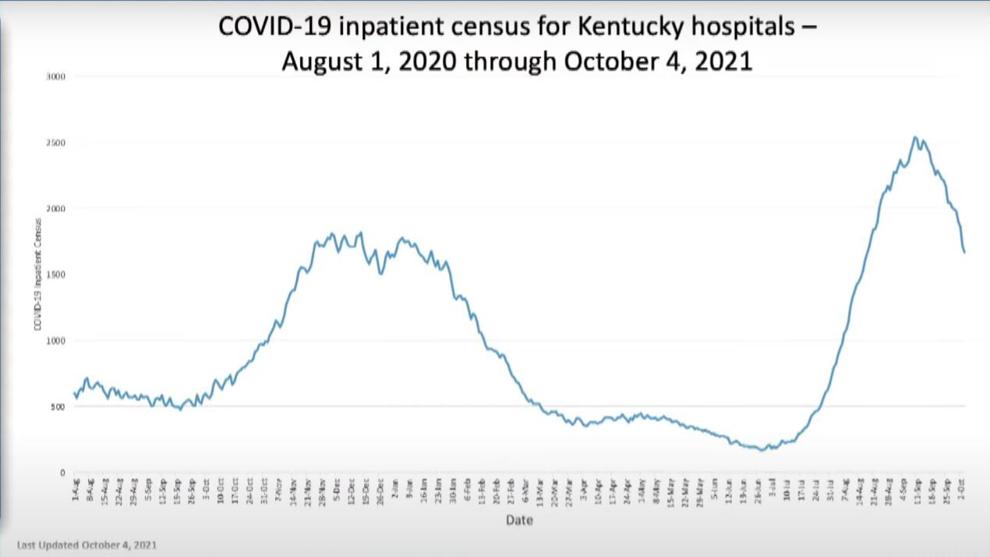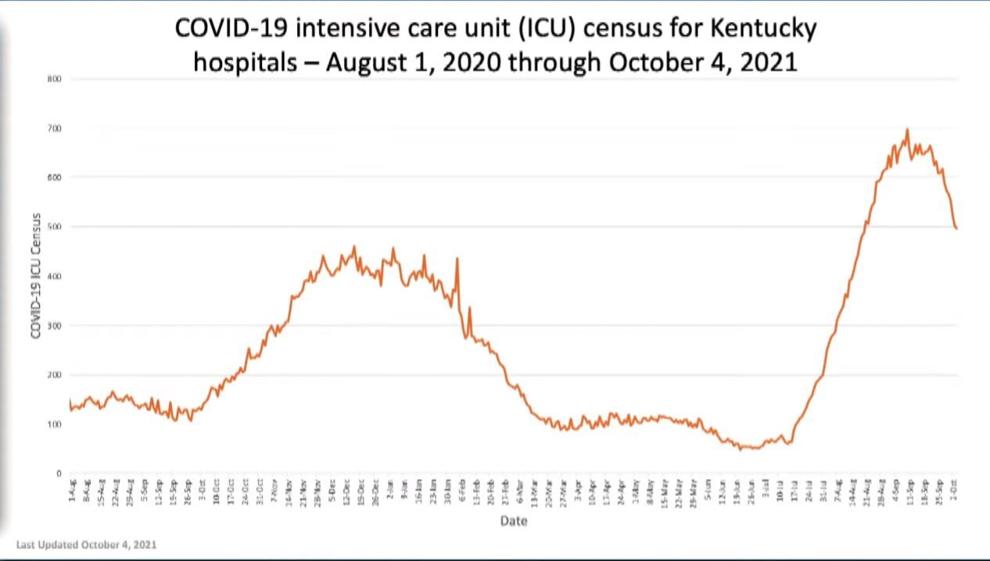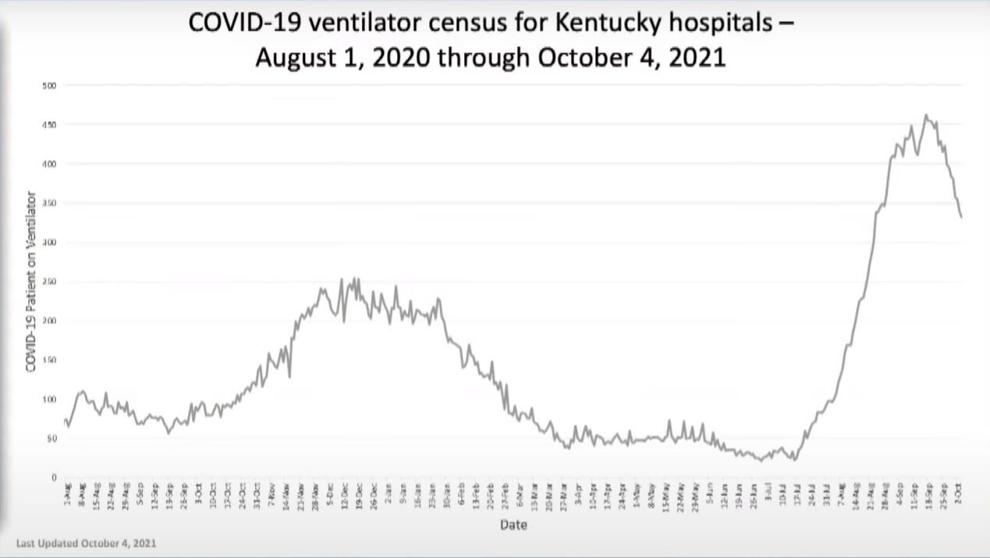 However, Beshear said hospitals are still overwhelmed, and the decrease hasn't brought those facilities and their employees the relief they need yet. Beshear said 62 out of 96 hospitals in the state continue to report staffing shortages. 
As of Monday, the Kentucky Department for Public Health reports 1,668 Kentuckians are hospitalized with COVID-19, including 496 in intensive care units and 332 on ventilators. 
According to KDPH's COVID-19 report for Monday, Kentucky hospitals are at 66.4% occupancy. ICU beds are at 87.4% occupancy, and 40.6% of ventilators are occupied. 
To date, Kentucky has had 695,474 known cases of COVID-19, including 8,804 deaths. 
Public health experts recommend vaccination to protect against COVID-19. 
Beshear said 17,125 more Kentuckians got their first vaccine dose over the weekend, bringing the total number of people in the state who've gotten at least one dose to 2,719,398. That's 71% of Kentuckians age 12 and up, and 61% of the state's total population. 
Click here for more information on vaccine providers in the Local 6 area. To make a vaccine appointment from anywhere in the country, visit vaccines.gov. 
Click here to view Kentucky's COVID-19 Vaccination Dashboard.
Click here for more information about the available COVID-19 vaccines from the Centers for Disease Control and Prevention.