FRANKFORT, KY — The Kentucky Department for Public Health reported 2,625 new COVID-19 cases Thursday, as well as 50 new virus-related deaths. 
The deaths reported Thursday bring the total number of lives lost in Kentucky to the pandemic to 9,022. 
"We've now passed 9,000 COVID deaths here in the commonwealth," Gov. Andy Beshear said during Thursday's Team Kentucky update. "That's more than we've lost in any modern war — any two of them put together. It's the largest loss of life over a period of time than any of us have ever lived through."
In a social media post later Thursday afternoon, Beshear said the deaths reported Thursday include people as young as 38.
According to KDPH, Thursday's cases include 643 children and teens age 18 and younger.
To date, Kentucky has had a total of 708,236 known COVID-19 cases. 
The state's positivity rate for COVID-19 test results dipped below 9% Thursday, coming in at 8.67%. That's a decrease from Wednesday's rate of 9.11%. 
The epidemic curve on KDPH's COVID-19 dashboard shows average daily new cases have continued to decline in recent weeks, after a prolonged summer surge that strained hospitals across the state.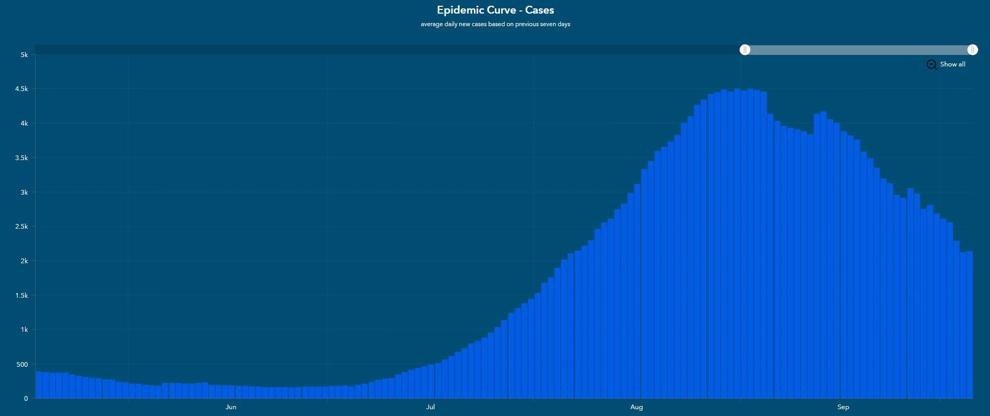 Hospitalizations are also on the decline. Beshear said COVID-19 hospitalizations have decreased 17% over the past seven days. Currently, 1,578 Kentuckians are hospitalized with COVID-19, including 472 in intensive care units and 313 on ventilators. 
While the summer surge may be over, it brought with it an increase in COVID-19 deaths in August and September. Beshear on Thursday asked Kentuckians to give themselves the time to mourn the more than 9,000 lives lost in the pandemic thus far, and to do their part to prevent further losses.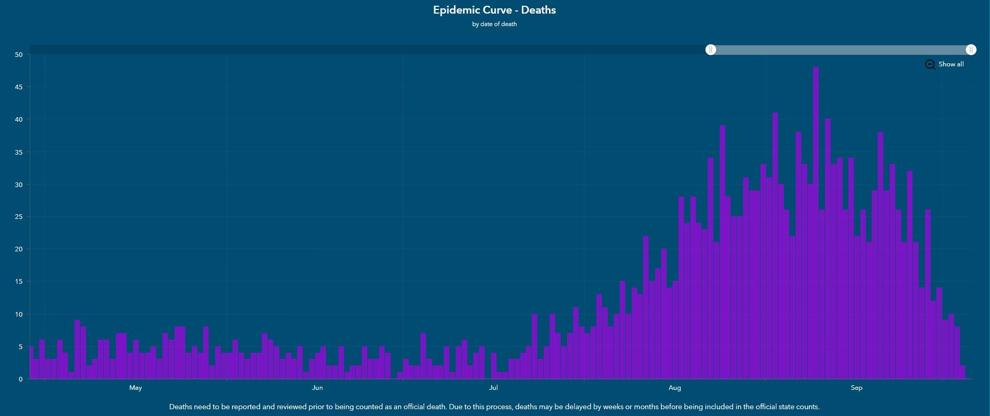 "While we're all excited about the trends and where we're going," Beshear said regarding the recent decrease in new cases. "Let's remember that we're going to live with these scars, and trauma, and difficulty and, and loss for a while. So, let's make sure that we give ourselves space. But let's also make sure that we do something about it. And number one thing that we can do is to get vaccinated."
Unvaccinated individuals are much more likely to be hospitalized if they catch the novel coronavirus than those who are vaccinated. And in September, the Centers for Disease Control and Prevention released studies that found unvaccinated people are 11 times more likely to die from COVID-19 than people who are fully vaccinated.
As of Thursday, 2,727,193 Kentuckians have gotten at least one COVID-19 vaccine dose, up from 2,722,821 on Wednesday. 
Click here for more information on vaccine providers in the Local 6 area. To make a vaccine appointment from anywhere in the country, visit vaccines.gov. 
Click here to view Kentucky's COVID-19 Vaccination Dashboard.
Click here for more information about the available COVID-19 vaccines from the Centers for Disease Control and Prevention.