FRANKFORT, KY — The Kentucky Department for Public Health reported 2,728 new COVID-19 cases across the state Tuesday, including 634 teens and children ages 18 and younger. 
The state also reported 59 additional coronavirus-related deaths Tuesday.  In a tweet sent Tuesday afternoon, Gov. Andy Beshear said the deaths include a Kentuckian who was just 35 years old. 
To date, Kentucky has had 802,417 known COVID-19 cases, including 11,348 deaths.
The state's positivity rate for COVID-19 test results is now 9.17%. That's a slight increase from Monday's rate of 9.13%. 
And as of Tuesday afternoon, Kentucky's overall incidence rate is 48.24 average daily cases per 100,000 population, up from Monday's rate of 47.96. That puts the state well within the COVID-19 red zone, meaning transmission of the novel coronavirus is high.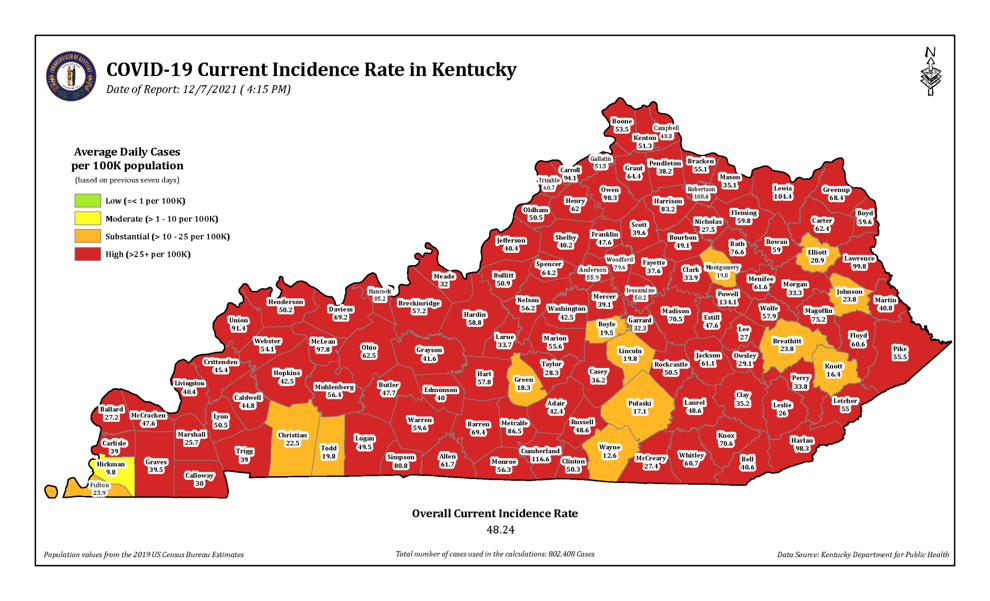 The Centers for Disease Control and Prevention recommend people living in communities with high or substantial transmission wear masks in public places, regardless of vaccination status. 
Currently, 1,109 Kentuckians are hospitalized with the potentially deadly illness, including 305 in intensive care units and 174 on ventilators. 
Beshear on Monday warned that the state continues to see an escalation in cases spurred on by the COVID-19 delta variant, and hospitalizations are once again on the rise. 
MORE DETAILS: COVID-19 escalation continues in Kentucky, nearly 200 deaths reported in three days
Warning Kentucky residents to use caution over the holiday season, the governor outlined the following tips to stay safe and healthy into the new year: 
Get vaccinated.
Get your booster shot.
Do not attend a gathering or event if you feel sick (including if you may have an illness other than COVID-19, such as the flu).
Wear masks when attending indoor gatherings or in public places, especially if you are unvaccinated and/or if you are due for your booster shot and haven't gotten it yet.
When organizing events, parties and other gatherings, keep attendance numbers low.