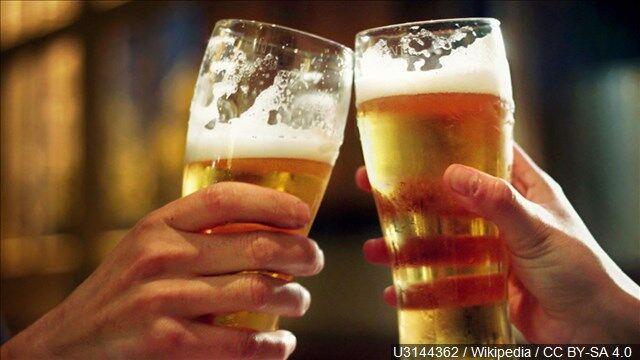 FRANKFORT, KY — Kentucky's pandemic curfew for bars and restaurants is lifting Friday, and businesses in the state serving fewer than 1,000 people at once can expand service to 75% capacity. Those with more than 1,000 people can serve up to 60% capacity.
The change comes as the state heads into the Memorial Day weekend. When Kentucky Gov. Andy Beshear announced the changes earlier this month, he asked businesses affected by them to "be reasonable," warning that, for some, "just because you can, doesn't mean you should." He asked bars and restaurants to consider factors like how well their businesses are ventilated and COVID-19 incidence rates and vaccination rates when deciding whether to welcome more customers or stay open later. 
On June 11, the state will lift all COVID-19 related capacity limits and its mask mandate, except in places where people are the most vulnerable to illness. Beshear had set a goal of vaccinating 2.5 million Kentuckians before lifting capacity restrictions for most businesses. At the time this change was announced, only about 1.9 million Kentuckians had been vaccinated. Beshear said Kentucky has enough doses that everyone who is eligible should be able to get vaccinated before June 11. 
In a tweet Friday, Beshear said more than 2.03 Kentuckians have gotten at least one COVID-19 vaccine dose so far. 
On Friday, the Kentucky Department for Public Health reported 415 new COVID-19 cases, as well as 10 additional virus-related deaths. Six of those deaths were newly reported to the state by health departments, and four were uncovered through the state's ongoing audit of death certificates listing COVID-19 as the cause of death. 
KDPH reports 338 Kentuckians are currently hospitalized with the potentially deadly illness, including 103 in intensive care units and 64 on ventilators. 
The state's COVID-19 test positivity rate is 2.43% Friday. 
Kentucky's overall COVID-19 incidence rate is 5.98 average daily cases per 100,000 people, meaning the state is in the yellow zone, indicating community spread. Only one county — Webster — is in the red zone Friday, meaning the virus is spreading at a critical rate there.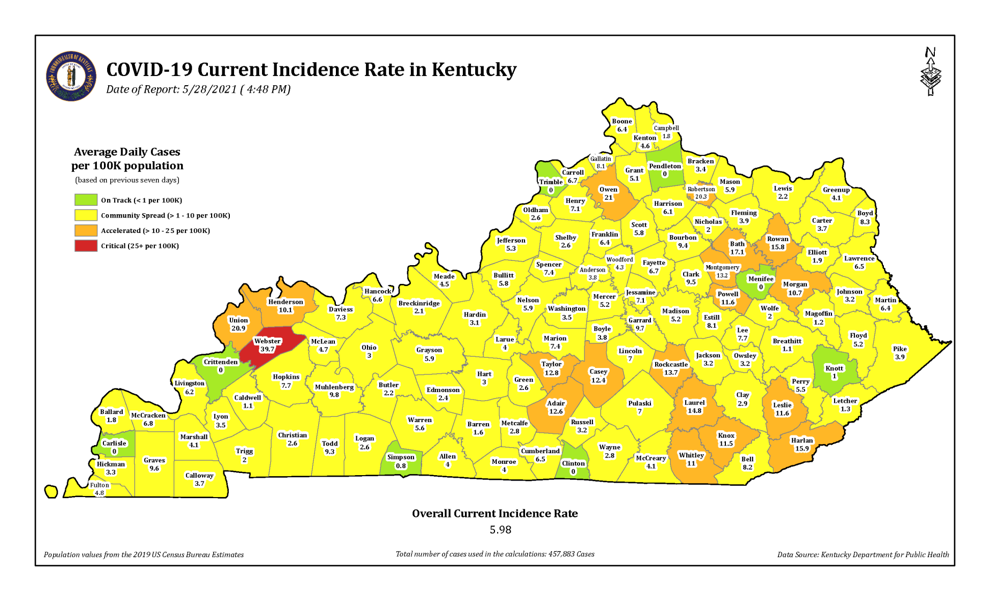 According to the latest KDPH map, two Local 6 counties — Carlisle and Crittenden — are in the green zone, meaning they are "on track" in the fight against the novel coronavirus. All other west Kentucky counties in our region are in the yellow zone. 
For more information on COVID-19 vaccine providers in the Local 6 area, visit our COVID-19 vaccine guide. You can also search for vaccines near you at vaccines.gov.