FRANKFORT, KY — Gov. Andy Beshear on Thursday announced a state partnership with Kroger to create regional drive-thru centers where Kentuckians will be able to receive the COVID-19 vaccine. 
The governor said those regional hubs will open the week of Feb. 1, providing vaccines for people in phases 1A through 1C. 
Phase 1A includes people in long term care facilities, assisted living facilities and health care employees. Phase 1B includes first responders, K-12 school employees and members of the general public ages 70 and older. Phase 1C includes anyone age 60 and older, anyone age 16 and older who has a medical condition the Centers for Disease Control and Prevention considers to be at a high risk of severe illness from the virus, and all essential workers. 
Vaccine phases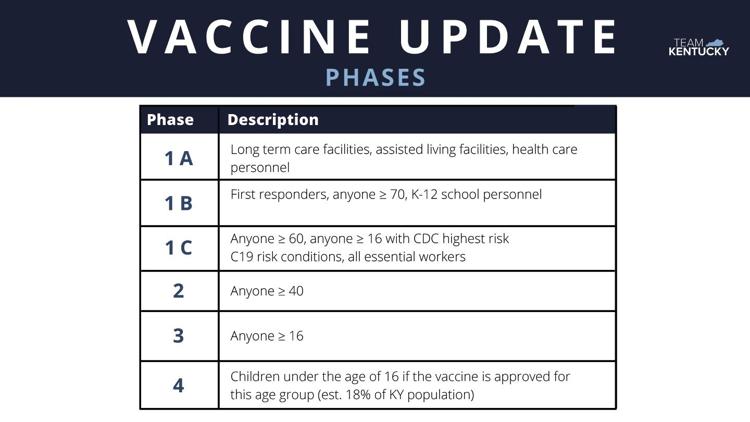 List of essential workers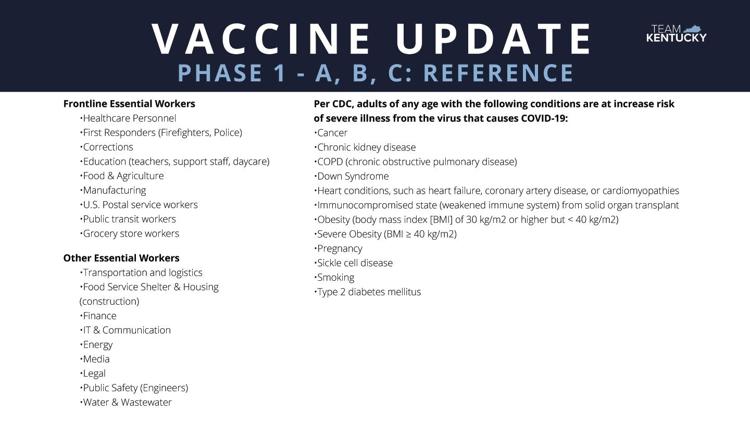 Announcing the partnership during a COVID-19 briefing Thursday, Beshear said Kentucky Transportation Secretary Jim Gray has been appointed project manager for the Kroger vaccine hubs. 
Gray said the state is currently working to get sites evaluated and secured for those vaccine hubs, and more information on those locations will be announced in the coming weeks. Gray said a website is being built and a hotline is being established for Kentucky residents to make vaccine appointments. 
The transportation secretary said those scheduling tools will become available on Jan. 28. 
Gray asked members of the public to be patient, because the process of creating the regional centers and getting vaccine doses to them will take time, with the process relying on vaccine manufacturers and the federal government to make doses available. He said the state is committed to equitable distribution of the vaccine, and "everyone will have their turn." 
Beshear also provided an update on the process of vaccinating K-12 school employees. The governor said the state's previously state goal was to begin vaccinating educators who have agreed to be inoculated on Feb. 1. Beshear said that process is ahead of schedule, and the state now believes all K-12 personnel who've agreed to be vaccinated will receive their first vaccine dose by the end of that week. 
The governor said across phases currently being vaccinated, 172,537 doses have been administered so far.