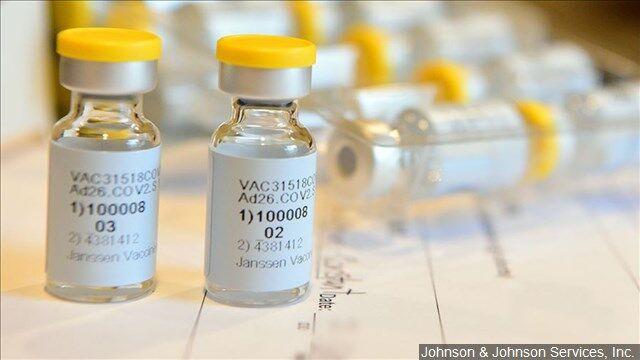 All four of our Local 6 states are pausing the use of the one-dose Johnson & Johnson vaccine, following the recommendation of the Food and Drug Administration and the Centers for Disease Control and Prevention. 
The two federal health agencies released a joint statement Tuesday recommending states pause the use of the Johnson & Johnson vaccine while they review blood clots that occurred in six women. The women were between the ages of 18 and 48, the statement says, and their symptoms happened six to 13 days after they were vaccinated. The agencies say the type of clot the women had — cerebral venous sinus thrombosis, which was seen in combination with low blood platelet levels — is rare and severe. 
The statement notes that the clots appear to be extremely rare, with just six cases reported out of the more than 6.8 million doses administered in the United States so far. The agencies are recommending pausing the vaccine's use while the cases are reviewed "out of an abundance of caution."
In a briefing about the pause, Gov. Andy Beshear said Kentucky has large supplies of the Pfizer and Moderna vaccines, so people who had appointments to get the Johnson & Johnson vaccine should be able to sign up for those vaccines as early as this week. 
In a news release, the Tennessee Department of Health says the state's vaccine supply still surpasses demand, even without the Johnson & Johnson vaccine, and "we do not anticipate this shift will impact our efforts to vaccinate as many Tennesseans as possible."
Missouri Department of Health and Senior Services Director Dr. Randall Williams also said the Show-Me State is pausing the one-dose vaccine in keeping with the federal recommendation. "We anticipate having more information shortly to make further decisions about overall vaccine distribution in light of this new development," Williams said in a statement. "And will continue to update citizens who have been vaccinated with the J&J vaccine after the advisory committee meets at the federal level tomorrow."
The Illinois Department of Public Health also sent out a news release, saying the Moderna and Pfizer vaccines make up the majority of doses the state has, and IDPH recommends providers use those vaccines. 
In Illinois, Gov. J.B. Pritzker said, because of the Johnson & Johnson pause, the state will send 50,000 first doses of the Pfizer and Moderna vaccines to Chicago over the next seven days. "As cases climb across the country, I encourage everyone to get vaccinated as soon as possible," Pritzker said via social media. "We'll also be allocating 50,000 doses in time for second shots to be administered. We can end this pandemic together."
For those who have already gotten the Johnson & Johnson vaccine, the CDC and FDA say anyone who develops a severe headache, abdominal pain, leg pain, or shortness of breath within three weeks after vaccination should contact their health care provider. 
READ: Joint CDC and FDA Statement on Johnson & Johnson COVID-19 Vaccine