LIVINGSTON COUNTY, KY — If you're 50 or older in Kentucky, you can now get vaccinated against COVID-19. But, not all local vaccination sites are ready for the next phase.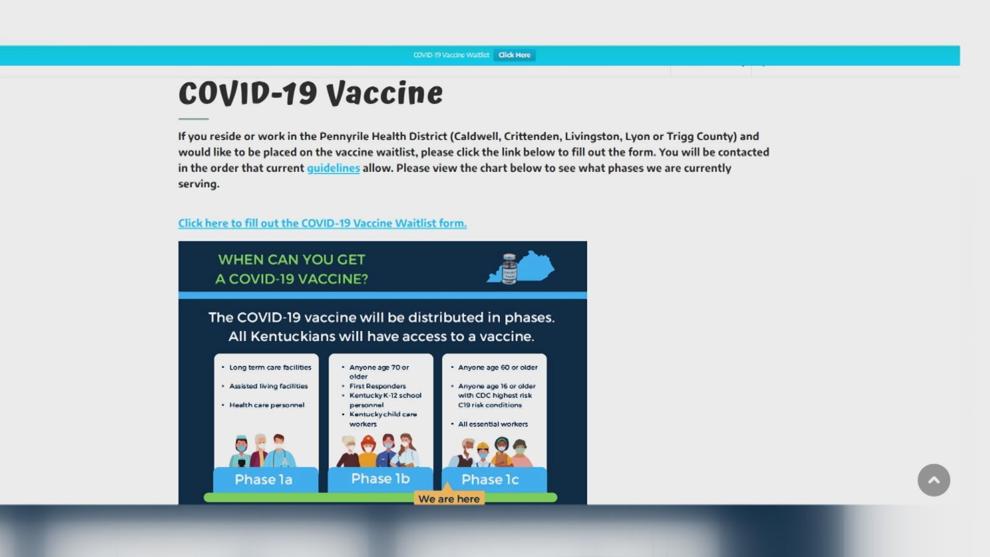 The Purchase District Health Department and the Graves County Health Department will not be moving forward to that age group yet. They're still focusing on people ages 60 and up.
The Pennyrile District Health Department and Caldwell Medical Center are moving on to those 50 and up. 
Caldwell Medical Center is opening up vaccinations for all groups currently eligible for the vaccine in Kentucky. Additionally, Kentucky resident age 18 or older can schedule an appointment there. 
Whether a vaccine provider will be able to administer doses to those 18 and up or to those 16 and up depends on which vaccine the provider is administering. The Pfizer vaccine is approved for people ages 16 and up. The Moderna and Johnson & Johnson vaccines are approved for individuals ages 18 and up. 
If you're 50 and older or 18 and older with a medical condition that the Centers for Disease Control and Prevention says does or may put you at increased risk of serious illness from COVID-19, you can now receive the COVID-19 vaccine at the Pennyrile District Health Department. Grace Donaldson is excited to begin vaccinating those groups. 
"We want people to be able to feel safe leaving their homes, and feel safe going to the grocery store." Donaldson said. "And what it takes to get to that point is people getting vaccinated."
They're able to vaccinate these groups because they have an active online waiting list, two types of vaccine — the Moderna and Johnson & Johnson vaccines — and multiple vaccination sites.
At the Purchase District Health Department, they're not moving to this phase just yet. They're still taking appointments for people ages 60 and up. Public Health Director Kent Koster said they want to make sure the most vulnerable populations get the vaccine first.
"There may be pockets throughout the state, like we said before, that are ready to move (ahead)," Koster said. "And that's great, you know, but we didn't feel like we need to do that until we begin seeing openings in our schedule."
Caldwell Medical Center is allowing anyone age 18 or older to get vaccinated. Infection Preventionist Mandy Smiley said being a small county with multiple vaccination sites helped them advance.
"The accessibility to the vaccine is there," Smiley said. "And so that should bring comfort to them, that those that are wanting to get this vaccine, wanting to receive the vaccine it's now available to them."
The Purchase District and Graves County health departments are not sure when they'll have appointments available for this next group.
To schedule a vaccination appointment with the Pennyrile District Health Department, you can sign up for the online waiting list here.
Vaccination appointments there are Monday through Friday from 8 a.m. to 1 p.m.
On Mondays, the health department will vaccinate at the Livingston Central High School gymnasium. On Tuesdays, vaccines will be administered at Caldwell County Health Department. On Wednesdays, they'll move to Lee Jones Park in Lyon County.
On Thursday, vaccines will be administered at the Crittenden County Health Department. On Friday, they will take place at the Senior Citizen Center in Trigg County.
To schedule an appointment at the Caldwell Medical Center, call 270-365-0428.
Caldwell Medical Center only administers vaccines on Thursdays.
Click here for more information on COVID-19 vaccination locations in the Local 6 area.