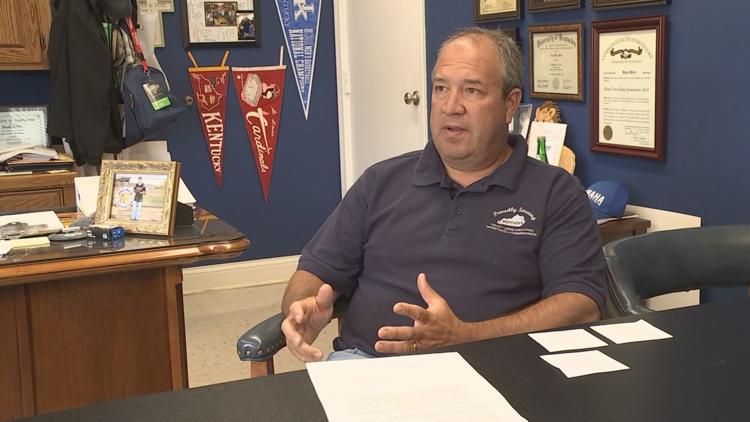 LYON COUNTY, KY — Lyon County Judge Executive Wade White released a statement Thursday addressed to local restaurants and small businesses criticizing Gov. Andy Beshear's latest restrictions aiming to curb the spread of COVID-19. 
The governor on Wednesday announced new restrictions affecting some businesses to run from Nov. 20 to Dec. 13. Restaurants are to close their indoor dining spaces, but are still allowed to provide delivery and to-go services, as well as outdoor services with seating limits and social distancing in place. Fitness centers, gyms, pools and other indoor recreation facilities are to limit customers to 33% of maximum occupancy, maintain social distancing and mask wearing, and cancel group activities and classes. Theaters and other indoor venues that host events are to limit guests to 25 people per room. For professional services and other office-based businesses, all employees who are able to must work from home, and those businesses are advised to close their offices to the public when possible. Offices that stay open are to limit their in-person employees to 33% of the office's capacity. 
READ MORE: Kentucky schools to close, new restrictions in place for some businesses
In a message to restaurants and other local business owners, White called those restrictions "ridiculous commands." White said he trusts business owners to make the best decisions for their businesses, and claimed "Frankfort doesn't care about your success but still expects you to fill it's coffers."
"Hang in there," the judge executive writes. "You all know so much better than Frankfort how to stay safe, and I'm so proud of how you've risen to take this thing on while the government weighs you down."
Lyon County is in the red zone for COVID-19 cases, meaning the novel coronavirus is spreading at a critical rate. As of Thursday, the county has 36.5 average daily cases per 100,000 people.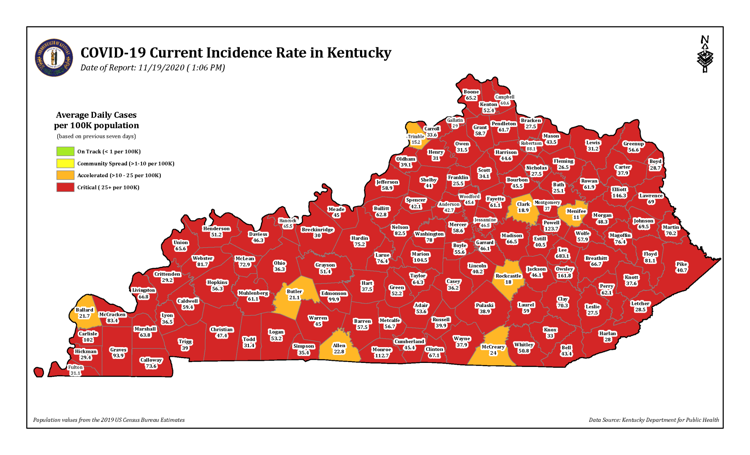 White House coronavirus task force member Adm. Brett Giroir recently suggested that bars and restaurants should be closed or limit their capacity, because the pandemic has reached a "critical situation." The Trump administration official also encouraged social distancing and mask wearing as the nation awaits a novel coronavirus vaccine. 
The Centers for Disease Control and Prevention has also said unrestricted indoor dining poses the highest risk for restaurants when it comes to spreading the virus, whereas limiting food service to drive-thru, delivery, takeout and curbside pickup pose the lowest risk. 
Beshear has emphasized that he has no plans to enact a broad shutdown of Kentucky's economy, calling the latest restrictions "surgical and targeted" steps to curb the virus' spread and save lives. 
Speaking with Local 6 over the phone Thursday, White said: "I know he says these are targeted. The problem is he has targeted the same people that were hurt in the last lock down: small business, small restaurants, while leaving the doors open to large places like Walmart or other big box stores. How is that fair and how is a small restaurant a super spreader when you've got places like Walmart that are still doors wide open?" 
Beshear also announced a $40 million relief fund to help restaurants and bars affected by the new restrictions. Qualifying businesses will receive $10,000, and the maximum award amount is set at $20,000 for businesses with multiple locations. Businesses that make half of their revenue from drive-thru lines are not eligible, and neither are businesses owned by publicly traded companies. 
"We know this doesn't cover the entire impact cost your business by COVID-19, but we're hoping that it will help some," Beshear's Chief of Staff La Tasha Buckner said Wednesday, saying the eligibility restrictions are meant to ensure the aid goes to small businesses, rather than national chains. 
White told Local 6 he wants people to be safe, but that he wishes "the governor would give more ability for some of these small counties, small businesses to be able to make it during these times."
"It's like putting a boot on small business, of those same small businesses you've already kicked the legs out from under earlier. They were slowly recovering from the first lock down, and then they're hit with another right in the middle of the recovery. I'm not sure all of them will come out of it still as a business. I think they'll have to close," White said. 
The same email containing White's message included a message from Lake Barkley Chamber of Commerce Executive Director Deb Domke encouraging people to support locally owned restaurants by ordering takeout from them, and by shopping local for holiday purchases and everyday supplies. 
Read Lyon County Judge Executive Wade White's statement to businesses in full: 
To Restaurants, Small Business Owners:
Guys, I'm with you. I can't tell you how to run your business or navigate these ridiculous commands from the Governor but I trust you all to make the best decisions for your business. While Walmart and Amazon cash in, Governor Andy is going to string you all out in the name of his sugar pill for this virus.
I share your frustration of knowing while many government offices shutter their doors and cash paychecks sitting at home on the couch, you all have to work to put food on the table. Frankfort doesn't care about your success but still expects you to fill it's coffers. I don't want the government in my doctors office with me anymore than I want the governor to tell you how to run your business.
Hang in there. You all know so much better than Frankfort how to stay safe and I'm so proud of how you've risen to take this thing on while the government weighs you down.
Wade White
Lyon Co Judge Executive
Read Lake Barkley Chamber of Commerce Executive Director Deb Domke's message in full: 
Dear Friends,
If you are a business owner think about what business services you can do local to support your local fellow business owners. If you are thinking of what to have for lunch or dinner, order it to go from our local restaurants, and when it comes to shopping for the holidays or just everyday supplies, mask up and shop local! Let's stand behind our businesses that have invested their life savings in bringing business, jobs, tax dollars to our community. 
This Friday, we will be conducting ribbon cuttings at two more new businesses in our community, House to Home and La Piñata's, plus we kick off our holiday shopping with our annual Holiday Open House. It's going to be beautiful weather, so get out and support local!
Deb Domke
Executive Director
Lake Barkley Chamber