FRANKFORT, KY — The Kentucky Department for Public Health reported 2,145 new COVID-19 cases across the state Friday, as well as 31 new virus-related deaths. 
Friday's cases include 584 children and teens age 18 and younger, KDPH reported. In a social media post Friday afternoon, Gov. Andy Beshear said the lives lost include a 41 year old individual. 
Since testing began, Kentucky has had 710,364 known COVID-19 cases. The number of lives lost because of the virus surpassed 9,000 on Thursday.  "That's more than we've lost in any modern war — any two of them put together," Beshear said during a Team Kentucky briefing Thursday. "It's the largest loss of life over a period of time than any of us have ever lived through." 
As of Friday, the total number of Kentuckians lost because of the illness is 9,053. 
The state's positivity rate for COVID-19 test results is 8.49% as of Friday, down slightly from Thursday's rate of 8.67%. 
The COVID-19 incidence rate remains high for the state overall, with 40.71 average daily cases per 100,000 population over the past seven days. That means the state overall is in the COVID-19 red zone. 
Several west Kentucky counties in the Local 6 area are in the orange zone, which means incidents rates in those communities are substantial. Ballard, Calloway, Graves, Fulton and Marshall counties are in the red zone as of Friday. Caldwell, Crittenden, Hickman, Livingston, Lyon, McCracken and Trigg counties are in the orange zone. Carlisle County is in the yellow zone, which means the county is seeing moderate COVID-19 spread. None of Kentucky's 120 counties is in the green zone.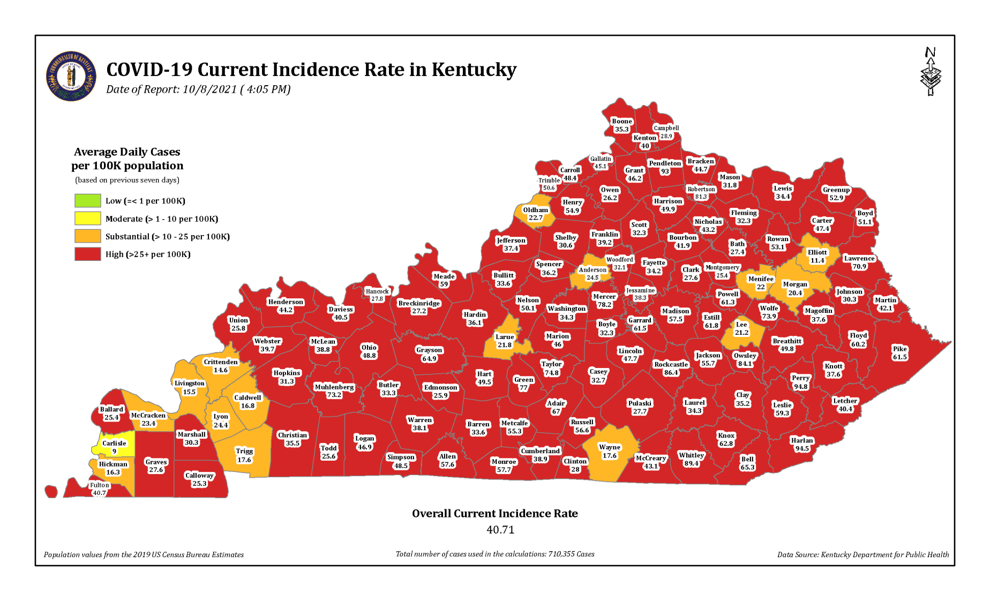 Currently, 1,514 Kentuckians are hospitalized with the potentially deadly illness, including 466 in intensive care units and 310 on ventilators. 
Public health leaders continue to recommend COVID-19 vaccination as the best tool in the fight against the COVID-19 pandemic. 
So far, 2,730,479 Kentuckians have gotten at least one COVID-19 vaccine dose. 
Click here for more information on vaccine providers in the Local 6 area. To make a vaccine appointment from anywhere in the country, visit vaccines.gov. 
Click here to view Kentucky's COVID-19 Vaccination Dashboard.
Click here for more information about the available COVID-19 vaccines from the Centers for Disease Control and Prevention.