FRANKFORT, KY — Gov. Andy Beshear reported 1,993 new cases of COVID-19 in Kentucky on Friday.
The governor did not provide a live news briefing on the pandemic on Friday, but did send out a news release with the day's COVID-19 report. 
"Overall, our COVID-19 numbers are coming down, which is great news – but we can't let our guard down when we're this close to finishing the fight," Beshear said in the news release. 
While Friday's new case count was greater than Thursday's by more than 1,000, Beshear said the state's positivity rate for COVID-19 test results has decreased. The positivity rate is 6.89% Friday, down from 7.07% on Thursday. 
Kentucky reported 28 additional coronavirus-related deaths Friday, including one person from Anderson County, two from Barren County, one from Breckinridge County, one from Clinton County, four from Fayette County, one from Floyd County, one from Garrand County, one from Harlan County, three from Jefferson County, two from Laurel County, one from Monroe County, one from Owen County, two from Pulaski County, one from Russell county, one from Shelby County, one from Taylor County, one from Washington County and two from Wayne county. 
As of Friday, 923 Kentuckians are hospitalized with the illness, including 265 in intensive care units and 131 on ventilators. 
The Kentucky Department for Public Health recorded 38 of the state's 120 counties in the red zone for COVID-19, including the Local 6 counties of Livingston and Caldwell. If a county is in the red zone, the virus is considered to be spreading at a critical rate there. Those counties have an incidence rate of 25 or more average daily cases per 100,000 people. The state's overall incidence rate is 23.11 as of Friday, the KDPH reports.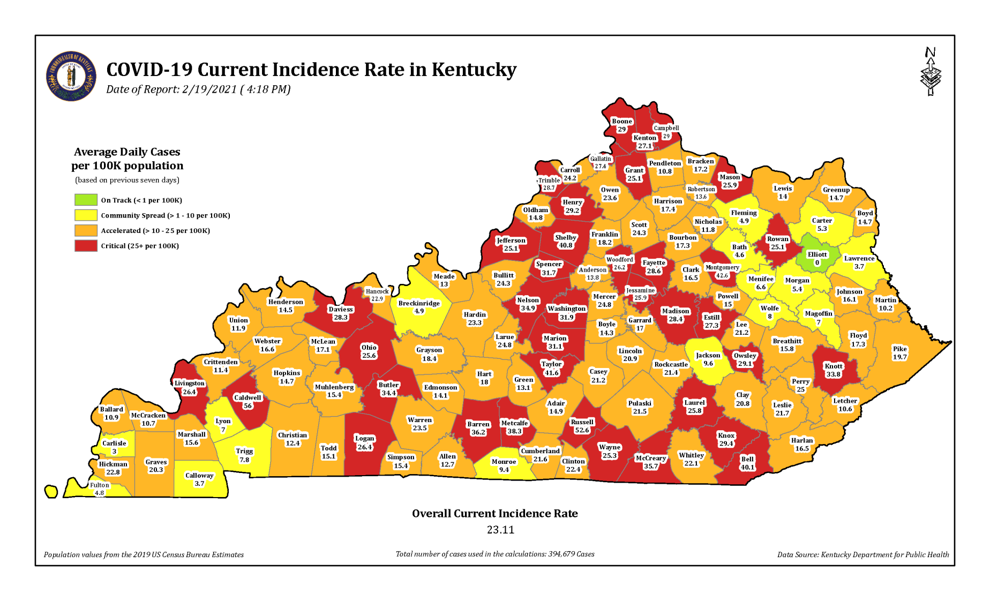 That's an increase from the 33 red zone counties reported in the state on Thursday. 
To date, Kentucky has had 394,687 known COVID-19 cases, including 4,401 deaths. 
Beshear on Thursday announced several new COVID-19 vaccination sites across the state. For west Kentucky, the governor announced two new regional sites and two new Walmart store locations. 
The new regional sites announced for the Local 6 region on Thursday are Trigg County Hospital and Crittenden Community Hospital. The new Walmart locations are the Princeton Walmart at 1500 U.S. 62 West and the Fulton Walmart at 1405 Middle Road.
MORE DETAILS: New COVID-19 vaccine sites coming to west Kentucky, visits to resume at some long-term care facilities