FRANKFORT, KY — Kentucky Dam Village State Resort Park will open a new COVID-19 vaccination site starting March 24, Gov. Andy Beshear announced Thursday.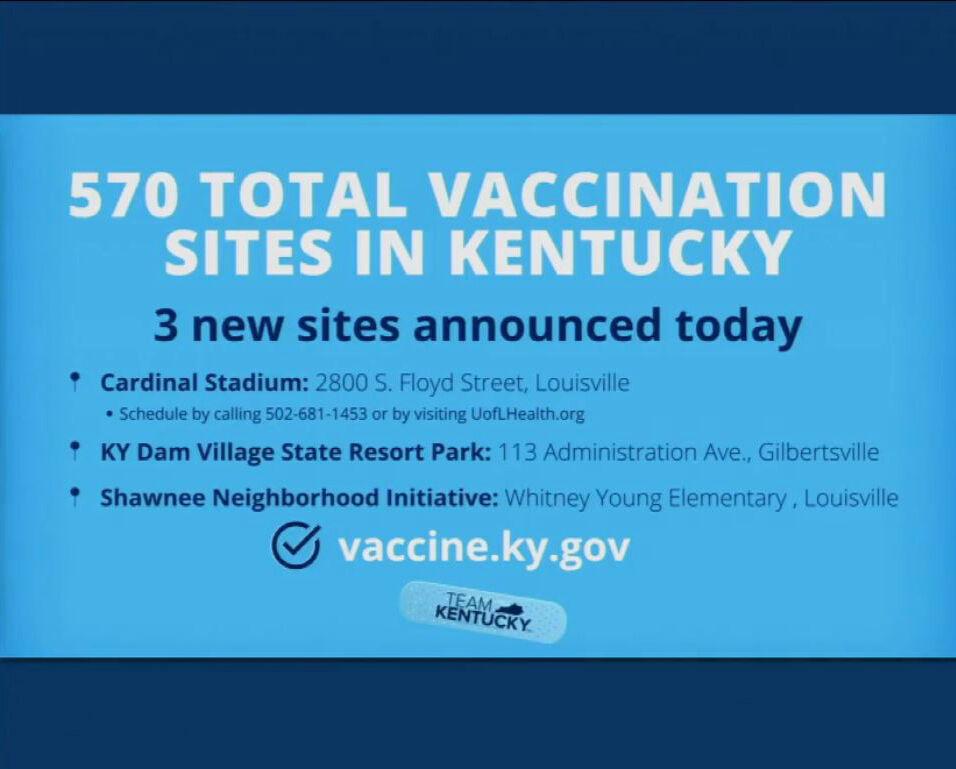 The vaccination clinic will be held at the Kentucky Dam Village Convention Center at 113 Administrative Ave. Gilbertsville. Beshear said it will be provided through a partnership among the University of Kentucky, the Marshall County Health Department and Wild Health. 
Beshear said the Kentucky Dam Village site will be open from 8 a.m. to 7 p.m., seven days a week. Free COVID-19 testing will also be offered there. 
To make a vaccination appointment at Kentucky Dam Village State Resort Park, visit kyvax.com/kydam or call 859-217-4679. 
Marshall County Public Health Director Billy Pitts says if you are on the Marshall County Health Department's waiting list, you can call the Kentucky Dam Village vaccine site number if you would prefer the Pfizer vaccine or if you want to be vaccinated sooner. 
Pitts says the health department will continue to administer the Moderna vaccine, and will continue to receive 100 first doses of that vaccine each week. Marshall County residents who want to be vaccinated at the health department can call 270-527-149 to make an appointment. 
Outside the Local 6 area, Beshear also announced new vaccination sites at Cardinal Stadium in Louisville and at Whitney Young Elementary in Louisville. 
Vaccine eligibility changes 
Beshear also announced upcoming changes that will mean more people can make vaccine appointments. 
The governor said starting Monday, March 22, vaccine providers across the state should open up phase 1C to include all Kentuckians ages 50 and older. 
Phase 1C previously included all people ages 60 and older, essential workers, and people ages 16 and up who are or may be at higher risk of serious illness from COVID-19, as defined by the Centers for Disease Control and Prevention. Beshear encouraged Kentuckians ages 50 and up to check with providers in their area to try to sign up for appointments open Monday and beyond. Beshear said providers should still prioritize those at highest risk first, but that they should vaccinate others if they have any excess capacity.
Beshear said Kentucky will open eligibility to all individuals ages 16 or older by April 12. 
Rule changes for restaurants and bars 
The governor announced Kentucky bars and restaurants will be able to extend their business hours starting on Friday because of the continued decline in COVID-19 cases and test positivity rates in the state. 
Starting Friday, restaurants and bars can serve customers until midnight, and they must close their doors at 1 a.m. 
Beshear said these businesses are to continue operating at 60% capacity, and the mask mandate will still be enforced. 
"Hopefully this is a little bit of relief, given the positive movement of where we are as a state right now, with vaccines going up and cases going down," Beshear said. 
COVID-19 report 
The governor reported 785 new cases on Thursday, and said the state's positivity rate has dropped to 3.23%. That's the lowest positivity rate Kentucky has had since July 3. 
Beshear reported 31 additional virus-related deaths Thursday. 
But, Beshear also provided an update on the audit of COVID-19 deaths the state has been conducting an an effort to make sure every life lost in the pandemic is counted. 
The governor said his administration believes that, including deaths that will be added to the audit report over the next three days, 604 additional deaths will be added to the state's total. 
Of that number, 417 were added to the state's total count on Thursday — bringing the total to 5,504. Beshear said 200 of the 417 individuals were in long-term care facilities. 
"Our commitment is to know the full devastation of this virus, and this won't be the last audit that we do. It won't be the last time that we discover additional people that have passed away," Beshear said. 
The governor said he will provide updates as additional deaths are confirmed through the auditing process, to make sure everyone's loss is counted. 
Beshear said he believes it will take a decade to know the full devastation from the pandemic.