HENRY COUNTY, TN — A northwest Tennessee hospital in the Local 6 area is preparing to administer COVID-19 vaccinations to county residents ages 65 and older next week. 
The Henry County Medical Center says it will begin providing Pfizer COVID-19 vaccine doses to Henry County residents ages 65 and older starting Tuesday, Jan. 5 at a drive-thru event. The event will be held at the Henry County Healthcare Center Plumley Rehab parking lot.
The announcement comes just days after the hospital announced it's at a critical point in the pandemic. In a post shared to its Facebook page on Dec. 28, the hospital said all its ventilators are in use and no critical care unit or progressive care unit beds are available. The hospital reminded everyone in the community to wear masks to do their part to mitigate the spread of the virus.
The hospital says the drive-thru vaccination dispensing point will be open through Friday, Jan. 9. It will be open from 9 a.m. to 3 p.m. each day. Priority will be given to those who work in health care, are considered first responders and those who are 75 or older on a first come, first served basis.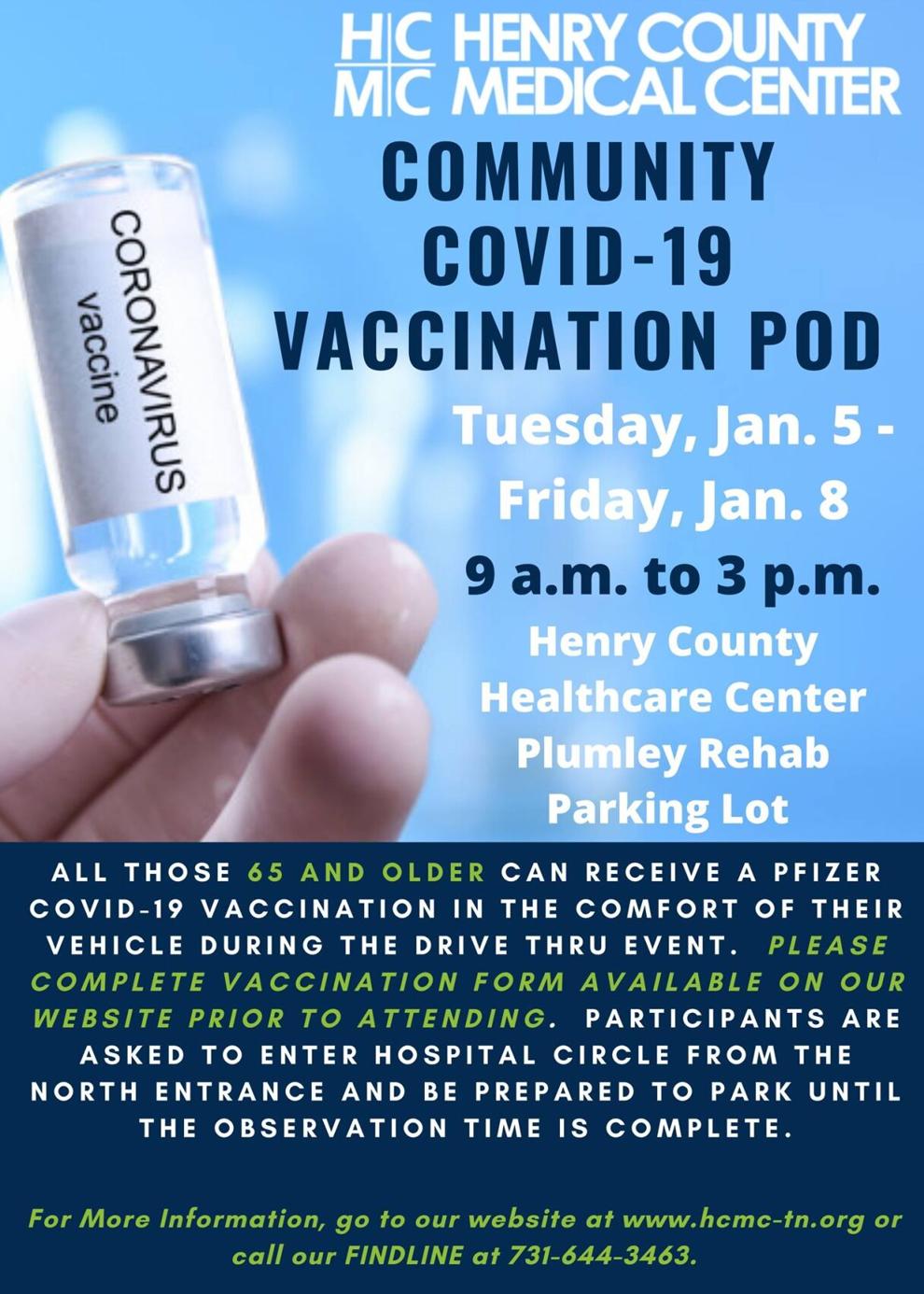 Those who meet those qualifications and wish to be vaccinated are asked to fill out a consent form and bring it with them to the drive-thru event. However, forms will also be provided at the event. 
The hospital says participants will need to enter the parking lot via the north entrance to Hospital Circle from Tyson Avenue, which is closest to the Emergency Department Entrance. People will not be able to access the drive-thru event from the south entrance. 
Those who are vaccinated will have to answer a few questions and remain in the parking lot for 30 minutes after receiving their shots for observation. Then, they will need to return 21 days later to receive their second dose, which will be administered at the same location. 
"Our goal is to vaccinate as many as we can so that 2021 will be a year to grow forward in healthcare services to you that improve the health of the communities we serve," HCMC CEO Lisa Casteel said in a statement about the drive-thru event. "We want to see our communities healthy, and being able to provide the vaccination will allow us to do just that for those we serve."
Those who have had COVID-19 within the past 60 days are not elligible for the vaccine event, the hospital says. Additionally, those who have allergies or who have had reactions to shots in the past are advised to consult with their primary care doctor before getting the vaccine. 
Download the document below for the printable consent form. For more information about the drive-thru event, click here.