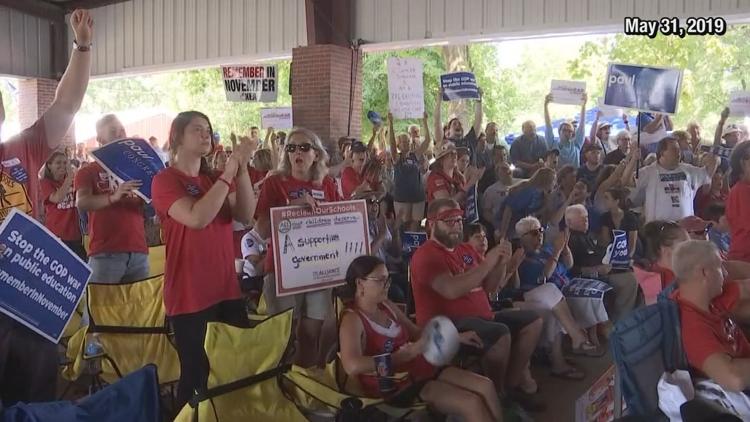 FANCY FARM, KY — COVID-19 is changing the time-honored tradition of the Fancy Farm picnic. This year, there won't be any political speeches.
Organizers say changes also include raffle tickets now being sold online and person-to-person, no camp sites will be rented and no Friday night events will be held.
Local 6 spoke with organizers and political candidates about how those changes will impact their campaigns.
Political speeches and an energetic atmosphere are what Fancy Farm is known for.
Co-chairman of the political speeches committee, Mark Wilson, said it wouldn't be possible to have those traditions at the large event while following pandemic safety guidelines.
"We're a high profile event," Wilson said. "We have to, you know, other events have had to curtail or cancel for the good of the personal safety. We just thought that was the right thing we had to do. It's a tough decision. Tough choice we had to make."
Republican incumbent State Rep. Randy Bridges said while he'll miss the traditional speech, he can still connect with voters in other ways.
"There's plenty of avenues for us to get our messages out," Bridges said. "And the big thing is those who want to hear from us, need to let us know."
Democratic opponent Corbin Snardon said this would have been his first Fancy Farm speech as a candidate. He said he'll be using technology to connect with voters.
"I'm definitely looking forward to you know, in the future, maybe some virtual forums  or virtual town halls," Snardon said. "If the CDC releases up guidelines and COVID-19 blows over, you know, I would look for some in-person things."
Wilson said while it may not be the same this year, they hope to have things back to normal for 2021.
There will still be pork and mutton sold by the pound. T-shirts will also be sold. For updates on the event, you can visit the St Jerome Fancy Farm Facebook page.
Senate Majority Leader Mitch McConnell, who has attended several Fancy Farm picnics, said Thursday: "Team Mitch will miss being out there this year, but Rev. Venters made the right decision for the health and safety of his parish, Fancy Farm and all Kentuckians."